6 defendants charged with rioting at Trump's inauguration acquitted on all charges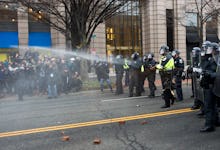 In a verdict being hailed as a win for the First Amendment, six defendants prosecuted for demonstrating during President Donald Trump's inauguration on Jan. 20 were found not guilty on all charges Thursday.
The six defendants were initially charged with felony rioting during the #DisruptJ20 protest — charges that carried the possibility of a 60-year prison sentence. Those felony rioting charges had been dropped, but the defendants were still facing misdemeanor charges for alleged rioting and destruction of property.
The six acquitted defendants were part of a group of more than 200 people who were rounded up and arrested during the #DisruptJ20 protest against Trump on Inauguration Day.
The hundreds of other arrested demonstrators are also facing trial in small batches throughout 2018.
However, the acquittal of this first crop of six defendants throws into question whether the Department of Justice — which opted to prosecute the cases — will go forward with the rest of the trials. The cases are seen by groups like the American Civil Liberties Union as an effort to criminalize protest.
The six acquitted defendants were Jennifer Armento, Oliver Harris, Britt Lawson, Michelle Macchio, Christina Simmons and Alexei Wood.
Lawson is a registered nurse, who was at the protest with a medical kit to help the injured during the demonstration.
Wood is a freelance photojournalist who was there covering the protests.
The ACLU celebrated the acquittals on Thursday.
"We hope today's verdict begins the important work of teaching police and prosecutors to respect constitutionally protected protest, and that the U.S. Attorney's Office gets the message and drops all remaining charges against peaceful demonstrators," the ACLU tweeted.