Alabama police brutally beat a black teen. Now, family members and activists demand answers.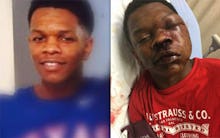 Civil rights activists plan to demonstrate outside local police headquarters Saturday in Troy, Alabama, to demand accountability for police offers alleged to have brutally beaten a black teenager Dec. 23.
Activists demand the Troy Police Department release body camera footage of the incident and terminate the officers involved in the beating of 17-year-old Ulysses Wilkerson, according to Troy native Gerald Jackson who confirmed the identity of the previously unnamed teen. Jackson is the leader of the activist group We Demand Justice, based in Jacksonville, North Carolina.
"Troy will no longer stand for the police department's brutality," Jackson said via text message Tuesday.
Images of Wilkerson's battered and bruised face went viral on Facebook over the weekend.
The beaten teen's father, also named Ulysses Wilkerson, told DothanFirst.com that the officers cracked his son's eye socket "in three different places" and caused swelling on his brain.
Police say multiple officers tried to question Wilkerson around 11:52 p.m. Saturday after seeing him emerge from behind a closed downtown business, WSFA-NBC reported. Officers claim Wilkerson took off running, after which they used "physical force" to subdue him when he allegedly put his hands near his waistband as though he was reaching for a weapon, according to local news sources.
The police later retraced Wilkerson's steps and recovered what they report was a discarded handgun.
Wilkerson was charged with obstructing governmental operations and resisting arrest, which are both misdemeanors, according to the Troy Messenger. Troy police did not respond to Mic's multiple requests for comment.
Alabama's State Bureau of Investigation was called in to conduct its own independent review of what happened to Wilkerson.
"In order to protect the juvenile involved and the integrity of the investigation, no additional information will be released by SBI until this investigation is closed," SBI Lt. Heath Carpenter told Mic via email. "The completed investigation will be turned over to Pike County District Attorney Tom Anderson for presentation to a grand jury."
Jackson said the officers' story doesn't justify the severity of Wilkerson's injuries.
The 17-year-old was initially taken to Troy Regional Medical Center, but was later transferred to UAB Hospital in Birmingham, Alabama, because his injuries were so severe, according to Jackson. He also said Wilkerson's sister told him doctors will perform surgery on the teen's left eye sometime in the next few days.
"He was released from the hospital Sunday," Jackson said. "The swelling has gone down a little bit."
Local leaders from Rev. Al Sharpton's National Action Network are consulting with Wilkerson's family, according to a NAN spokesperson. Members from a Black Lives Matter group in Birmingham are scheduled to participate in Saturday's protest, scheduled for 11 a.m. in front of the Troy Police Department.
"The family is requesting justice for their son," Jackson said.