Activist Erica Garner, daughter of Eric Garner, is dead at 27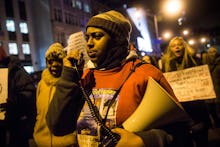 Activist Erica Garner, the eldest daughter of Eric Garner who died at the hands of police in New York City, died Saturday after suffering a major heart attack. Garner was 27.
A representative of the family announced via Garner's Twitter account that the heart attack over Christmas weekend left her with major brain damage, and later confirmed the activist's death.
The mother of two was a prominent, fiery voice of the Black Lives Matter movement as well as in national and local politics, largely for her tireless pursuit of accountability and justice for police violence victims.
Following the death of her father, Eric Garner, who was held in a fatal chokehold by a plainclothes NYPD officer on July 17, 2014, a grand jury declined to indict any of the officers involved in the encounter. Video footage captured on a bystander's smartphone showed Garner's father saying "I can't breathe" several times as officers attempted to arrest him for allegedly selling loose cigarettes in Staten Island.
His final words went on to become a rallying cry of the BLM movement.
As of late December, it had been roughly 1,261 days since Eric Garner's death — and no disciplinary action had been taken against Daniel Pantaleo, who remains employed with the New York Police Department. Under the Obama administration, the Justice Department opened a civil rights investigation into the officer's conduct — but has yet to announce whether it will file criminal charges against Pantaleo.
In June, the Garner family, their attorneys and veteran civil rights leader Rev. Al Sharpton met with Trump administration DOJ officials at a Brooklyn hotel to discuss progress in the case. When they emerged from the meeting, the family revealed that investigators could only relay that the case was still ongoing.
True to her reputation, Erica Garner blasted politicians and law enforcement on Twitter over the years-long wait for resolution of her father's case. The experience changed her outlook on equality in the U.S. justice system, Garner explained in a 2015 essay published by HuffPost.
"I have opened my eyes. I have studied this snapshot in time and learned that my father will never get justice," she wrote. "I only see blood. If we're going to move forward, we need transparency. Police and elected officials cannot seriously hope to repair relationships with the community without it."
Garner's near-constant advocacy efforts have not been in vain. In 2015, at the behest of a coalition of New York families who lost a loved one to police violence, Gov. Andrew Cuomo signed an executive order that directs the state attorney general's office to act as a special prosecutor to investigate officer-involved homicides. The order addresses activists' concerns of whether local district attorneys, who routinely work with officers, can fairly prosecutor officers accused of misconduct.
Even casual observers would be hard-pressed to find a day or week over the last three years when Erica Garner wasn't pressing local and national politicians for accountability among law enforcement. For a while, Garner organized weekly rallies outside of the convenience store where her father encountered the officers.
She famously sparred with New York City Mayor Bill de Blasio, saying he had broken promises made to the family about transparency in her father's case. In July 2016, she criticized ABC News producers over a town hall event on police violence and race relations that featured former President Barack Obama, after she was not allowed to pose "real and hard questions" to him for the TV broadcast.
Patrisse Cullors, co-founder of the Black Lives Matter Global Network and founder of the Los Angeles-based social justice group Dignity and Power Now, recalled first meeting Garner at that event in Washington, D.C.
"Many of us in the Movement for Black Lives were pretty pissed about how Obama let the police slide — and Erica Garner, pretty much in the last two minutes of the town hall, got up [and] left. She was yelling and was super courageous about how she confronted the president," Cullors said in an interview with Mic. "I think Erica Garner is one of our heroes in this movement, and I'm so honored to be a part of this movement with her."
Garner was also among a handful of prominent BLM voices to endorse presidential candidates in 2016. She backed Vermont Sen. Bernie Sanders and recorded endorsement videos for the candidate.
Garner often lent her support to other communities touched by police violence. The activist had recorded video messages to protesters in Baton Rouge, Louisiana, following the 2016 police shooting death of Alton Sterling and to youth in Baltimore, after the 2015 in-custody death of Freddie Gray.
"While our friendship and camaraderie largely consisted of a mutual sharing of our online platforms, Erica never hesitated to use hers to magnify and bring awareness to systemic racism, structural inequalities and injustices wherever they may be," Steve "B.I.K.O." Thomas, a Virginia-based writer and organizer, who has followed Garner's work since 2014, said in an interview.
Erica leaves behind two children, including a three-month-old son; her mother, Esaw Snipes-Garner; her grandmother, Gwen Carr; and a host of other relatives.