Mic Wakeup: Here's a roundup of year-end tips to help you crush your resolutions in 2018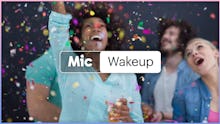 It's Friday, Dec. 29. Here are three stories you need to read to have the best year ever.
The behavioral trick you need to actually keep your resolutions
Resolutions come with a lot of pressure. Whether you're looking to level up your career, learn a new trick or find a new hobby, the stakes can feel insurmountably high. So much so that most of us fail to keep our resolutions past January.
So how can you ensure you reach your goals? It takes work and pure dedication, but something that may help is to keep your goals both attainable and very, very specific.
"Relying primarily on motivation to change your behavior long-term is a losing strategy," behavioral expert and research scholar at Stanford University B.J. Fogg said in a TEDx talk. "And similarly for willpower."
As an example, instead of saying you want to run a marathon, instead say you want to finish a mile — then two, then three and so on. According to Fogg, this will help you feel better about achieving these goals and keep you motivated to do more.
Read up on the rest of Fogg's habit-changing tricks.
What you need to know to make a career leap in 2018
For many people, self-improvement and making better financial decisions are right at the top of the list for New Year's resolutions, and often that means making a change in our careers.
But making resolutions is a lot easier than keeping them, and like all general resolutions, work-related ones must also be easily attainable and come in bite-sized chunks.
"You can create motivation yourself by creating a plan," Jeff Haden, author of the upcoming The Motivation Myth: How High Achievers Really Set Themselves Up to Win, told Mic. "You need to let yourself feel good about small wins; that will give you tiny bits of motivation. It's the distance between here and there that can be demotivating."
So how can you win in your career in 2018? Firstly, Haden said, understand that what has worked for some may not work for you.
"Venus Williams never talks about this lightning bolt where she gets her life purpose. She just says 'I'm interested in that, I'm going to explore that,'" Haden explained. "There's this idea that if you switch paths, you wasted the time you spent on that previous thing, but your path doesn't seem clear until you look back and connect the dots."
Keep reading for all of Haden's tips to reaching your career goals in 2018.
Get far, far away from it all in 2018
An estimated 6.3% of people put "Do more exciting things" on their resolution to-do list, and that often includes traveling to new and exotic locations — but where should you go?
Mic's Out of Office team scoured the globe to come up with its least of the 26 best places to travel to in 2018, and with options for every budget.
If you're looking for adventure on a dime, try Azores, Portugal, an archipelago in the middle of the Atlantic. It's not entirely convenient to get to, but that challenge means there are fewer tourists running around the island and more places offering great travel deals.
If you're looking to explore somewhere with deep tradition, try visiting Santa Fe, New Mexico. There, travelers will find both traditional art and a cutting-edge culture shift all at the same time.
And if you're on the hunt for the adventure of a lifetime, perhaps try visiting Bwindi National Park, in Uganda. Visiting the park will cost you a pretty penny, with passes going from $450 to $600, but seeing the majestic wild animals up close in their natural habitat is worth your hard-earned cash.
Check out all of the Out of Office team's picks.