Prince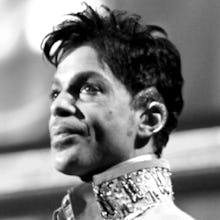 This article is a part of the Black Monuments Project, which imagines a world that celebrates Black heroes in 54 U.S. states and territories.
No entertainer embodies America's melting pot of cultures nor the indomitable spirit of blackness more than Prince Rogers Nelson.
Born and raised in Minneapolis, the Purple One's music, like Prince himself, always pushed limits and boundaries, refusing to conform to category or convention. His chart-topping, critically acclaimed catalog is a genre-blending, melodic assault on traditional norms. Each of his albums is a defiant act of free expression.
As a result, Prince's influence on music and entertainment is second to few. And his mastery of contemporary orchestra combined with his iconic androgynous sex appeal made him one of a kind.
During his 40-plus year career, the artist formerly and forever known as Prince has had five Billboard No. 1 singles, 19 songs in the Billboard Top 10, 30 songs in the top 40 and 47 songs that made the Billboard Hot 100, good enough to make him the industry mag's 18th greatest artist of all time. Prince also has received 38 Grammy nominations, winning seven to go with his 1985 Oscar for best original score for the classic rock musical Purple Rain.
Throughout his career, Prince's persona blurred binary lines between races, genders and sexuality in universal bond-building ways. He accomplished this during decades when people of color, women and LGBTQ Americans were more profoundly marginalized than they are today. His works made him a reluctant gay icon even when his religious convictions as a devout Jehovah's Witness seemed to contradict with his artistic ideals.
Despite his broad appeal, Prince's mind, heart and soul have always remained rooted firmly in the black experience.
"Prince repeatedly and consistently flew in the face of white supremacy," entertainment journalist Stereo Williams wrote for the Daily Beast after Prince's death. "If he was coy about treating white classic rockers as any sort of musical standard, he was adamant about making sure the black artists who shaped him were always recognized and mentioned... And, having witnessed firsthand how quickly a superstar can go from praised to ridiculed, he was frank about the standards black artists were often held to."
It wasn't just Prince's artistic style that made him a music revolutionary. He was an industry pioneer in more material ways as well. Prince was a tireless advocate for the rights of recording artists to own their own intellectual property and ultimately control their own destinies.
"If you don't own your masters, your master owns you," he famously told Rolling Stone in 1996 after his highly publicized split with his record label, Warner Music Group.
When the company previously declined to let him out of his contract in 1995, Prince memorably performed in concert with the word "SLAVE" written on his right cheek.
"He saw his fight with Warner Music in profoundly racialized terms, a grim fact of the music business that stretches back as long as white executives have recorded black artists," Los Angeles Times reporter August Brown wrote. "He wasn't just trying to negotiate a better contract. He framed the whole discussion in terms of freedom and his own artistic agency."
After splitting with Warner Music, Prince went on to release his own albums for 18 years, signing occasional short-term deals with Warner's rivals before inking a new deal with Warner in 2014. He only agreed to re-sign with Warner after the label agreed to grant him ownership of all his music masters, past, present and future.
Prince is less recognized for his unapologetic blackness and his commitment to advancing causes for the benefit of black people. He was a notoriously secretive philanthropist who is believed to be the anonymous benefactor that gave $34 million to the San Francisco Foundation in 2015.
"The foundation, whose mission is to advance racial and economic equity throughout the Bay Area, received the very large donation anonymously last summer," San Francisco Chronicle reporter Tomikka Anderson wrote of the charitable contribution. "A convincing article in SF Sounds has many, from SF Weekly to SFist, believing the donation might be from Prince."
Prince also donated $1 million to New York City's storied Harlem Children's Zone charter school program in 2011. He gave another $250,000 the same year to Misty Copeland's American Ballet Theatre and Harlem's Uptown Dance Academy to fund related arts programs for low-income communities.
Prince helped promote his friend Van Jones' YesWeCode nonprofit organization for black youth in 2014, a move Jones said was inspired by the racially charged fatal shooting of Trayvon Martin in 2012.
"Prince said... 'A black kid wearing a hoodie might be seen as a thug. A white kid wearing a hoodie might be seen as a Silicon Valley genius,'" a tearful Jones told CNN's Jake Tapper after news of Prince's death broke in April 2016.
"He believed in the Black Lives Matter kids so much — and he had a dream for them. He said, 'I hope that they become an economic force. I hope that they use their genius to start businesses.'"
It's no wonder then why Minneapolis activist Wintana Melekin started a petition in 2017 to replace the city's statue of Christopher Columbus with the purple-adorned hometown hero.
"Prince represents Minnesota values and Columbus does not," Melekin wrote on her petition page. "Rather than glorify a man who wanted to extinguish black and native peoples, we should honor members of our community whose leadership we find inspirational."
Indeed.