Mom of Alabama teen beaten by police: "I was shocked, horrified, devastated to see my son this way"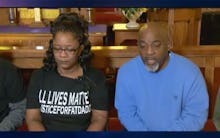 The mother of 17-year-old Ulysses Wilkerson, who she says was handcuffed while Troy police beat him unconscious Saturday, told local reporters that she would not stop speaking out until she knows the truth about the brutal encounter.
"I didn't want this to happen. I didn't want none of this attention," a weeping Angela Williams told reporters Friday morning in Troy, Alabama.
The hospital pictures Williams took of Wilkerson's severely swollen and bloodied face went viral on Facebook, bringing national attention to the incident.
Seated with Williams and her family during the press conference at St. Paul AME Church in Troy were church pastor Ulysses Kincey and Alabama civil rights activist Kenneth Glasgow.
"As a mother, I was shocked, horrified and devastated to see my son this way," Williams continued, reading a written statement. "While I am hopeful that the State Bureau of Investigation will uncover the truth, I still call on the community to take a stand against injustices like this. We will not settle until we know the truth behind the brutal beating of my dear son, and until these police officers are held accountable for their crimes."
Troy native and social justice activist Gerald Jackson was watching a live stream of the press conference on NBC affiliate WSFA's web site. He couldn't help noticing the words printed on the matching T-shirts Williams and her family wore.
On the bottom were the words, "Justice for Fat Daddy," using the teen's nickname, but above that was the phrase, "All Lives Matter."
"I have never seen any family that has had a child killed or brutalized by police wear an 'All Lives Matter' T-shirt," Jackson told Mic over the phone. "As far as national cases, I've never seen it."
Glasgow, who has been counseling Williams and her family since the alleged beating incident, said the T-shirts were an idea Wilkerson's mother and father came up with to avoid dividing their community along racial lines.
"Down here in the South, they'll demean and diminish it by making it a racial issue instead of people looking at it from a human rights standpoint," Glasgow told Mic over the phone. "The family wanted to make sure people know all lives matter to them so it won't be turned into something racial."
Glasgow also acknowledged the T-shirts may shock some people, but emphasized it was the family's choice to wear them.
"They just want justice for their son," he said. "If that's what the family chose to do, I'm an advocate for the family. I'm going to advocate for the family in every form or way they need me to. I know a lot of people don't agree with that, but when you're advocating you have to kind of curtail your own opinion and go with the people you're advocating for."
Wilkerson's encounter with Troy police began around 11:52 p.m. Saturday when officers say they saw the teen emerge from behind a closed downtown business.
Police said when they approached Wilkerson to question him, he took off running. When pursuing officers caught up to the teen, they said he resisted arrest and reached for his waistband as though he was going for a weapon, which prompted them to use "physical force."
It later turned out Wilkerson was unarmed, but police say they recovered a discarded handgun along the teen's path.
District attorney Tom Anderson said there is police body camera footage of the incident, according to CNN. Williams said police haven't shown the footage to her or her family and haven't spoken to them since her son was hospitalized.
"I'm in the dark, and I should be the last one in the dark," she said Friday.
Police initially charged Wilkerson with obstruction and resisting arrest, both misdemeanor offenses. Alabama's State Bureau of Investigation is reviewing whether or not the Troy officers used excessive force on the unarmed Wilkerson.
On Thursday, Wilkerson's family announced they've hired civil rights attorney Benjamin Crump to work on their case. Crump previously represented the families of Michael Brown and Trayvon Martin.
Williams and civil rights leaders plan to demonstrate outside the Troy Police station at 11 a.m. on Saturday. Her injured son is scheduled to have surgery on his left eye Tuesday, his mother said during the press conference.
"He's worried he's going to lose it," she said. "He's just been sleeping, in pain and sleeping. He's worried about the eye."