Here are 7 people and events from this insane year that you've probably already forgotten about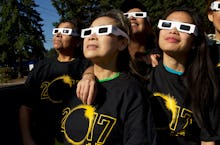 As 2017 comes to a close there is plenty for us to look back on and say, "What the hell happened this year?"
Surely, we can all agree this year was a bit of a whirlwind. In fact, it was such an intense and news-worthy trip around the sun that we bet you totally forgot that these seven events made major headlines this year.
Dr. David Dao vs. United Airlines
In April, United Airlines forcibly removed a passenger from a flight departing from Chicago after it allegedly overbooked the flight. That passenger it turned out was Dr. David Dao, who was left bloody and in tears after airport security dragged him down the aircraft's aisle. And the entire incident was caught on camera by Dao's fellow passengers.
Following the event, Dao reportedly settled with the airline for an undisclosed amount of money.
"United has taken full responsibility for what happened on Flight 3411, without attempting to blame others, including the City of Chicago," Thomas A. Demetrio, United's legal representation, said in a statement at the time. "For this acceptance of corporate responsibility, United is to be applauded." 
Congressional baseball game shooting
On June 14, a gunman opened fire on members of Congress as they took to a baseball field in Alexandria, Virginia. The members of Congress were there to practice ahead of an annual charity event.
The shooter was later identified as James T. Hodgkinson, who died in a hospital following a shootout with capital police on the scene. In total Hodgkinson injured four people, including House Majority Whip Steve Scalise. Scalise was taken to the hospital from the shooting and was listed in critical condition. He underwent a number of surgeries but did return to the House on Sept. 28, 2017 where he made an impassioned speech about the traumatic event.
"As you can imagine these last three and a half months have been pretty challenging times for me and my family," Scalise said. "It's something you just can't underestimate." He added, "definitely a living example that miracles really do happen." 
The Wikileaks CIA document dump
In any other year, Wikleaks releasing literally thousands of documents it obtained from the CIA would be huge news. But this was 2017 and nothing really made sense.
In March, the organization released the documents along with a statement that noted this was just the beginning of a "new series of leaks on the U.S. Central Intelligence Agency." Wikileaks even named the project "Vault 7."
According to Wikileaks, the documents unveiled a "global covert hacking program," which included malware tools created by the CIA that were meant to allegedly further U.S. surveillance. Additionally, Wikileaks said, the documents showed the CIA had programs to "weaponize" popular products like iPhones by turning them into "covert microphones."
Warren Beatty's major Oscars mix-up
The 2017 Academy Awards were shaping up to be yet another Hollywood snooze fest. That is, until Warren Beatty and Faye Dunaway took to the stage.
The two living legends were on hand to present the show's biggest award of the night, best picture. After the pair did a bit of back and forth stage banter they finally made the big announcement. Looking a bit perplexed, Dunaway finally announced that the film La La Land won.
Except La La Land didn't actually win.
As the film's producers Jordan Horowitz and Marc Platt were in the middle of their acceptance speech a producer from the show rushed on stage to whisper something to the pair. Quickly, Horowitz took to the mic to announce that Moonlight had not only deserved the award, but had actually won it.
"Moonlight, you guys won best picture," he said quickly.
Though, you really can't blame Beaty for the mixup. According to Oscar producers, the envelope he was handed before taking the stage was actually the award for best actress, which went to Emma Stone, who starred in La La Land.
The March for Science
This spring was the season of protest across America. The Women's March, which took place on January 21 in cities around the nation and the world, was the star of the show. So it's easy to understand why you may have forgotten about the March for Science, which took place in April in Washington, D.C.
The march's mission was not to be a partisan movement set to explicitly call out a newly elected President Donald Trump, but rather the march's mission statement read, "robustly funded and publicly communicated science as a pillar of human freedom and prosperity" — regardless of who's in power.
"Politics and science have been intertwined forever, going back to Galileo — that ship sailed long ago," Kishore Hari, who coordinated satellite marches, told Mic. "What we've been aiming for is non-partisan, where we're not campaigning or endorsing any party or candidate. Politics is just where science gets settled."  
Kendall Jenner's disastrous Pepsi ad
In April, Kendall Jenner finally became a bigger household name than her sister Kim Kardashian. Only it wasn't for her modeling career, but rather for her poor decision in ad placement.
Then, Jenner starred in what Pepsi called its "Live For Moments Anthem" ad, which was meant to pay homage to the marches and protests taking place across the world. Too bad it came off as more of a comedy than drama.
The ad began with two young women sitting down to brunch as a mass of young people march in protest down the road. Oh, and many of the protesters are holding posters with odd messages of unity, like a peace symbol and just the word "love."
Suddenly, the protests march past a location where Jenner is posing up a storm for her latest magazine spread. Instead of sitting idly by (or just, you know, continuing to do her job as a model), Jenner whips off her wig, wipes off her lipstick and joins in the protest. And by the end it looks like she's solved police violence as she hands a can of Pepsi to an officer with a laugh. World peace ensues.
Of course the internet immediately took the ad to task and Pepsi pulled it from the airwaves just 24 hours after its release. In a statement the soda giant said,
Pepsi was trying to project a global message of unity, peace and understanding. Clearly, we missed the mark, and we apologize. We did not intend to make light of any serious issue. We are pulling the content and halting any further rollout. We also apologize for putting Kendall Jenner in this position.
The solar eclipse
Remember way back in August, when the entire nation came together for a few collective minutes to just stare silently up in the sky?
On Aug. 21, everyone stopped everything they were doing for just a moment to witness a truly magical and rare event: a total solar eclipse from coast to coast. Then, people bought their eclipse glasses, made travel plans, or at the very least took their 15-minute break to watch the moon pass in front of the sun from Oregon to South Carolina.
Even Trump took time out of his busy schedule to walk outside and take a peek. There, he also ignored every doctor and scientist's warning and stared directly into the eclipse without protective eyewear.
"I got here early because I said, 'if there's an accident on the road, an earthquake… I'm going to be there'," Keeman Wong, a man who has been chasing eclipses for 15 years, told the Guardian as he waited for the eclipse to pass over Madras, Oregon. "It's worth everything."
If you somehow missed this one, fear not, as another total solar eclipse will make its way across the United States on April 8, 2024.