Here's what California is really like now that weed is legal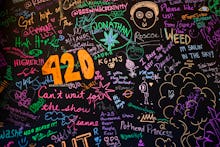 On Jan. 1, California welcomed the full implementation of Proposition 64, otherwise known as the Adult Use of Marijuana Act. Its passage has made California the sixth and largest state in the U.S. to allow the sale and consumption of recreational marijuana.
The measure was voted on in November 2016 and passed by an overwhelming margin. Since then, California, like other recreational states before it, has been preparing for what that new reality would look like.
That meant figuring out who could sell, distribute and grow marijuana, along with how many retail licenses would be handed out and just how much that would cost.
The state gave first priority for retail licenses to pre-existing medical dispensaries because the shops not only have the product, but they also have their distributors lined up, their records in check and all their shop keepers trained in how to sell cannabis.
Like other states, California set the minimum age to buy and consume marijuana at 21. It's also illegal to smoke in public spaces and to drive after ingesting cannabis.
So with the law now in full effect, what does California and its thriving weed scene now look like? Apparently very friendly.
"Welcome to the land of Oz," the joyful shop attendant told customers as they handed over their I.D.s for check-in in one newly recreationally-licensed shop.
Alternative Herbal Health Services, located in West Hollywood, had a line around the block since, there is little competition for the moment. In fact, on Jan. 1, no shops in Los Angeles County could legally sell recreational marijuana due to a backlog of applications. On January 2, there were just four shops, including Alternative Herbal Health Services, licensed to sell. All of them are located within blocks of each other in the West Hollywood neighborhood.
According to a security guard at the shop's entrance, the store opened its doors at 6 a.m. and already had a line of 20 or so people queued up outside. That flow of people, he said, remained steady throughout the morning.
By 11:30 a.m., the line snaked just outside the shop and along the block. It would be at least a 30-minute wait from end to end — though patrons could already smell the light and sweet scent of marijuana wafting out the door.
People of all ages and races waited in patiently line, including some older folks still wearing their Rose Bowl shirts and young people who looked like they may or may not actually pass the legal age limit (don't worry, all their I.D.s are scanned).
"This is the first time ever I've been out here," a fresh-faced 23-year-old named Brett told Mic as he waited in line. "I had to stop by." Brett, who only identified himself by his first name, noted that he was only in town for a few days as he traveled with his parents to the Rose Bowl. "I told my parents to drop me off," he said. "They didn't want to come in."
Once inside the shop, Brett and every other patron faced some pretty radical decisions: Do you buy edibles or flowers? Sativa or indica? What about rolling papers?
Luckily, there were two rather brusque women, known as "budtenders" sitting behind the counter. Because the line was so long, and only growing, the women quickly had to ascertain what their customers were after.
"Do you want it to wake you up?" the woman, with long flowing blonde hair and a perfectly up-beat voice asked a customer. She then rattled off the flavors of the edible gummy bears for perhaps the millionth time that day — speaking loud enough so everyone could hear. "We've got cherry, fruit-loops, watermelon, juicy pear," and the list went on. Clearly, she had it memorized by now.
Though the women worked fast, it was evident that they wanted to help and that people had a lot of questions about what legal weed really means. Customers asked each other, the tenders and even the security guard questions like, "How much can I really have on me?" (As much as an ounce and you can grow up to six plants at home.) "Can I get a DUI if I'm high?" (Technically, yes.) "How much do I really need to get high?" (That's really up to you.)
And while the queries were overwhelming, the reality of having legal weed means people can finally freely ask the question and get answers from verified sources.
"I don't want you to go to a park and stand in the corner and listen to some shady dude," Dina Browner, a partner at Alternative Herbal Health Services, told Mic.
"I told my parents to drop me off. They didn't want to come in."
Browner, who goes by "Dr. Dina," further explained that she started working in the industry some 15 years ago to help people looking for medical marijuana find the resources they needed and safe places to get it. She began by working with West Hollywood city council members on regulations to help keep medical shops open and available to the community.
"We still have our medical line open," she said, pointing to the fact that the shop had two separate lines, one for medical and one for recreational. "So we are we're not forgetting about our patients."
Neither is the state of California. According to the Los Angeles Times, the regulation of marijuana means prices of the products will go up significantly. However, people who are registered with the Los Angeles County Department of Health in the medical marijuana program will be exempted from paying sales taxes.
Dr. Dina further explained that she's hopeful about all the other potential windfalls of legal cannabis, including the fact that it may make a dent in the opioid epidemic and could make California a ton of cash for everything from pensions to road work.
"Clearly we're going to be a very rich state," she said. "I mean, you know, that there's a lot of things that we can be fixing to make our lives better."
And she may be right. According to a report from BDS Analytics, a cannabis industry-tracking firm, sales of cannabis are expected to hit $3.7 billion in 2018 and surpass the $5 billion mark in 2019. As Business Insider noted, that would mean it would tie beer sales in the state. All those recreational sales, BDS added, will add up to $1.4 billion in tax revenue by 2021.
According to Dr. Dina, the state isn't the only one making money. As she noted, the industry will create a plethora of new jobs for people in California. And that new job market goes doubly for women who account for nearly 40% of marijuana company CEOs, according to the Marijuana Business Daily survey. By comparison, just 4.6% of Fortune 500 companies are run by women.
Some customers left empty-handed, only wanting to peruse the glass cases to see what was for sale — though the shop will undoubtably sell the leftover product before the end of the day. According to the security guard, the store is expecting at least 1,500 people to pass through before they close their doors at 10 p.m.
But what they could all leave with for free was a sense relief, knowing that the people in charge were here to help guide newly-minted marijuana consumers in their purchasing decisions. Though there will undoubtably be hiccups along the way, California felt like it was still the same old state it was before the ball dropped on 2018. In no time, buying weed felt like it would be the same as picking up a bottle of wine on the way home from a long day at work. Just a little greener and without the hangover.