5 easy moves to plan the perfect wedding — without going broke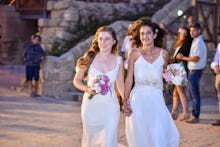 The first few months of 2018 are all about fulfilling New Year's resolutions, getting ready for the year ahead... and wedding planning. That's right! If yours is among those one in three engagements occurring between Thanksgiving and the New Year, now is a smart time to kick off your plan, since it can take months to nail down the perfect wedding venue, dress or suit, band or DJ and any number of other items on your to-do list.
Some of the tricky aspects of wedding planning remain the same as in past years — from planning the guest list to creating a registry. But you might be one of the growing ranks of couples today more interested in the emotional experience of their wedding than the opulence. Personal touches, like giving away hand-crocheted hats as wedding favors — as one Florida bride did — could be a meaningful way to connect with guests, without breaking the bank.
Whether you choose a more personalized wedding or a more traditional one, there are always ways to save money. After all, no one wants to start a new life together broke from the wedding. With that in mind, here are five ways to keep your budget under control, while making the nuptials memorable for all.
1. Start with a simple dollar limit — and decide who will pay what
Before you make a single purchase, calculate your overall budget. The average wedding costs a whopping $35,000, according to the Knot's 2016 Real Wedding Study. And in places like New York City, the average tab can go to nearly $80,000.
Then again, raw averages can sometimes be misleadingly high — and other figures suggest most people actually spend less than $10,000: So don't feel pressured to spend beyond your means. Choose a number that doesn't cause you pain: Then get ready to stick to it.
"Approximately 47% of the couples in our 2016 study said they went over budget," the Knot's deputy editor Lauren Kay said in a phone interview. "This can be easy to do if you are at the florist going through your choices and suddenly you see a gorgeous new flower that only adds $1 more per setting." While that extra buck sounds like a minimal expense, that can snowball and derail your budget.
The best way to prevent this is loads of planning ahead of time: Know that biggest expenses tend to be the venue, engagement ring and food and drinks for your guests; but a band, flowers and photographer can also run to more than a $1,000 a pop. Here's a typical cost breakdown, per the Knot:
Once you've tallied up all your fixed expenses, dedicate about 5% of your budget to "hidden" or "unknown" expenses such as tipping the band, meals for vendors or maybe extra beauty treatments. The Knot has a wedding planning app that allows you to enter both estimated and actual costs.
What about who will pay? Many people count on parents or guardians to help foot the bill: Only about 10% of couples paid entirely for their wedding in 2016. At least among straight couples, the bride's parents typically contribute about 44% to the budget, followed by the couple with 42% and the groom's parents kicking in 13%, according to data from the Knot. But there are no "rules" and you can figure out what makes sense based on your own family situation.
If your folks haven't already offered to chip in, know that the ideal way to approach parents for wedding money is to emphasize how grateful you are for any assistance and how much their help means to you, as parenting expert John Duffy told Brides.
"Some parents want to see that the children have the resolve to ask them for their help," Duffy said, adding, "in some families, this is a matter of pride. Parents want to feel good about helping their kids with their wedding. Being asked is part of that good feeling for many parents."
When it comes to saving for your share of the bill, it's smart to start stashing cash as soon as you get engaged. You can even create a dedicated account and commit to putting, say, $1,000 a month (or even just $100 — anything is better than nothing) in it. Once you've made your budget, commit to sticking to it: as a maximum, not a minimum. If you somehow overshoot, you can use any unspent money for other priorities, whether it's an emergency fund, retirement or a dreamy honeymoon.
2. Make tweaks, deciding what to splurge on and where to skimp
A key trick to staying under budget is to select two or three priorities you really want for your wedding and use them as the starting point for your budget. Figure out the maximum amount of money you'd like to spend on each element, as Vogue suggests. For instance, if flowers don't do much for you, allocate only 5% of the budget to floral arrangements, but if the venue is important, assign 30% to the location.
"As a couple, determine which two or three things are non-negotiable with the wedding, such as the venue or having a live band," Kay said. "Those elements are your essentials and then agree to possibly make concessions on other things."
The venue, photographer, band or DJ and catering were among the elements that made the big day unforgettable, according to a 2017 poll of more than 750 newlywed and engaged couples by wedding planning company Zola. Common regrets included not hiring a videographer (35%) or a wedding planner (20%). Couples also said they overspent on catering, invitations, hair and makeup, but wished they spent more on the photographer, band or DJ.
Here's how to save on two of your biggest expenses:
Cut catering costs
It's all too easy to overspend on food and drinks, which can set you back about $70 per person on average. If you have about 120 people at your wedding, which is typical, that adds up to more than $8,500. But you can knock nearly $3,000 off your catering bill by hiring a food truck vendor and serving a crisp white wine along with a champagne toast. Booze alone can consume nearly 20% of your budget, so choosing a signature wine or drink can make an enormous difference in cost. One gourmet taco truck recently served a 95 guest wedding at a Denver ranch for only $2,400, Thumbtack reported.
You could also go super low-key and DIY your wedding by leveraging your Costco or Sam's Club membership. Purchase cake or booze from one of the warehouse stores and save thousands. For instance, a large wedding sheet cake from Sam's Club could feed 162 guests for just $105.
You could also do a family-style dinner for 120 guests for about $1,000 from one of the warehouse clubs. And while you can spend as much as $37 per person on booze, if you go through a warehouse for alcohol, you slash your booze budget down to about $9 per person. Hiring Taskrabbits to serve and clean up will make life easier without a huge cost.
Slash your flower budget
Many people regret spending too much on flowers, Zola found, which may have to do with their high price. But there are ways to avoid dropping thousands of dollars on flowers. "I love a good bloom, but I didn't have any at my wedding, except my bouquet and my husband's boutonniere," Jennifer Spector, director of brand for Zola said in an email interview. Instead, "we had a ton of candles that created a super romantic vibe and gold and black balloons at our New Year's Eve bash. Everyone had a great time and no one noticed!"
The estimated cost of flowers for table settings and the altar comes in close to about $2,000, according to Brides. Replace those settings using about 200 candles you can pick up at Michael's for only $800. Add some fresh greenery and pinecones and you can still have an elegant centerpiece.
3. Negotiate wedding costs like a pro
While you should always look for the lowest price possible, most wedding vendor costs are pretty fixed. That doesn't mean you can't get a better deal — just that you just have to be a little flexible and creative. "The best thing you can do is be upfront and transparent about your budget when meeting with one of the wedding pros," Kay said.
Explore what the vendor can provide within your budget and you may be surprised. "Fondant roses on the cake may be out of budget, but the baker may offer a similarly beautiful alternative such as fresh flowers," said Kay. "Be flexible, transparent and keep an open mind." The average wedding cake can cost close to $600, according to price estimates from The Knot, so finding inventive tricks to trim that down can allow you to spend more elsewhere.
When working with wedding vendors, your delivery is key to getting what you want on your budget. Event planner Wynn Austin told Bridal Guide to steer clear of asking for the cheapest price possible or demanding why the vendor charges so much. Instead, have a little finesse with your delivery and say, "We would love to work with you; however, the estimate is more than we expected. Do you have any recommendations on any changes that we can make to help bring the cost down?"
If you still have a little flexibility, consider a range of different dates, and ask around for advice: "Reach out to friends and colleagues, and ask vendors that you trust for their recommendations," Spector said. You can save up to 30% just by having the wedding during the off-season, Alan Fields, coauthor of Bridal Bargains: Secrets to Throwing a Fantastic Wedding on a Realistic Budget told Real Simple.
Lastly, don't forget to consider a vendor's personality before hiring them. "Definitely consider compatibility," Spector said. "You'll spend the whole day with your photographer, videographer and planner, so hiring vendors you feel comfortable with is as important as the price tag."
4. Add a touch of personality
A personalized wedding can also mean a more budget-friendly event. "For example, a bookish couple who got married in a library made seating cards out of bookmarks that the guests could take home," Spector said. Renting space at a private library in Boca Raton, Florida, for example, could be about $1,900 or less if you live in the city, according to the Sun-Sentinel.
One emerging trend is to find an alternative venue to the typical country club or hotel ballroom location, Kay said. "We are seeing a lot of weddings held in lofts, historic buildings and barns. Or some couples who met in college are returning to campus to have the ceremony at the college chapel."
Before you plunk down your dough on an alternative location, determine if you'll end up spending more money in order to make it wedding-friendly. "If you choose a barn for your location, make sure it is set up for a wedding," Kay advised. "Ask if they have a kitchen and bathrooms. If they don't have those important features you will need to add that expense to the total cost. A cheaper alternative may end up being more expensive if you don't factor additional costs." Costs to host your wedding in a museum could range from $4,500 to $14,700 or a barn from $6,000 to $12,000.
Other unique and money-saving ideas include opting for a gorgeous, but free location — like a public beach, park or a buddy's beautifully landscaped backyard, HuffPost recommended. And if you're sick of the rule book, toss it out: You could also borrow a friend's wedding dress, have your guests help take photos, or ask a friend to DJ using your own setlist.
5. Find hidden cash for the honeymoon
The average honeymoon costs between $4,000 and $5,000 — or more than 10% of the total cost of a wedding, according to a 2017 study by Credit Donkey.
One Mic editor found a way to pay for his upcoming honeymoon using credit card points. By opening and using Chase Sapphire Reserve and Preferred cards on big wedding purchases, he racked up 200,000 points, worth more than $2,000 in rewards: Now he can use his points to pay for honeymoon travel and food.
Both Chase Sapphire Reserve and Preferred cards offer a 50,000 sign up bonus for making $4,000 in purchases during the first three months. Plus, both cards give you extra points for travel and dining, which have extra value when redeemed through the Chase Ultimate Rewards portal.
Of course, opening new credit cards may not be for everyone. Annual fees and interest rates on unpaid balances can wipe out any savings you get from the signup bonuses and points. And try to stick with one at a time, as opening multiple cards at once can temporarily ding your credit score. Check out Mic's guide to help determine if rewards cards are right for you.
Sign up for the Payoff — your weekly crash course on how to live your best financial life.