Mic Wakeup: Recapping Trump's very weird Wednesday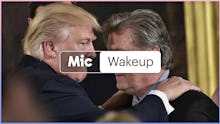 It's Thursday, Jan. 4. Here are three stories you need to read.
Donald Trump dumped Steve Bannon in a scathing memo
On Wednesday, journalist Michael Wolff shared an excerpt from his upcoming book about President Donald Trump's first year in office with the New Yorker. In it, Steve Bannon, one time Trump BFF, calls a meeting that Donald Trump Jr., son-in-law Jared Kushner and former campaign chairman Paul Manafort had with a Russian lawyer both "treasonous" and "unpatriotic."
In response, Trump shared a downright scathing memo with the public, writing in part, "Now that he is on his own, Steve is learning that winning isn't as easy as I make it look." The statement added, "Steve had very little to do with our historic victory, which was delivered by the forgotten men and women of this country. Yet Steve had everything to do with the loss of a Senate seat in Alabama held for more than 30 years by Republicans. Steve doesn't represent my base — he's only in it for himself."
Furthermore, Trump added that when Bannon was let go of his role at the White House over the summer "he not only lost his job, he lost his mind." Ouch.
Trump went on a Twitter rampage, likely after he watched too much Fox News
On Tuesday, the president of the United States went on a complete Twitter rampage where he gave himself credit for the fact that there were no airline deaths in 2017 and where he bragged about the size of his "nuclear button." The tirade had everyone scratching their heads on where this insanity spiral spawned from. But on Wednesday, people think they figured it out: Fox News.
You see, the entire tweet storm appears to break down perfectly with each and every Fox News segment that day, as evidenced by journalist Daniel Dale, who shared the timeline with his Twitter followers.
Indeed, the tweets to airing line up nearly perfectly. So what did we learn? Well, nothing, except the fact that maybe someone in the White House could change the channel more often.
It could be Fox's fault that Trump went off on Mueller, too
In his Tuesday Twitter breakdown, Trump also took aim at special counsel Robert Mueller and his investigation. While some believed it could be that Trump got a heads up that something was going down about the investigation, this, too, appears to boil down to the fact that he never, ever, shuts off Fox News.
"I've seen a lot of theories for Trump's tweets, about whether there's some sort of deeper strategizing, or if he's trying to change the subject, and as I've focused on them more, I've come to conclude that that is not right at all," Matthew Gertz, a Media Matters reporter, said in an interview. "Basically what's happening is he's tweeting about what he's watching on Fox News. And I think that that largely explains why many of these more bizarre tweets tend to come between 6 a.m. and 9 a.m.: He is basically tweeting his favorite show, which is Fox & Friends."
And really there is precedent for this theory. As Mic pointed out, just prior to Michael Flynn's guilty plea on Dec. 1 for lying to the FBI, Trump was busy tweeting the exact phrases shared on Fox News. And that is by far not the only piece of evidence to back up the Twitter/Fox claim.
Gertz added, "There are about five tweets in a row that all line up directly with either Fox & Friends or with the Fox program that airs after it."