Female directors don't get enough opportunities in Hollywood — for women of color, it's even worse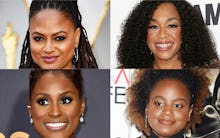 Natalie Portman made national headlines at the Golden Globes on Sunday night after calling out the Hollywood Foreign Press Association for failing to nominate a woman for best director.
"And here are the all-male nominees," the actress said onstage before reading the list of hopefuls. Portman's takedown was echoed by Barbara Streisand's, the first and only woman to win a Golden Globe for best director, for her romantic musical Yentl in 1984.
"That was 34 years ago," Streisand told the audience. "Folks! Time's up. We need more women directors and more women to be nominated for best director. There are so many films out there that are so good, directed by women."
There's a bit of irony in Streisand's remarks that isn't getting enough attention.
What's lost in the controversy over the abysmally low overall hiring rate for female directors in Hollywood is the even lower hiring for women of color, according to Stacy L. Smith, founder and director of the University of Southern California's Media, Diversity and Social Change Initiative.
"When Hollywood thinks about its female directors, they're really thinking about a Caucasian woman," Smith said in a phone interview. "The opportunities given to women of color are virtually nonexistent for these top jobs over the last 11 years, and that's really a big problem."
Smith was the lead researcher for a study released Thursday titled "Inclusion in the Director's Chair?" that examined the 1,100 top-grossing movies released between 2007 and 2017. Researchers found a total of 43 women directed only 52 of those films.
They also found that only seven were women of color. Four of those women of color were black women. One was Latina, and two were Asian. (One of the Asian female film directors made two of the 1,100 films examined in the study.)
In 2015, Ava DuVernay became the first and only black woman to be nominated in the Golden Globes' best director category, for Selma.
"These numbers can be a stark and depressing reality, but it's not a reality that can't be changed," Smith said.
The lack of opportunity for female directors of color isn't only an issue in film, though.
A 2017 diversity study from the Director's Guild of America found only 224 , or 5%, of the 4,482 TV episodes shot between 2016 and 2017 were directed by women of color.
Sixty-two percent of episodes were directed by white men, 17% were directed by men of color and 16% were directed by white women, according to the guild.
This, despite the fact some of the most popular and critically acclaimed TV shows are produced or directed by women of color.
Screenwriter and executive producer Shonda Rhimes is responsible for ABC ratings behemoths like Grey's Anatomy, Scandal and How to Get Away with Murder. DuVernay's Queen Sugar and Issa Rae's Insecure are almost exclusively directed by black and brown women.
Directors like Millicent Shelton, another black woman, have helmed episodes of popular shows like 30 Rock, Black-ish and The Flash.
One of the common excuses for the lack of female directors is that there aren't enough of them out there for Hollywood to hire, but Smith said the numbers don't support that argument.
"We address the pipeline in the paper," she said.
USC's study examined the 176 films presented for competition at the Sundance Film Festival from 2007 to 2017. Researchers discovered 50 of the 182 directors of those films were women and 15 of those were women of color.
So why the disparities among white women and women of color?
The reasons are the same in entertainment as they are for women of color in other industries, according to Kristi Henderson, head of the Hollywood Project for Color of Change, a racial justice advocacy group hosting a panel at the 2018 Sundance Film Festival later in January.
"Many of the women who have benefited most from programs like affirmative action have been white women," Henderson said by phone. "There's a larger problem of us not showing up from the screenwriters room to the Golden Globes. The ongoing struggle of dismantling institutional racism is on the continuum."
Gender aside, people of color in general don't often have the same career network or financing opportunities that their white counterparts do, according to Mynette Louie, a Chinese-American woman and filmmaker who is also president of Gamechanger Films, an equity fund that exclusively finances films directed by women.
Filmmakers of all backgrounds, according to Louie, often start out as low or unpaid interns and staffers. They spend years earning little money to make it in Hollywood. Louie added that minority filmmakers on average are more economically disadvantaged and less likely to be able to make those financial sacrifices early on.
"There's a lot of in-group bias in Hollywood. That's why white men keep getting hired to direct," Louie said. "There's a lot of white kids who grew up in the industry, whose parents did it, whose grandparents did it. They speak the same language culturally as the gatekeepers, the people doing the green lighting."
Around 18% of the 95 C-suite decision makers at top Hollywood studios and parent companies are women of any race, according to the USC study. And only four of those c-suite positions are filled by women of color.
When either male and female directors of color are fortunate enough to be hired by major studios to make a movie, it's usually because the film's lead actors are also people of color or the movie being made is targeted to audiences of color, Smith said.
White men, however, are still far more likely to be hired to direct and produce films about black and brown people then black and brown filmmakers are to direct or produce films aimed at mainstream white audiences, according to Smith.
"The opportunities for women and directors of color is tied to the race or the gender of the lead character in the film," Smith said. "That's simply not the case for white directors."
For the women of color who overcome the odds, the margin of error is usually much slimmer, according to Louie.
She said studios refused to hire Asian-American film director Karyn Kusama after her big-budget flicks Aeon Flux (2005) and Jennifer's Body (2009) underperformed in theaters, while men like Adam Sandler have been making box-office bombs for years.
Louie's Gamechanger Films helped resurrect Kusama's career by financing her certified-fresh 2016 thriller, The Invitation.
"There's the whole one-and-done issue," Louie said. "Women usually only get one chance to make a hit movie, whereas white men get that second chance all the time."
Until this assortment of institutional obstacles is addressed, these disparities will persist, according to Smith.
"Directors of color should be able to tell stories to the same degree that their white counterparts are," she said.