Mic Wakeup: 3 awesome things famous people did this week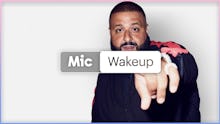 It's Friday, Jan. 5. Here are three stories you need to read.
If you only do one thing today, watch Tiffany Haddish's 17-minute acceptance speech
After being completely snubbed by the Golden Globes for her epic performance in Girls Trip, you'd think actress Tiffany Haddish would be angry. But after watching her heartfelt and hilarious 17-minute acceptance speech at the New York Film Critics Circle Awards on Wednesday night, it's clear that nothing will get Haddish down.
(It's also clear that we were all robbed of what would have been an undoubtedly awesome Golden Globes acceptance speech but that's another story.)
"First, I want to thank God, because without God, my mommy and daddy wouldn't have put their two uglies together and made me. Because that was all God right there. He put two crazy people together to make one awesome crazy person," Haddish stated in the beginning of her speech.
In what could double as a standup routine, Haddish also spoke about the harsh realities of receiving criticism, her love of Michael B. Jordan, and even compared herself to a goddess.
"I know some people here think they're gonna talk shit about me. It's OK. You know why it's OK? Because you care enough to say something," Haddish said of her haters. "If you didn't say nothing, then you didn't care. So if you said something, thank you. I don't care if it's positive or negative. I appreciate you. I'm glad you see me. Because it's been so many years that nobody saw me."
Check out the full speech and more here.
Stephen Colbert wants one of Trump's "Dishonest Media Awards" badly
On Tuesday, in the midst of a Twitter attack against North Korea, President Donald Trump also tweeted that he planned to announce "the most dishonest and corrupt media awards of the year" this coming Monday.
While most people brushed off the tweet, Stephen Colbert took it as a challenge.
On his late-night show, Colbert announced that he was vying for one of Trump's dubious awards. And on Thursday, he even took out Billboard space in Times Square asking for the president's consideration.
Colbert's billboard mentions a number of award categories that he feels he's a good fit for, including "The Eric Trump Memorial Award for Disappointment," "Fakest Dishonesty" and "Smallest Button." Fingers crossed he takes home the trophy!
DJ Khaled just took control of his health with the help of Weight Watchers
It's resolution season for everyone, including famous people like DJ Khaled.
On Monday, Khaled and Weight Watchers announced their brand new partnership. And with the announcement, Khaled shared some more good news— he's already lost 20 pounds using the program.
And really, this partnership could end up being beneficial to more people than just Khaled and the Weight Watchers advertising team. As Mic reported, more than a third of the adult population in the United States is considered obese. However, Americans of color are disproportionately affected, with both black and Latino populations experiencing higher obesity rates than the white population. Khaled could be just the face, and the influence, the community is looking for.
"A lot of black men don't talk about eating right and diabetes and how high blood pressure runs strong in our communities," Kelvin Davis, author of the blog Notoriously Dapper, a body positive men's fashion blog, said. "With DJ Khaled being on stage and saying, 'This is who I am,' [it] creates [a] narrative for men of color, saying that it's okay for me to eat a little more healthy and be a little more conscious."