How to buy a house or apartment: 10 foolproof steps to get your dream home on a budget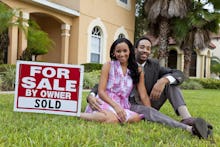 If you're ready to buy a home to call your own, you're not alone: The United States housing market is red hot right now, with prices rising fast and demand outstripping supply. Stiff competition makes it tough to find a spot you both love and can afford.
Some good news? There are lots of ways to save, if you're determined and think outside the box: You could Airbnb out a room or basement unit to help cover mortgage payments, for example, or put solar panels on your home and sell harnessed energy back to the grid. You might even be eligible for loans with low or zero down payments and not know it (more on that below).
Besides, your vision of a "dream home" can end up evolving — in a helpful way — during your search. Hospital clinical service representative Leslie Lessnau and her husband Tim initially set out to buy a house in March 2017, but eventually bought a condo in October in Novi, Michigan. The couple looked at 18 homes, seeking a big yard and garage. But during the hunt they realized they could have their "must haves" without the hassles of yard work and shoveling snow. "A bigger yard and larger garage would have been nice, but we are not disappointed in our decision," she told Mic in an email.
Starting sooner rather than later is smart, as interest rates and prices are only going up. "Home values over the past year appreciated 6.7%," said senior economist at Zillow Skylar Olsen. While this may have you worried about a bubble popping after you buy, experts say it doesn't look like 2007: Unlike in the lead-up to the financial crisis, as lenders handed out risky adjustable rate mortgages like candy, prices are rising today for different reasons.
"The rise in value this time is due to low inventory and the competition to purchase a home," Olsen said. You can expect prices to jump again in 2018, although at a more moderate pace. Zillow predicts values will increase 3.2% this year, while the National Association of Realtors expects a 5.5% price bump. In the hottest markets, it's not uncommon for buyers to place two or more bids on homes before having their bid accepted, Olsen said.
Mortgage rates are also expected to rise from about 4% in 2017 to 5% by midyear 2018, as the Federal Reserve raises rates, the Mortgage Bankers Association reported. So be ready to pounce — while simultaneously exercising patience: "The most surprising aspect of buying a home was the waiting game," Lessnau said. "Waiting to see if your offer was accepted then waiting for the home inspection to go through and then wondering if the mortgage will be approved."
And don't feel too stressed if you can't find your perfect home right away. Despite the hot market, increased inventory levels should help counteract rising prices, especially among high-end homes, Realtor.com projects. With all that in mind, how do you actually go from renter to happy homeowner? It's not so tough when you break it down: Here are 10 simple steps to follow.
1. Start with a reality check
Why do you want to become a homeowner? This is likely to be the biggest purchase of your life — so go into it with eyes wide open. Ask the hard questions like: Do I have enough money to buy, is now a good time in my life to buy, and am I really ready to settle down?
If you simply want to buy a home as an "investment," think twice: Home values don't actually rise much faster than inflation, meaning you're not getting a great return on your money. In comparison, stocks rose about 5% annually, from 1966 to 2015, adjusted for inflation. And while popular wisdom holds that it's smarter to own than to rent (since you're effectively throwing rent money away) much of your cash in the first few years of buying a house goes to paying off interest: It actually takes about 10 years for your home to have enough value to start recouping your purchase costs.
So, before you decide whether rent or own, first run the numbers on renting versus owning using a calculator like this one. Alternatively, for a bird's eye view of the decision-making process, see Wealthfront's new interactive.
Remember that in the end, buying a home is a lifestyle choice more than anything else. If you like the idea of living long-term in a tight-knit community, having a space that's all yours or simply never having to deal with a landlord again, then it may make sense. So, to start, identify priorities you need in a new home, "such as living in a certain neighborhood or a particular kitchen style," Olsen said. Decide on basics like how many bedrooms or parking spots you need before moving onto "wants" like a stone fireplace or big backyard for outdoor entertaining.
Be prepared to make compromises. "Maybe you can find a home in the area you want, but the homes you can afford don't include your dream kitchen," she added. Next, crunch the numbers to see what you can afford.
The typical homebuyer needs a 20% down payment, or $41,000 on the median home price of $205,100 in 2017. While there are low or even no-down-payment options, including FHA, VA and USDA loans, you still need to earn enough money to qualify for the mortgage and to be able to cover your anticipated monthly costs. Whatever you do, try to stay both confident and realistic.
When one Mic staffer embarked upon a home-buying adventure in Brooklyn a few years ago, he "went into the bank not thinking I would even get approved or have the possibility of it," he said, given the borough's notoriously high prices and low homeownership rates. "Even after we were moving forward with the home we freaked out a bit," he added, given the financial commitment that comes with taking on a mortgage.
The average mortgage payment is about $830 on a median-priced home. But you'll need to factor in the cost of utilities, repairs, insurance (which can be $952 a month), HOA or condo fees (also hundreds of dollars a month) and of course property taxes. Bankrate has a comprehensive calculator, which takes into account more than just mortgage and down payment.
2. Whip your credit into shape
Another key step, before you try to buy anything, is to check your credit score: It affects whether you are eligible for a mortgage loan and helps to determine your rate. Your credit score might fall anywhere from 250 to 950 — and the higher the score, the lower the loan rate. You'll need a score of at least 620 to receive a conventional loan, but if your credit score is 740 or more, you could save about $100,000 on a 30-year, $300,000 mortgage.
You can easily check your score either on your credit card website or a site like Credit Karma. Anything over 750 is excellent, while a score under 700 could use improvement. To find out what's dragging it down, you'll need to order a copy of your report (which you can get free each year from all three credit reporting agencies at AnnualCreditReport.com).
Not in love with your score? Raise it fast: Pay off all your balances and keep low your credit utilization ratio, which measures what percentage of your available credit you've used. Also look for credit report errors and dispute them, first with your credit card issuer and then with the reporting agency.
3. Get preapproved for a mortgage loan
Once your credit is where you want it, get preapproved for a loan: This is the lender's statement that you qualify for a certain mortgage amount. In addition to helping you make sure you really can afford a home, getting preapproved lets the seller know you're serious. It "makes you as close to a cash buyer as you can be and gives you a huge advantage in a competitive market," mortgage banker Lea Lea Brown of PrivatePlus Mortgage told Realtor.
Keep in mind, if you are preapproved for a larger loan, it doesn't mean you have to spend that much. "Stick to your budget and what you can afford on a monthly basis, even if you are approved for a much higher loan" Olsen said.
When shopping lenders, start with the financial institution where you have your checking, savings and/or credit card, as it can give you leverage to negotiate. Then explore at least three other lenders. If you aren't sure where to start, peep mortgage lender lists from resources like Nerdwallet or Bankrate. Be sure to read customer reviews and schedule a meeting to get an impression of how the lender works with borrowers.
And remember: While having that preapproval is a crucial step, this is not your mortgage loan. Once your offer is accepted on a home, you will still need to apply for the mortgage separately.
4. Tap into house-hunting resources
A few decades ago you had only your real estate agent or the newspaper to help you house hunt. Today you can research the market in your pajamas. Good web resources include Zillow, Trulia and Redfin — all of which are free. You can see estimates of a home's value based on recent sales in the area, check property records and get demographic data like school districts and the percent of college-educated people in the area.
When she started searching for a home, Lessnau said, she used Realtor.com and Zillow.com for the first two months to assess the market and figure out what the couple wanted.
If you are feeling a little daring, you can also check out foreclosure and auctions sites like Hubzu or RealtyBid, but know that buying your home through an auction takes a considerable amount of legwork. Plus, there are big drawbacks, like not being able to inspect the home prior to purchase and the need to produce a lot of up-front cash.
5. Consider a good realtor
While some buyers may think they can DIY the house-hunting process, reconsider going at it alone. "Especially in a competitive environment you'll need an advocate who understands the market and can advise you during the process," Olsen said.
So how do you find that perfect real estate agent? While your mom may want you to use her best friend's son who just got his real estate license, you need a professional who has extensive knowledge of the market and understands what it takes to have your bid accepted.
"The stronger your agent, the smoother the process," Sharon McLennon, broker of Splendor Realty in Lauderhill, Florida, said in an email. "Get referrals from other buyers who have completed the process. If they still love the agent after the closing, you may have a good contender."
Ask prospective agents how long they've been in the business, if they work full time (preferred), the number of properties they sold in the last 12 months and about training or special designations, McLennon advised. Ask how many times the agent represented the seller and buyer in the last 12 months, too.
As a buyer, you typically aren't responsible for paying the agent's commission, which comes instead out of the seller's pocket.
6. Move quickly on an offer
By now you know how much house you can afford, have been preapproved for a loan and met with a real estate agent and reviewed what you want in a home. Now it's time to put your plan in action.
Before you see the first home, form a game plan with your agent and make sure your budget and needs are crystal clear. Let them know that you've been preapproved for a loan and also be clear about what property features are non-negotiable. See at least two to three homes first, then if you love one right away, be prepared to make an offer quickly. But do take your time going through the space. Don't be afraid to open closets and pantry cabinets, and try to ignore the decor: You can always change paint colors and flooring.
If you don't like the properties your agent is showing you, speak up, HGTV recommended. You are only wasting time being polite. "We had challenges with our Realtor," Lessnau said. "He was not always listening to our needs and wanted more of an investment property for us while we were looking for a place to call home.  We were not interested in 'flipping' the property.  It took a while to get on the same page."
When it's time to make an offer, check with your agent to make sure you are not going too high or low. "They know the market and know what bid is more likely to be accepted," Olsen said. Be ready for a counteroffer from the seller and know how high you can go if necessary. Your agent can also help you create a purchase offer addressing any contingencies, so the purchase goes through only if the buyer's home sells, for example, or the contract can be renegotiated or dismissed if the inspection goes poorly.
Once your bid is accepted, you and the seller will sign a contract that means you intend to purchase the home. The seller will take the home off the market, and you will agree upon the number of days it will take until closing.
When the offer is signed, you will likely put down a deposit to bind the offer, also known as "earnest money," typically about 1% to 3% of the purchase price.
7. Secure your mortgage and appraisal
Once your bid is accepted, you'll need to lock down a mortgage loan. The preapproval you got when you first started your house hunt means only that the lender is likely to offer you a loan, but you should still do your homework and shop around before making a decision.
Compare rates from several different lenders and explore loan choices, as one size does not fit all. If you have strong credit and a sizable amount of money saved for a down payment, you may want to consider a 15-, 20- or 30-year conventional mortgage, which is typically offered at most banks, credit unions and private lenders, according to Nerdwallet.
If you don't have a score that meets the conventional loan needs or the down payment, consider government-backed options like an FHA, VA or USDA loan. You can put down as little as 3.5% on an FHA loan, a good fit for those with a credit score under 630. That's as little as $8,750 on a $250,000 home.
Other options include the VA, requiring no down payment, a USDA loan, which helps those of modest means living in rural areas, and the Good Neighbor Next Door program, which lets teachers, firefighters, law enforcement or emergency medical technician take up to 50% off the property list price.
To get a loan, you'll need to have the home appraised to ensure the actual value of the property is higher than the sale price. The appraisal takes home size, condition and amenities to determine value. Your lender orders the appraisal and buyers cover the cost, which can be up to $600.
8. Inspect the home to avoid expensive surprises
Before you close on the house, you'll need to get a home inspection, which protects you from finding costly repairs after the sale that would fall entirely on your shoulders. The last thing you need is to move into your beautiful new home and have multiple roof leaks during one rainy evening because you waived the home inspection.
The inspector should look at the electrical, plumbing, heating and cooling, foundation, kitchen, baths and more. The average home inspection costs around $300, and you can locate an inspector through the American Society of Home Inspectors website or ask your realtor for a recommendation.
While inspections are typically done after the offer on the home is accepted, some markets are so hot buyers are doing the inspection before they place a bid. "In a competitive market, buyers are paying to have the home inspection done before making an offer if possible," Olsen advised. "Because the seller is going to go with the buyer who either waived the home inspection or had it done before the offer is on the table."
If you can't get access to the property early, be prepared to act fast once you do. "Typically, once you are in contract to purchase the home, you usually have seven to 10 days to get the property inspected," Reeves said. "If you don't like the results of the inspections, you can get out of the contract if the seller won't fix everything you want fixed."
Extra speed could be important in some of the hottest housing markets in the U.S., including Raleigh, North Carolina; Seattle, Washington; and San Jose, California, where home values are projected to increase by nearly 9% in 2018, according to Zillow.
Meanwhile, cities with the highest expected increase in sales include Tulsa, Oklahoma; Charlotte, North Carolina; and Dallas, according Realtor.com.
9. Check the last boxes: Escrow, title search and renegotiation
Following the initial earnest money deposit, you'll need to fund your escrow account, opened for you by your lender to hold money for insurance and taxes, and typically containing about two months worth of funds. If your down payment is less than 20%, you may also be required to fund this account in monthly installments beyond money put toward insurance and taxes.
At this point, you may also want to hire a title attorney who will perform a title search to ensure the property has no other claims to it. "Ask for referrals when searching for a title attorney, too," Reeves said. "Also, a little secret, some attorney fees are negotiable; don't be afraid to ask." Title attorney fees can be as high as around $1,500, according to Zillow.
You may also be renegotiating your offer if the home inspection uncovered any necessary repairs and negotiating with your lender on closing costs.
Lastly, you'll need some additional paperwork, including a promissory note and other items, which you can keep track of using this mortgage closing checklist.
10. Close on your home
The big day arrives, and it's time to close. Before documents are signed, do one last walk through of the home to ensure agreed repairs were performed and the home is cleaned. "I can't stress enough the importance of doing a walk through," Reeves said. "I have a nightmare story of someone who didn't." You can use this checklist from Trulia to make sure you haven't missed anything.
On closing day, make sure you have cashier's check or proof of wire transfer for the exact amount needed to close; your closing disclosure; identification; co-borrower, such as your spouse; and your attorney or real estate agent to lend support. Buyers usually owe between 2% to 5% of the purchase price in closing costs, which are in addition to your purchase price. The closing is typically held at the title company office or your lender. Or, if you paid cash, it could be at a mutually agreed upon location, like your attorney's office.
Finally, keep in mind that the home-buying process is a marathon, not a sprint. "Because you are going to be living in that house for many years... you want to be sure you are satisfied with your purchase," Olsen said. So stay vigilant with your search, but never settle for anything that makes you less than thrilled.
Sign up for the Payoff — your weekly crash course on how to live your best financial life.