More questions than answers face 200,000 Salvadorans who just lost their protective status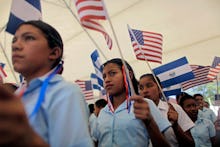 On Monday, the Department of Homeland Security announced that more than 200,000 Salvadoran immigrants currently living in the United States will be the latest group to lose special protections.
A senior administration official announced in a call with reporters that the department will end the Temporary Protected Status for Salvadorans who've been living and working legally in the United States since 2001, when a large earthquake devastated the Central American nation.
Salvadorians are far and away the largest group benefiting from TPS, but they aren't the only group to lose their status in recent months. In November, the Trump administration ended the protected status of 59,000 Haitians currently living in the U.S. following their own devastating earthquake in 2010.
The decision to end the protective program for Salvadorans, the administration official told reporters, came after an "extensive" review, which included working with officials on the ground in El Salvador. The official added that the conditions and economy in the country have improved enough to allow Salvadoran nationals to return to their home nation.
The official noted that Salvadorans will have 18 months to figure out either how to get a new, legal immigration status, or lawfully return home. The program will officially end on Sept. 9, 2019. However, the official couldn't indicate what will happen to those who refuse to return to El Salvador, and what will happen to families who have had children in the U.S. over the last 16 years.
"We had hope that if we worked hard, paid our taxes and didn't get in trouble we would be allowed to stay," Veronica Lagunas, a 39- year-old Salvadoran living in Los Angeles told the New York Times. She has two children who were both born in the U.S.
Lagunas is far from alone in not wanting to leave a new life built in the United States.
"I think it's going to have profound consequences for these families," Royce Bernstein Murray, policy director at the American Immigration Council, told Mic in an interview on Monday. "These individuals have lived here for years, and the United States is home."
Bernstein Murray added that El Salvador may be where these people were born, but it's "not where their lives are" now. To prove it, she explained that one-third of the people living in the U.S. under TPS hold mortgages in the country, and at least 80% of them are currently working in the U.S. labor force.
"These people are very well-integrated into American communities, and so I think that the effects will be traumatic for a lot of them," she said.
Vanessa Velasco, who lives in northern California with temporary protected status, said in a statement shared with Mic via the National TPS Alliance that "It is embarrassing" for the U.S. to not consider how Salvadorans have benefited communities for decades.
"Ignoring our contributions is ignoring our lived realities," Velasco said. "And a direct attack to hundreds of thousands of U.S. citizen children that will grow up knowing their lives are not considered in this political theater. Our struggle is far from over, we stand strong and proud, and we will continue to fight."
For all Americans, this may be a fight worth joining, Bernstein Murray added, as the combined economic impact of ending the protective status of Salvadorans, Haitians, and the potential end of protective status for Hondurans, would be monumental. In fact, she said, their combined departure would cause a $164 billion dollar reduction in GDP over a decade.
Since the 2001 earthquakes, El Salvador has been able to reconstruct its buildings and infrastructure. However, according to the World Peace Index, El Salvador is now one of the most violent places in the world due to its resurgent gang culture.
And the U.S. government agrees. In its travel warnings, the State Department warns Americans against traveling to the country, saying, "El Salvador has one of the highest homicide levels in the world and crimes such as extortion, assault and robbery are common." The department adds that visitors should avoid walking at night, and that motorists should drive with "windows up and doors locked to deter robberies." Furthermore, the department says travelers should not take public transportation, "especially buses, both within and outside the capital. Only use radio-dispatched taxis or those stationed in front of major hotels."
The U.S. may be partially to blame for that increase in violence, too. In the '90s, the U.S. government cracked down on immigration and, quite like they plan to do now, sent thousands of people back to El Salvador after they fled their own violent civil war. Refugees in Los Angeles had created a gang in the '80s now known as MS-13. From just a few hundred members, the gang soon ballooned into the tens of thousands. This, experts believe, is because they had nowhere else to turn after being deported to a place where they had few connections and little chance of integrating into society. Many joined gangs like MS-13, which has quickly become one of the most violent gangs in both their country and our own.
Those Salvadorans who do not obtain legal status by September 2019 will have no choice but to return, as TPS only accounts for those feeling from countries with "ongoing armed conflict, environmental disaster and extraordinary conditions," none of which include gang violence, the official told reporters.
And while the official wouldn't confirm or deny action will be taken against those who try to stay in the U.S., he did note that no person was "exempt from potential immigration enforcement actions."