Mic Wakeup: The threat of a shutdown, deportation and nuclear war all loom in Trump's White House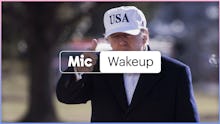 It's Tuesday, Jan. 9. Here are three stories you need to read.
More than 200,000 people may soon be sent back to El Salvador
On Monday, the Department of Homeland Security announced it will end the protected status of more than 200,000 Salvadoran immigrants currently living in the United States.
According to a senior administration official, the department will end the Temporary Protected Status for Salvadorans who've been living and working legally in the United States since large earthquakes devastated the nation in 2011.
"I think it's going to have profound consequences for these families," Royce Bernstein Murray, policy director at the American Immigration Council, told Mic "These individuals have lived here for years, and the United States is home."
While the Temporary Protected Status will run out in September 2019, the senior administration official could not answer questions on what will happen to those who choose to stay in the U.S. or are unable to return home. Instead, the official stated that no person was "exempt from potential immigration enforcement actions."
Nikki Haley just made the best excuse for Trump's Twitter rant
While the rest of the world was busy being horrified by President Donald Trump's recent Twitter antics, United Nations ambassador Nikki Haley was busy saying the entire thing was no big deal. Why? Because, according to her, Trump's tweet was simply meant to Keep North Korea on its toes.
"I think that he always has to keep Kim on his toes. It's very important that we don't ever let him get so arrogant that he doesn't realize the reality of what would happen if he started a nuclear war," Haley said during an appearance on ABC's This Week.
Furthermore, when asked if she believes the tweets, and others like it, hurt the United States' reputation with allies abroad, Haley said no. In fact, she insinuated it's helping, not hurting, the world's view of the U.S.
"They don't wonder if we know what the hell we're doing. I think it's very clear we do," Haley said. "What they know is we're not letting up on the pressure. We're not going to let them go and dramatize the fact that they have a button right on their desk and they can destroy America. We want to always remind them, 'We can destroy you, too, so be very cautious and careful with your words and what you do.'"
FYI, we are really, really close to a government shutdown, thanks to Trump
This week, as both chambers of Congress return from the holiday recess, leaders will face a monumental task: avoiding a government shutdown.
You see, Congress needs to come up with a plan to fund the government before the current spending bill expires Jan. 19. While normally this would feel like enough time, Trump went ahead and threw a wrench in the plans after he told Congress he'd only agree to a deal on the Deferred Action for Childhood Arrivals program if it gave him $18 billion to fund a border wall between the United States and Mexico.
"President Trump has said he may need a good government shutdown to get his wall. With this demand, he seems to be heading in that direction," Senate minority whip Sen. Dick Durbin (D-Ill.), an original cosponsor of the Dream Act, said Friday.
However, Trump may want to rethink his bargaining tactic as DACA is overwhelmingly popular among voters in the United States, while funding for the wall is far, far from it.