NYC activists honor Erica Garner on #PeoplesMonday in march to site of her father's death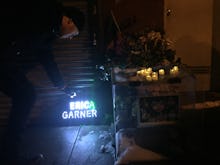 NEW YORK CITY — Erica Garner's biological family hosted her funeral at First Corinthian Baptist Church in Harlem on Monday night. Garner died on Dec. 30, after having a major heart attack.
After the service, her adopted family of radical New York activists honored her memory in their own way.
"We are doing this tonight in honor of Erica Gwenn Elise Garner!" Shannon Jones of the Bronx activist group Why Accountability shouted during a call-and-response demonstration with other protesters outside the church. "Her revolutionary fight for justice for her father inspired the Black Lives Matter Movement for New York City!"
The display was part of a protest ritual that Erica herself helped create more than three years ago. On Dec. 3, 2014, a Staten Island grand jury declined to indict the New York Police Department officer who choked Erica's father, Eric Garner, to death on a video that's been seen millions of times around the world.
That decision triggered protests around the country, and is cited as the formative moment for the BLM movement in New York City. In the weeks that followed, Erica Garner led die-ins in the streets of Manhattan and Staten Island, screaming her father's dying words, "I can't breathe!" before stunned tourists and commuters.
The dramatic demonstrations evolved into an ongoing weekly observance known as People's Mondays, coordinated by organizers in the radical activist group NYC Shut It Down. During each outing, demonstrators meet at a public location and bring attention to the story of a person of color recently killed by police.
This Monday, the organizers paid tribute to Erica.
"It was surreal holding a People's Monday for one of our own," Shut It Down activist Patrick Waldo told Mic. "The trauma [Erica] experienced, the stress the NYPD put her and her family through... it literally broke her heart."
Less than a block away from the church, multiple officers pinned Shut It Down demonstrator Jason Woody face down on the wet, cold pavement of 116th Street, arresting him on charges of blocking traffic.
"I can't breathe!" Woody shouted as the officers handcuffed him, hesitating briefly before putting him in the back of a police vehicle.
The coalition of participating demonstrators came from several New York groups who all support the Black Lives Matter cause. Organizations like the Copwatch Patrol Unit, the Stop Mass Incarceration Network and Justice League NYC, all have different strategies for fighting racial oppression — but were united whenever Garner was involved.
"Erica was the only one we would listen to," activist Rafael Luna told Mic. "She was the only one who could stop us in our tracks."
One of Erica's closest friends, who goes by the name "QB," met her at a demonstration in December 2014. After Erica's funeral, QB led the protesters to the 120th Precinct in Staten Island where Pantaleo still works.
Several officers stood clustered on the steps, watching the protesters approach.
"If my sister was still here, she would say, 'Fuck them!' and 'Turn your backs to them!'" QB shouted as picket sign-wielding demonstrators responded in kind.
The demonstrators marched to Eric Garner's memorial site in front of the beauty supply store where he was killed more than three years ago.
Pictures of Eric posted on the red brick wall above a clear plastic box filled with flowers now stood alongside pictures of Erica. The participants became silent and wept as they said goodbye to their friend and fellow activist.
"Erica, I love you," QB said as she cried. "None of us will ever know what it's like to watch a family member be murdered in front of the world... When the cameras went off, when the celebrities stopped endorsing, we had her back. All of us can walk away from this in peace because we know we had her back."