Mic Wakeup: All the things Trump is willing to give up for the border wall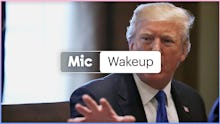 It's Wednesday, Jan. 10. Here are three stories you need to read.
Trump forgoes commitment to ending the drug trade to build a wall instead
On Tuesday, the New York Times shared crucial details of just how President Donald Trump plans to finance his "big, beautiful" wall along the U.S.-Mexico border. According the paper, his plan includes cutting portions of the budget for Customs and Border Protection — specifically, money allocated to prevent criminal drug trafficking. This way, more funds can be allocated to hiring more border patrol and Immigration and Customs Enforcement agents who will be tasked with carrying out Trump's deportation policies.
If passed, Trump's budget would decimate several surveillance measures currently used by CBP to track drug smugglers and would delay funding for Coastal Interceptor boats used to catch drug shipments entering the U.S. waters. Oh, and dogs would be out of a job, too, as the budget would reduce canine units by 40%.
Trump is apparently willing to end DACA if he doesn't get his wall funding
On Tuesday, Trump told a group of congressional lawmakers that he'd be willing to sign a "clean DACA bill" as long as it also covered border security. And that security, as you likely guessed, is the border wall.
"To me, a clean bill is a bill of DACA, we take care of them, and we also take care of security," Trump said Tuesday afternoon. "And the Democrats want border security, too. ... Everyone wants security. Then we go to comprehensive later on. And maybe that is a longer subject and a bigger subject, and I think we can get that done, too."
He added, "Drugs are pouring into our country at a record pace. A lot of people coming in that we can't have."
Trump, however, may want to rethink his stance on sacrificing DACA if his wall doesn't get funded. The program, which has helped thousands of people brought to the U.S. as minors to work and study legally, is incredibly popular.
Trump looks willing to shut down the government over the wall
Because Trump said he'll only sign a DACA bill that also comes with a border wall provision, there's a good chance that political leaders will be unable to pass a spending bill. And that means that a government shutdown is looming.
The current spending bill expires Jan. 19, meaning they have just nine days to pass a new bill. And Democrats won't compromise on DACA, while Trump appears unwilling to budge on his wall. Everyone will just have to wait and see who blinks first.