South Carolina city where Walter Scott was killed to swear in its first black police chief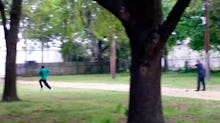 The city of North Charleston, South Carolina, will swear in its first black police chief on Thursday. The appointment of Reggie Burgess comes over two years after the April 4, 2015, fatal shooting of Walter Scott by former North Charleston Police Officer Michael Slager.
Burgess is a 52-year-old North Charleston native, a former chaplain and local high school football star who has spent close to three decades in law enforcement, according to the Post and Courier.
"I'm blessed," Burgess told reporters Tuesday. "I am truly blessed. I thank the Lord Jesus for giving me this opportunity... I'm a North Charleston kid born and raised. I love this city. I always have."
Burgess is also the latest black officer to take command of a department in a city where at least one high-profile police killing occurred in recent years.
In August, Medaria Arradondo became the first black police chief of Minneapolis. Arradondo's swearing-in came close to two years after the Nov. 15, 2015, fatal shooting of Jamar Clark in Minneapolis and more than a year after Philando Castile was shot and killed in the neighboring suburb of Falcon Heights, Minnesota.
The city of Ferguson, Missouri, made Delrish Moss its first black police chief in May 2016, nearly two years after the fatal shooting of Michael Brown.
In July, U. Renee Hall took over as the Dallas police chief, becoming the first black woman to serve in that position. Her appointment came less than a year after Micah Xavier Johnson fatally shot five Dallas officers during a protest over police shootings of black men.
Hall's predecessor David Brown, who is also black, retired in October 2016 after local police union leaders called for his resignation in the wake of the shooting.
In North Charleston, Slager was sentenced to 20 years in prison in December for fatally shooting Scott in the back as the unarmed man fled the officer following a traffic stop for a broken tail light. Burgess, the new police chief, said he hopes the community and police can work together to reduce crime and build bonds after years of mistrust and racial turmoil.
"We're going to actually try to first of all build a cohesive partnership with our community and the police," Burgess said to reporters. "We've got to get the community to talk to the police. The public serves the police and the police serves the public."