Lu Vason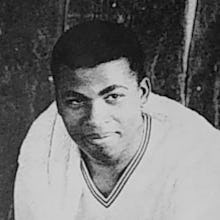 This article is part of the Black Monuments Project, which imagines a world that celebrates black heroes in 54 U.S. states and territories.
One could be forgiven for assuming Lu Vason was a rough-riding cowboy.
In 1984, Vason started the Bill Pickett Invitational Rodeo, an all-black competition, in part, to disprove the notion that black people weren't skilled at bareback riding, steer wrestling and calf roping. He'd seen an opportunity to provide an affirming community for black cowboys and cowgirls, who were largely missing from predominantly white rodeo circuit and similarly absent from pop culture depictions of American frontiersmen and women.
"It was like having a party dress on, but you have nowhere to wear it," Carolyn Carter, a registered nurse in Oklahoma City and rodeo aficionado who is also co-general manager for Bill Pickett, said in an interview.
"Lu gave us a party to go to, in every state."
Today, the Bill Pickett Rodeo draws thousands of spectators to invitation-only competitions in cities across the country, including in Denver, where Vason had relocated from Berkeley, California, in 1977. Regular rodeo stops have been in Memphis, Tennessee; Atlanta; Oakland, California; and Washington, D.C.
Vason died in 2015 at the age of 76. But his legacy with the rodeo continues through a crew of black women. In recent years, the rodeo has attracted national media attention for its prominent featuring of black cowgirls, who compete in women-only barrel racing, steer undecorating and relays.
The opportunities the Bill Pickett rodeo affords competitors are manifold, Carter said. It's been a training ground for blacks who felt disadvantaged competing in the Professional Rodeo Cowboys Association, the world's largest competition circuit where top winners receive tens of thousands of dollars in prize money.
"There is a feeling that they don't want us to excel, as far as the guys go," Carter said. "Lu knew that. They didn't always have the money and the rigs and the horse they needed to make it to the [PRCA] finals."
Vason also felt that real life history of black charting of the American West had been lost to popular depictions of those cowboys as white. During a visit to Denver's Black American West Museum, he learned of the history of Bill Pickett. That inspired the name.
"People knew the name Will Rogers, but who they hadn't heard of was Bill Pickett and if they had, they didn't know he was black," Vason is quoted saying in an essay published on the rodeo's website.
According to Smithsonian magazine, historians have estimated that 1 in 4 American West cowboys was black. But that lifestyle had been popularized by white actors such as John Wayne and Clint Eastwood. Born in 1870, Pickett had been known for the rodeo sport bulldogging — it required the cowboy to ride alongside a steer, jump onto its shoulders and bring it down by digging his feet into the ground.
"I'm trying to promote the culture of the black Best," Vason said in the essay. "A lot of people can't relate to the pyramids in Africa. I believe a lot of us can better relate to black Americans who were a part of developing this country."
But the veteran entertainment promoter was no type of cowboy.
Born Lucious Agustous Vason on April 11, 1939 in New Orleans, the black rodeo pioneer grew up away from steers and thoroughbreds in the densely populated cities of the San Francisco Bay Area. In his 20s, Vason had a brief stint as an actor and model. He'd once owned and operated a hair salon. Vason also leveraged his experience in the entertainment industry by promoting soul music acts, including the Pointer Sisters and the Whispers.
Vason combined his expertise as marketer with his love for history and a desire to see black Americans get their due in a niche sport. It's why he continues to be a beloved figure in Colorado and across the United States.