Mic Wakeup: Federal courts, Vermont and 'Black Panther' all had an awesome week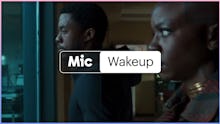 It's Thursday, Jan. 11. Here are three stories you need to read.
A federal judge ruled DACA can't be suspended
Late Tuesday evening, U.S. District Judge William Alsup in San Francisco ruled that the DACA program cannot be suspended. In his ruling, Alsup explained that the government must continue to process renewal applications while the outcome of the program's future is decided.
It is certainly a win for people already in the United States, however Alsup added that the government does not have to accept first-time DACA applicants.
While the ruling is only temporary, it does point to a larger trend with the power of federal judges. Take, for example, the role several judges played in President Donald Trump's travel ban, or the several rulings that declared Trump's rollback of Obama-era energy and environmental policies as illegal.
Read up on all the Trump-related cases that judges have ruled on since he took office in 2017.
Vermont just ruled to legalize marijuana
In a historic first, the state of Vermont legalized the use and sale of recreational marijuana via its state legislature, rather than through a ballot initiative. While that's remarkable it becomes even more so when you consider it came just days after Attorney General Jeff Sessions rescinded guidance set forth by former President Barack Obama that allowed states to legalize marijuana without interference from the Department of Justice.
Like other states, Vermont's marijuana laws will allow people over the age of 21 to purchase and consume adult-use cannabis. People will also be able to grow a small number of plants in their homes.
"This is a big step forward for Vermont," Matt Simon, New England political director for the Marijuana Policy Project, a group that advocates for legalization, told the Los Angeles Times. "Vermonters should be proud that their state is becoming the first to do this legislatively, rather than by ballot initiative."
Black Panther is already a hit and it hasn't even hit theaters yet
Black Panther isn't hitting theaters until Feb. 16, but it's already smashing records.
On Wednesday, Fandango's managing editor Erik Davis confirmed that Black Panther had sold more pre-sale tickets in its first 24 hours than any Marvel movie.
To celebrate that historic moment, and just because people can't wait to see the film, Marvel released a new trailer for us to all collectively lose our minds over. Enjoy it below.