Buy a car in 2018: Whether used or new, how to get the best deal — and save on insurance and more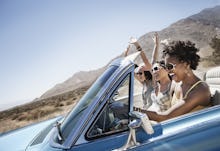 Shopping for a car? Whether you are looking to buy new wheels at a dealership or want to find the very best used car on sale online, you're not alone. Cars are a critical part of many people's daily life, helping us commute to work or school, or accommodate a growing family. Government data shows the number of miles U.S. vehicles drive annually has ticked up every year since 2011, hitting records in the last two.
Despite the increase in mileage, more Americans who already own cars are hanging onto the vehicles longer, making automakers jittery, according to Fortune. Indeed, annual U.S. sales dipped slightly in 2017 for the first time in eight years, CNN reported, though global demand remains strong.
But lower sales can actually be a good sign for consumers who want to flex greater bargaining power. If you are in the market for a new (or new to you) vehicle, what are the first things to consider? If you are not buying with cash, financing might be at the top of your list as interest rates are at their highest level since 2010. Alas, new vehicle APRs in February averaged 5.2% compared to 4.9% at this time in 2017, according to Edmunds, and used vehicle rates rose to an average 8.3% APR versus 7.9% last year.
To get organized, you might start with a budgeting checklist, setting ceilings for down payment costs, monthly payments, insurance and miscellaneous expenses like parking and gas. Luckily there are paths to the car of your dreams — without overpaying or regretting your purchase — and creative options to make the car work for you, such as by lending it out for cash with one of the rising number of sharing services available for owners.
It all starts with being honest with yourself and your budget. Here are answers to your seven biggest questions about buying a car.
1. What are the best new cars and tech or safety features to know about?
Are you looking for a car for a more practical purposes or for more emotional reasons — or a mix of both? If you are transporting precious cargo each day to and from school, safety and utility may be at the top of your list.
On the other hand, if you have a long commute and want to save on gas (and possibly be granted free entrance into the HOV lane) a hybrid or electric car might be a top priority. Other car technology options have exploded, ranging from apps that will replace carrying around keys and autonomous driving capabilities to cameras that help you back up, check on passengers and monitor surroundings through dash cams.
There are even innovations that allow you to perform functions using the power of your own two eyes. The technology, advertised by biometrics company Gentex, "can adjust the seats, mirrors, steering wheel, load your Spotify account and put everything exactly how you want it," Craig Piersma, Gentex's director of marketing, said to USA Today during the annual CES show in Las Vegas. "We're using ... Visa checkout to illustrate how you can make payments for gasoline from the car, or pay for tolls, or even parking spots, all with your iris."
One smart-technology brand you might check out is Volvo: The XC40 "offers a fresh, clean design and a lot of great tech," Tim Stevens, editor in chief at Roadshow, said in an email. Another vehicle worth researching this year is the Kia Stinger, he said, for comfort and smooth handling.
If you want to cut costs for any desired bells and whistles, peer-to-peer automobile lending may also be something to consider — essentially renting out your car when you're not using it, as you would a spare room on Airbnb. Though some startups that pioneered the services have encountered legal problems, their experiments have inspired a pilot program at General Motors, launching in summer 2018, according to Bloomberg.
Some good news: In 2018, electric and used vehicle prices are anticipated to drop — thanks to a 24% drop in battery price — opening the door to saving more money on a quality ride. An overactive leasing market produced a flood of pre-owned vehicles, plus the price of batteries used in electric cars are on the decline, too. New and affordable electric car models include the Tesla Model 3, which is still in limbo for delivery, and the 2018 Nissan Leaf.
In general, leasing a car can be great if you really want to drive a car with new features — but don't want to commit. Then again, since you aren't gaining an ownership interest in the car, it's probably not the best choice for someone looking for a smart long-term investment. Either way, try to comparison shop if you're considering a lease, and use a lease versus buy calculator to help find the best choice for your situation.
2. How much does a new or used car cost — and what expenses can I avoid?
Used vehicles are most affordable, wholesaling for an average of about $13,600 in October 2017, according to auction company Manheim, the Wall Street Journal reported — though of course it's possible to get a vehicle for just a few thousand dollars.
Average new car prices are higher, and can range anywhere from $20,000 to $55,000, according to Kelly Blue Book, with the average price for a midsize car falling around $25,000 to a midsize luxury SUV at $51,000. Car prices rose about 1.6% from December 2016 to December 2017, and increased 0.2% from December 2017 to January 2018 alone.
Those who purchased a car in 2017 typically paid around $8,500 annually on their new ride, or about $706 per month, which included gas and maintenance.
Beyond the topline sticker price, it's smart to get ahead of other expenses like maintenance, repairs, parking, gas and more.
Price out an annual gas budget with a calculator
Gasoline prices rose overall by four cents in January, along with increased consumer demand, according to a release by AAA. The national average for regular gas per gallon is at $2.54 versus $3.01 for premium. You can use a calculator to prepare for annual gasoline costs.
Consider parking expenses
Parking can be a big cost, especially if you live in a major urban area like New York City — and aren't willing or able to brave alternate-side parking and street-cleaning rules in exchange for free street spots.
You could rent a parking spot in Soho for about $500 a month, or own one in a private garage close to home for more like $45,000 in Manhattan, according to Brick Underground. New York — along with Boston, London, Hong Kong and San Francisco — is notoriously home to some of the most expensive parking spaces in the world: yet another reason why having a house with a driveway or garage can be a huge advantage in an urban area.
Negotiate for auto insurance savings
Explore auto insurance options early if you don't have a policy already: You must have coverage before you drive that car away, according to DMV.org.
To save the most money shop several insurance companies. Talk to your policy holder or lender about the option of bundling for savings and also about gap insurance for your car, to protect you from a big potential loss. Average auto insurance rates are more than $900 per year and several factors influence the amount you pay. This includes your driving record, insurance history, the type of car you drive, how far you drive and where you park.
Where you live may matter as well: The most expensive place to insure your car is in Michigan, whereas you'll spend the least in Maine, according to Insure.com. Your car type may dictate insurance price, too. You'll pay less to insure a Honda Odyssey LX or a Jeep Renegade Sport, for example, whereas you'll pay more for a Mercedes or a Dodge Viper.
NerdWallet has a good car insurance estimation calculator you could try out.
Be flexible on what you can
Luckily, being flexible on a few fronts can save you money, like by staying open-minded about buying a used versus new car, going with a more basic style, shopping similar models — and even considering sharing the car with trusted family or friends. Remember that certain cars require more expensive gas, insurance, repairs and maintenance, like luxury vehicles: Some of the most expensive cars to maintain include Mercedes-Benz, BMW and Cadillac, according to Your Mechanic.
Get strategic, for example, by anticipating surprises and shopping at good moments for sales — like April for used cars. Your choice in hue can even make a price difference. "If you can, be flexible with the car color," Ron Montoya, senior consumer advice editor for Edmunds, said by phone. Your bargaining power is strongest if you're open-minded. "If the dealer knows you are stuck on that one color, you may not have as much room to negotiate," he added. "Have a back-up color before you shop."
Finally, don't forget about keeping that car looking shiny and new, especially during inclement weather. Winterizing your car means you'll need to replace and refill all fluids, add snow tires and possibly replace your car battery before cold weather hits.
3. What are the best car loan interest rates — and why does my credit score matter?
Now if you're able to pay in cash, more power to you! You'll save on interest and avoid the headache of recurring car payments. To make a plan like that work, some folks might focus in on only the cheapest used cars, or try co-owning the vehicle, splitting costs with a friend — though in that case a careful contract will be critical to ensure you're on the same page about who gets the car when and what happens in case of damage.
Of course, this option won't work for everyone; for the rest of us, taking out a loan or "financing" will be the easiest path to some wheels. As with buying a home, your lender will base your loan on your credit — and customers with higher credit ratings typically earn a lower auto loan rate.
Usually the best rates go to those with credit ratings over 700, Nerdwallet reports. And while auto loan borrowers with a credit score of 500 may not be turned away, they are certainly going to pay for that with a higher rate.
So first and foremost, check your credit report before you shop. You can order a free report from one of the credit agencies — Equifax, TransUnion or Experian — and scrutinize it for errors. Any inaccuracies such as wrong names, wrong accounts or incorrect amounts should be reported to the credit bureau and the company that reported the information immediately.
Auto lenders typically use the FICO Auto Scores model to determine loans, according to Forbes, which fall between 250 and 900. The newest version, Auto Score 9T, examines about 30 months of credit behavior, according to Student Loan Hero.
To receive the best rates, your score should fall around 700 or higher, Nerdwallet reports. Take, for example, a 60-month loan to cover a car that costs $25,000: A buyer with good credit might receive a rate of about 2.84% and have monthly payments of $447, while a buyer with poor credit might receive a rate as high as 13.98%, leaving them to pay $581 per month.
Then again, one common mistake car buyers make is focusing too hard on the monthly car payment alone — then paying more in the long run because the dealer extends the loan term. For instance, a 6% loan on a $30,000 car for 60 months could have you paying about $580 a month, which comes out to about $34,799 total. But if you can't afford the $580 payment and still want the car, the dealer might extend the loan to 72 months, dropping your monthly payment to $497 — but making you pay almost $1,000 more in interest.
Alas, if you're undecided about locking in a loan, interest rates may continue to rise as the Federal Reserve is expected to raise rates multiple times this year.
4. Should I get pre-approved for an auto loan? Is there a car loan calculator?
Be smart about financing and open-minded about your car choice. Beware the old "rule of 20%" to determine how much to drop and instead focus on how to spend as little as possible. While it may seem counterintuitive to shop loans before the actual vehicle, lender shopping first may end up saving you more money in the long run. Why?
Car buying is an emotional ride and buyers can get swept up at the dealership and opt for dealer financing, which may not be the best deal in town. As with buying a home, consider several lenders and snag a pre-approval.
You can use Nerdwallet's auto loan calculator to figure out how much can really afford to borrow.
Start with your current bank
A good place to start is with your primary financial institution. If you are checking out a bank, understand that policies tend to be more conservative and typically more accommodating to those with higher credit ratings, as Consumer Reports warns.
But if you've forged a relationship with your bank, especially a community bank, it is a good idea to swing by a branch and talk with a loan officer. You could still score a decent rate, even if your credit is less than stellar. Another possible lender is a credit union, typically offering lower auto loan rates and better chances at approval even if you have dinged credit or unusual circumstances like a job loss.
Check out an online auto lender
Compare the quote you receive from your lender with an online lender like Clearlane, E-Loan or LendingTree, Consumer Reports suggests. These online entities do the legwork by gathering a number of offers for you. However, the downside is your personal information is captured by these sites, which may not sit well with some borrowers.
If you pay with cash
Paying cash is a great way to avoid the stress of auto loan payments. But keep in mind you may get a better deal if you finance the vehicle over paying cash, Auto Trader reports. It sounds counterintuitive, but if you have excellent credit and are approved for a low rate, you can invest your cash in a high yield investment rather than putting it toward a commodity that depreciates quickly.
Still, it is important to do the math for your particular situation.
5. How do I find the best deals on new or used cars for sale?
A good goal as you comparison shop is to land on two to three different vehicle types, which you can further explore using Edmunds' new car buying guide or Consumer Reports' reviews and ratings for new and used vehicles
Shopping at the end of the year can score you a great deal, but if you are looking any other time, here are some strategies you can try to save money.
Haggle at the dealership
If you go the dealership route, offer specific reasons why the price should be lower, such as if you plan to use their service department or if you've referred friends to the dealership, as Edmunds suggests. You might also shop in the afternoon to get more personal attention, listen to what the salesperson has to say and do the test drive.
"Test drive [options] on the same day," Montoya said. "Your impression will be the freshest. Don't do it weeks between." You'll want to make sure you are comfortable in the seats, actually like the technology and can easily install car seats, if you have children.
Dorene Lopez of Davie, Florida, said she was surprised with her dream car, a Mini Cooper, for a birthday: "I wanted that car for years and was so excited when it showed up in my driveway," she said. But Lopez didn't have a chance to test drive the Mini Cooper and didn't love how the car ran when she eventually drove it. "It was a lot rougher than what I am used to driving," she said. Ultimately Lopez traded in her beloved dream car for a smoother ride.
Try a no-haggle dealer if you hate negotiating
If haggling isn't your thing, consider exploring options like CarMax, which allows you to buy the car without the back and forth. Benefits include up front pricing and no hassles. However, you need to be on top of your game and know your pricing if you plan to go the no-haggle route, and be prepared to walk if the dealer tries to upsell you, according to AutoTrader.
Shop around when buying online
Again, you can shop for used cars easily on CarMax and explore other sites online like CarsDirect, TrueCar and even Costco. Use web tools to narrow down your choices and check out reviews and ratings, as Bankrate suggests. This is a great way to conduct price comparisons versus local dealerships' offerings, research the value of your trade and get inspiration for haggling. Use the same approach as you would at the dealership: Don't mention a trade-in and don't reveal upfront the minimum you would consider paying per month. Let the salesperson present and offer and then go in for the negotiation.
Also, if you plan to purchase a used car online, get a CarFax report and check with your local DMV to make sure the car's title is clean, meaning it has no liens or legal issues, as Popular Mechanics advises.
Be careful when buying from a friend or relative
This move could be a friendship-ender or a one-way ticket to an awkward family gathering if you don't approach car buying the right way. If you truly can keep the transaction purely business, make sure a mechanic inspects the vehicle and you are transparent about price.
Otherwise, the general rule of thumb is to avoid selling or even gifting a car to a friend or relative, according to Road and Track. Even if you had faith in the vehicle and it worked well for you, it might require a costly repair once your friend or relative takes possession. Who gets blamed? Possibly you. So you'll have to do some serious soul searching to see if your relationship is worth the sale or even the gift.
6. How do I secure an auto loan?
If the rate is still competitive from the lender that did your pre-approval, all you'll need to do is complete the loan application and, in some cases, it can fast track the approval. The reason being pre-approved is a good idea is that you avoid making any last minute or rash decisions on financing because you simply must have that vehicle.
Shop around right before you seal the deal to make sure there's nothing better out there. Or use your pre-approval as leverage once you get to the dealership. Some dealers who are thirsty to make the sale and think you are a flaky buyer may offer you better financing to solidify the transaction.
However, always ensure you're comparing apples to apples. When looking at loans, make sure you are holding constant the term, according to Consumer Reports: You will pay more in interest for a longer-term than a shorter-term loan.
Go through the same steps you took to secure your pre-approval by shopping about three different lenders to get the best rate and terms. Ask about any additional fees and closing costs, which can add to your overall total.
7. What are the last steps to buying a car?
Review your contract for fees and financing figures — and make sure numbers match up with the price you mutually agreed upon, the rate and the payment. If you've purchased any additional products or services, confirm so and schedule to have updates made to the vehicle if necessary (such as having new rims put on the car, special painting or interior work). You'll most likely also find state and local taxes, a registration fee and documentation fees.
Documentation fees vary by state and 40 states have no limit to what they can charge, so ask the dealer beforehand about the fee. For instance, Florida has no limit, making it possible to pay $675 in documentation fees alone, reports Car Pro. States with caps include New York at $75, California at $80 and Michigan at $190.
Keep in mind, you may get some last-minute sales pitches from your dealer, even after you've arrived at a verbal deal, as Nerdwallet warns. This includes special warranties, car alarms and protection packages that you may not really need — o do your research ahead of time.
All cars should come with a three-year or 36,000-mile warranty. You can typically purchase an extended warranty after the sale. In general, be ready to say no to anything that makes the car more expensive — chances are, you can always add it on later.
Once you've settled up, determine how you'll take possession of your vehicle: In some cases you can drive it off the lot. Otherwise, discuss when you'll pick up the car. Some dealers will even arrange to have the car delivered to you!
Sign up for the Payoff — your weekly crash course on how to live your best financial life.