How women candidates will run on the Republican anti-abortion record in 2018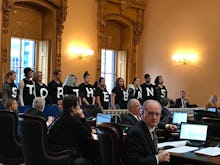 Since Republicans were ushered into office during the 2010 Tea Party wave, a historic rollback of access to abortion and women's health care services has been introduced across the country at the state level by members of the GOP. Now, ahead of the 2018 midterm elections, the Democratic party is planning to push back.
According to the Guttmacher Institute, one-third of all state restrictions on abortion since the Roe v. Wade decision in 1973 have been enacted in the last seven years. That's 401 new restrictions since 2011, dozens of which are not supported by science, the Institute found.
Republican lawmakers are not slowing down: in 2017, 19 states adopted 63 new restrictions on abortion rights and access — the largest number of abortion restrictions enacted in a year since 2013. The most came in 2011, when 92 restrictions were implemented.
This ongoing push against abortion rights comes as a potential record number of women will be running for state office. In December, the Center for American Women and Politics at Rutgers found an uptick in number of Democratic women candidates running at every level.
On Sunday, women plan to keep this political energy moving at the "Power to the Polls" event, which comes on the anniversary of the Women's March that sent millions into the streets nationwide following Donald Trump's inauguration. Throughout 2018, Democratic groups plan to pour millions of dollars into highlighting GOP records on women's health care in a bid to win control of state legislatures. The aim is to increase the amount of women in state legislatures above 24%, where it has hovered since 2009.
"The attack [at the state level] has been against anyone who's not an older, rich white man," Bob Bland, co-president of the Women's March, said in an interview. "Women are outraged. ... There are now hundreds of thousands of women identifying themselves as activists and organizers."
"By electing more pro-choice Democratic women to office, working families will have strong voices at the table representing their interests."
Julie McClain Downey, national director of campaign communications at Emily's List, a group that aims to elect Democratic, pro-abortion rights women to office, said 920 women contacted the organization about running for office in 2016. In 2017, that surged to 26,000 women — a majority of whom are seeking state and local positions.
"They're running for office because they want to fix something in their own backyard," Downey said in an interview. "By electing more pro-choice Democratic women to office, working families will have strong voices at the table representing their interests."
Run For Something, an organization founded in the wake of the 2016 election to push new candidates, works down-ballot. They take a chance on people the usual "institutions" might never encounter, according to their website. From state legislature to school boards, 60% of the candidates Run For Something has groomed so far have been women — most of them under 40 years old, according to Amanda Litman, the group's founder.
Passage of anti-abortion or anti-women legislation has been a consistent motivator among younger women candidates, she said.
"They are pissed off as part of a broader vibe of women being angry and having had enough of that [legislation]," Litman said in an interview. She added that it's too early to know how many Run For Something candidates will be seeking state legislative seats, but she predicts her group will work with about 1,000 candidates in 2018, with many of them focused on taking back statehouses.
Rolling back the GOPs agenda in Michigan
Mari Manoogian is one of those candidates. At 25, she's running for Michigan's House of Representatives in the suburbs north of Detroit. She announced her run for office in August 2017, saying she's committed to rolling back years of Republican-controlled policymaking in her state.
The story in Michigan is familiar. Gov. Rick Snyder, a Republican, was elected during the 2010 Tea Party wave, as Republicans also took control of Michigan's House. That led to a host of what Manoogian called "overreach by the GOP."
In 2011, Snyder signed an emergency manager law that let the state unilaterally take control of struggling cities. Voters overturned that legislation — only to have a similar bill passed again. Michigan passed laws in 2012 that required abortion providers to post signs with state-mandated anti-coercion language that may intimidate women seeking abortions.
The emergency manager law first piqued Manoogian's interest in politics, she said, eventually driving her to run for office to oppose a host of GOP policies.
"Women's health issues concern me," she said. "But I also want to make it clear that I'm not just a woman running for office, I'm a person running for office. A lot of female politicians sometimes get pegged as the woman candidate. It's 2018. We need to move past that."
In a bid to help Democrats win back state legislatures they lost in 2010, Democratic PACs are planning in 2018 to spend tens of millions of dollars targeting more than a hundred Republican state legislative incumbents. The Super PAC Forward Majority says voters in key legislative districts nationwide will for the first time hear messages highlighting "a concerted effort to restrict a woman's right to make her own health care decisions."
"Republican-held state legislatures have been implementing far more regressive policy and have been effectively serving as a laboratory for far-right wing policy that could be scaled up nationally," Vicky Hausman, co-founder of Forward Majority, said in an interview. "Our top targets include very gerrymandered states, and where we see an opportunity to hold extremist incumbents accountable."
Funneling in funds
Forward Majority is set to release a report on Monday, which was first shared with Mic, that highlights "extreme" records of Republicans in Florida, Ohio, Pennsylvania, Michigan, North Carolina and Wisconsin. The group will spend millions of dollars highlighting these records in 2018.
That follows the model the group used while spending $1 million to defeat entrenched incumbents across Virginia — 12 of which they helped win, in 2017. The National Democratic Redistricting Committee, another new group launched in 2017, says it will spend $30 million on state races this election cycle. And the Democratic Legislative Campaign Committee is planning record spending of $35 million in state campaigns in 2018, with much of it focused on highlighting Republican voting records on health care and reproductive rights.
The investment in electing women specifically will be key to increasing their representation in state legislatures. Women made up 51% of the U.S. population in 2015, but made up only 24% of state legislatures, according to the National Conference of State Legislatures. Pew Charitable Trusts found that after the 2010 GOP wave, the growth of women as a percentage of state legislators did not increase nationally after three decades of regular increases.
This focus from Democratic groups comes as recent elections and polling have shown Republican support slipping among women. In 2016, Hillary Clinton defeated Trump by 17 percentage points among women voters in Virginia. In the 2017 state elections, women supported the Democratic gubernatorial candidate by 22 points in Virginia. A backlash against Trump and the GOP in suburban America, led by white women, is likely to spell trouble for GOP candidates in 2018.
"The thing I hear all the time from women candidates is, 'This is not who we are as a country," A'shanti Gholar, political director of Emerge America, said in an interview.
Gholar leads candidate recruitment for Emerge, a group that trains Democratic women to run for office. Many women have viewed the wave of state legislation passed since 2011 focused on reproductive health as targeting women's rights, Gholar said.
"In this age of Trump, we have actually learned how fragile a democracy can be, how our rights are up for grabs," she said. "That wake-up call led women to search for races they could pursue in their community, taking the view that, 'I have to be the one to stand up and run for office to make sure women's voices are at the table.'"