James Franco's handling of these sexual misconduct allegations isn't heroic — it's manipulative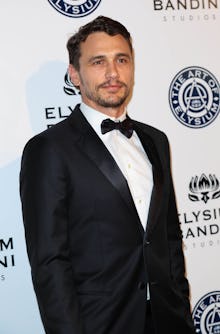 On Wednesday's episode of Late Night With Seth Meyers, host Seth Meyers began an interview with James Franco by bringing up sexual misconduct allegations that arose on Twitter during Sunday's Golden Globes. Franco was booked on the show to discuss The Disaster Artist, a film he stars in and directed, and for which he won the Golden Globe for best actor in a musical or comedy, but the recent wave of accusations against him made the topic of his alleged misconduct unavoidable.
The accusations began to make the rounds when, in response to Franco's win on Sunday, actress Ally Sheedy tweeted, "James Franco just won. Please never ever ask me why I left the film/tv business."
Sheedy's tweet, which has since been deleted, prompted others to speak up as well. Violet Paley and Sarah Tither-Kaplan recounted negative experiences they allegedly had with Franco and expressed anger at the perceived hypocrisy of him wearing a Time's Up pin at the awards show. (On Thursday, the Los Angeles Times published a report in which five women — including Paley and Tither-Kaplan — accused Franco of "inappropriate or sexually exploitative behavior." Speaking to the Times, Franco's attorney disputed the allegations.)
The conversation Franco and Meyers had, just like the actor had on The Late Show With Stephen Colbert on Tuesday, was short and tense — late night, a typically breezy and canned interview space, is not especially conducive to interrogation or candidness. Speaking to Meyers, Franco echoed the remarks he made to Colbert, denying any knowledge as to what Sheedy was talking about, and claimed to have had a positive relationship with her when he directed her in a 2014 off-Broadway production of The Long Shrift. He also repeated his claim that the accounts that were tweeted are "not accurate."
Before moving on to the lighter fare at hand (Franco's movie), Meyers asked Franco to reflect, "Does this Time's Up movement and this moment we're having right now, does it make you look back and question any of your behavior in the past, based on this new perspective we're getting on how women have perceived things for so long?"
Franco nodded his head slowly and looked at the floor as he listened to Meyers ask the question, and then, speaking solemnly and choosing his words carefully, replied, "There are stories that need to get out. There are people that need to be heard. I have my own side of this story, but I believe in these people that have been underrepresented getting their stories out enough that I will hold back things that I could say just because I believe in it that much. And if I have to take a knock because I'm not gonna try and actively refute things, then I will, because I believe in it that much."
Now, it should be said that there's no good response to sexual misconduct allegations. Apologies are picked apart. Denials are hard to believe, insinuate that a woman has lied and often come back to bite the men issuing them. And attempts at providing "context" — it was a different time; I was a different person then — often just sound like empty excuses.
On the surface, though, Franco said as close to the right thing as possible: "I remember things differently, but my side of the story is less important than their side of the story." He pointedly fell on the sword, and sounded more or less sincere as he did so. (This week didn't mark the first time Franco has had to answer for reports of questionable behavior; in 2014, after it was revealed he tried to seduce a 17-year-old over Instagram, he admitted on Live With Kelly and Michael that he had used "bad judgment.")
And yet, there was also an insidious slyness to Franco's response. He filibustered the question Meyers asked him ("Does this moment make you question any of your past behavior?") and gently refuted his accusers' accounts while telling the audience that his accusers deserve to be heard; it was a non-denial denial, an evasion not too far off from Louis C.K. once telling the New York Times, "If you actually participate in a rumor, you make it bigger and you make it real."
But unlike C.K., who was responding to then-rumors of sexual misconduct (which have since been confirmed) before the start of the #MeToo movement or Time's Up, Franco hid behind the moment. By not telling his side of the story, or acknowledging the women's allegations in any real way, he's effectively shifting the conversation from him to the moment at hand, wielding the movement as a shield. Franco cast himself not just as an ally, but as a martyr.
In fairness to Franco, it is possible that his side of the story — or, really, stories — has merit. But Franco's response to the allegations stinks of false nobility. He's not clearing the floor for women to tell their stories; rather, he's letting the public imagine his side of the story for him. Franco shouldn't, in his words, "take a knock because I'm not gonna try and actively refute things." But he should take one for passively refuting them while feigning alliance.