Donald Trump: Haiti, African nations are "shithole countries"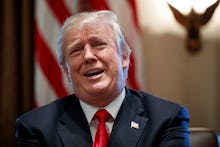 President Donald Trump on Thursday called Haiti and some African nations "shithole countries" in an angry outburst after congressional lawmakers proposed reinstating protections for immigrants from those nations, the Washington Post reported.
"Why are we having all these people from shithole countries come here?" Trump said of Haiti and countries in Africa, according to the Post, which cited two sources briefed on the meeting.
Trump instead said the U.S. should accept immigrants from countries like Norway — where the vast majority of people are white — according to the Post's report.
Trump made the comments during a meeting with a bipartisan group of lawmakers, who are seeking to come up with an immigration deal.
In a statement released Thursday evening, the White House didn't deny that Trump called Haiti and African nations "shithole countries."
"Certain Washington politicians choose to fight for foreign countries, but President Trump will always fight for the American people," deputy press secretary Raj Shah said in the statement to CBS.
According to the Post, Trump's comments left some lawmakers in the room shocked, including Sen. Lindsey Graham (R-S.C.) and Dick Durbin (D-Ill.).