Aziz Ansari issues statement on sexual assault allegation, says encounter was "consensual"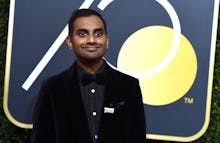 Actor-comedian Aziz Ansari has issued a statement following a sexual assault allegation against him that surfaced over the weekend, saying the encounter in question was "completely consensual."
A 23-year-old New York-based photographer came forward Saturday to allege Ansari, 34, repeatedly touched her sexually while they were in his home, in spite of what she says were physical cues that she was not interested in sex with him.
It was the "worst experience with a man I've ever had," the woman told the website Babe, which corroborated the story through interviews with friends and text messages exchanged with the actor. The two met at a 2017 Emmy Awards afterparty, she said. Babe changed the photographer's name to protect her privacy.
In a statement first reported Sunday by the website FADER, Ansari said he was "surprised and concerned" when he learned the woman felt he had assaulted her in his apartment after their date.
"We went out to dinner, and afterwards we ended up engaging in sexual activity, which by all indications was completely consensual," the statement reads.
Ansari acknowledged that he'd exchanged text messages with the woman the next day, when she told him that she did not enjoy the encounter. His statement does not include an apology, although the Babe report indicates Ansari did apologize privately to the woman.
"I took her words to heart and responded privately after taking the time to process what she had said," Ansari said in the statement.
The allegation against the star comes on the heels of his Jan. 7 win for best actor in a musical or comedy at the Golden Globes for the Netflix series Master of None. The woman told Babe she was angered to see Ansari accepting the award while wearing a solidarity pin for Time's Up, a campaign and legal defense fund for sexual assault victims who risk their livelihoods and reputations by coming forward.
Ansari said he will continue to support the Time's Up campaign, calling it "necessary and long overdue."
After the story dropped Saturday, Ansari's name trended on Twitter. This continued through Sunday, as users cited Ansari's alleged behavior as part of rape culture that some say is pervasive, even among men who consider themselves enlightened on the issue of consent.