Why aren't more South Koreans going to their own Olympics?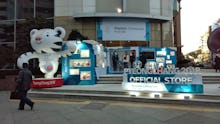 South Korea has plenty to be excited about right now: It's holding the 2018 Olympics games in Pyeongchang. North Korea is sending athletes to South Korea's Olympics, which is raising hopes of a diplomatic thaw after years of icy relations. South Korean speed skater Lee Sang-hwa will be vying for her third Olympic gold. Foreigners from all over the world will tune in to see Korea's sparkly, high-tech world — just in time to clean up any bad impressions left behind by former President Park Geun-hye's impeachment last year.
Yet, somehow, ticket sales to the Pyeongchang Olympics are incredibly underwhelming so far. The Pyeongchang organizing committee reported that about 61% of tickets have been sold as of late December. Now, there's less than a month left before the opening ceremony.
Among foreigners, it makes sense — proximity to North Korea was probably a big deterrent for making Olympic plans. But South Koreans are used to those threats, and so it's unclear why they're skipping the upcoming games.
"All of the problems have been there from the beginning: Pyeongchang is really far from Seoul metropolitan area, where 50% of the population lives, and people's schedules are so hectic in Korea," C. Harrison Kim, an assistant professor at the University of Hawaii at Manoa who studies socialism in East Asia and North Korea, said in a phone interview. "Why would Koreans go there when they can watch the Olympics on their 70-inch, high-resolution, HD TVs at home, which all of them have? I think it's a matter of convenience."
Little interest in winter sports
Simply put, the Pyeongchang Olympics don't appear to be resonating with the masses — and one reason could be that it's simply not the Summer Olympics. On the streets of Seoul near Myeongdong shopping district, 24-year-old designer Park Hye-young put it concisely: "Pyeongchang is far away from Seoul, and Korea doesn't produce many gold medalists from winter sports."
In other words: "Koreans don't care much about the Olympics this time," she said.
Both might be valid points. It takes about one to two hours to travel to Pyeongchang from Seoul, and it is true that South Korea tends to fall short in the Winter games. South Korean athletes have taken home only 53 medals during Winter Olympics since the 1948 — which is way fewer than the 267 medals won during the Summer Olympics during the same time period.
"The most important thing in the Winter Olympics to Koreans is figure skating, but even gold medalist Kim Yuna is retiring and not skating anymore," Park said. "I think that's one of the reasons why Koreans don't have as much interest."
So far, Park isn't sure if she'll go to the Pyeongchang Games, either — she says she's "probably going to be too busy working."
History's shadow
Another reason so many South Koreans can't be bothered to attend the Pyeongchang Games could be that the last Olympics — the 1988 Seoul games — are a tough act to follow.
In 1988, Koreans were just starting to emerge from decades of postwar poverty, and the government wanted to show off the nation's rapid economic development from one of the poorest countries in the world to a burgeoning economy on a backdrop of skyscrapers. South Korea's rapid economic development is a big deal: Now, it lives on in history books as the "miracle of the Han River" (which references the river that bisects Seoul).
Basically, Koreans were eager to show the world that they could perform on the world stage.
"We were glued to the TV for 10 days straight back then. We were so happy, so proud," said Kim, who had immigrated to the U.S. with his family by that time. "We were so happy and proud. I had the mascot — the tiger — with me, and we cried, of course. The Olympics really stirred up nationalist sentiment."
In comparison, Pyeongchang falls short.
"The 1988 Olympics were a much bigger deal. I only remember a little bit because I was so young, but the Olympic Opening Ceremony really left an impression on me," Ahn Mee-oke, a 48-year-old shoe store owner in Seoul, said with a grin. "It was really great. But this is the second time and it is the Winter Olympics, so it just feels [less important]."
Economic woes
Koreans have been calling their financial troubles "Hell Joseon." It's a play on words and history — the Joseon dynasty existed until 1910, and it is known to be a time of the haves and have nots. Nearly 63% of South Korean adults are on board with the term, according to a recent survey, and that's likely because Korean work hours are incredibly long and pay is less than average among countries in the Organisation for Economic Co-operation and Development. Right now, youth unemployment is also high in the country — and it's only growing, too.
"I really want to go to the Olympics, but I can't afford it," said Cho Eun-ji, a 20-year-old student from Seoul. "Hotel prices are way too high around [Pyeongchang] and I don't even have the money for a ticket."
It could be that many South Koreans don't want to — or can't — spare the extra cash to go. Figure skating tickets are going for roughly $282 at this point, and that doesn't include the price of the high-speed rail, nor sky-rocketing hotel prices that are averaging around $460 a night.
That's a lot, considering budget Korean guesthouses are routinely as cheap as $40 a night outside the Olympic games.
"Pyeongchang is really far from Seoul. So if I want to go, I have to stay somewhere, and I can't afford that," Kim Min-ji, also a 20-year-old student, said just steps away from a light-up Pyeongchang 2018 display in Seoul.
Crummy weather
Winter Olympics are supposed to be cold, but that's not effective for ticket sales if people would rather stay warm. Right now, South Korea is suffering its coldest January in nearly five decades, with the lowest daily temperatures averaging at about 7.5 degrees Fahrenheit.
"February is the dead cold of winter," said Im Bo-hwan, a 26-year-old office worker in Seoul. "People can just watch it on TV from their home, so why go?"
Turns out, she also has zero plans to attend.