Trump is losing support from black Republicans: "It's almost as if Trump doesn't really care"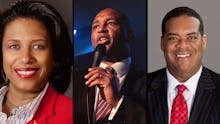 Conservative talk radio host Tracey Winbush drew the line on supporting President Donald Trump somewhere around the word "shithole."
The Youngstown, Ohio, native and president of the state's Black Republicans Association has been fielding calls about Trump's remarks calling Haiti and African nations "shithole countries" since the Washington Post broke the story on Jan. 11.
"I don't think anyone appreciated the comment across the board unless you're just a blatant racist," Winbush, who served as a Mahoning County chair for Trump's 2016 presidential campaign, said in a phone interview with Mic. "I don't believe in calling out nations... I'm a black person and I'm proud of it. I'm also a conservative and I'm a proud Republican. But I don't do nonsense."
Trump's "shithole" characterization of majority black countries may have energized white nationalists, but it's also earned him rare bipartisan condemnation among black politicos.
Haitian-American Rep. Mia Love (R-Utah), Sen. Tim Scott (R-S.C.), former Republican National Committee Chair Michael Steele, and even Department of Housing and Urban Development Secretary Ben Carson have all denounced Trump's comments describing Haiti and African nations.
New York Republican Michel Faulkner is used to deflecting attacks from people who say the GOP is a racist party, but says when it comes to Trump, given his history and his latest comments, the claim is almost undeniable.
"The frightening part about it is it's almost as if Trump doesn't really care," Faulkner said during a recent interview. "You don't do a public photo opp for Martin Luther King Day? You're playing golf? Really? I'm really baffled."
On Tuesday morning, after five days of backlash, Trump tweeted inaccurate statements that his approval rating among black Americans had doubled since Election Day.
He may have been referencing an assertion made by Fox and Friends co-host Brian Kilmeade earlier the same morning. Kilmeade cited a Survey Monkey study detailed in a Breitbart article that incorrectly correlated Trump's Election Day voter turnout with his approval numbers among blacks. The conclusion that black support for the president has doubled is false. In fact, the exact opposite appears to be true.
The Washington Post, citing Gallup poll numbers, later pointed out the president's job approval ratings among black Americans has declined 60% since his first week in office. In January 2017, Trump had a 15% approval rating among black Americans. That number dropped to 6% approval at the end of December, according to Gallup.
Trump's black supporters probably weren't Democrats, according to Winbush and other black GOP backers Mic interviewed — they believe the bulk of Trump's decline in black approval has come from black Republicans.
Several black Republicans cite the president's tepid condemnation of white supremacists in Charlottesville, Virginia, in August, his tacit endorsement of police brutality, and the lack of black people currently serving in his administration as issues that concerned black GOP backers even before Trump's latest denouncement of black and brown people.
"When it comes to African-Americans that support the president, there's a majority of those people who are unhappy at this time with his performance," Ohio black Republican James Ervin Jr. told Mic. "Yet there are still a number who are all-in and still waiting to see what shakes out."
Ervin is the former head of the Ohio Black Republicans and an ardent Trump critic who said he voted for Ohio Gov. John Kasich on Election Day.
He's also the secretary of the Franklin County Republican Party Executive Committee who said he's talked with a number of his black Republican colleagues and found 75% of them are dissatisfied with Trump's overall job performance, but "100%" of them disapprove of his "shithole" remarks.
Ervin emphasized that when it comes to race, in his view, Trump's brand of conservatism differs from most of his peers in the GOP.
"As a Republican, as a citizen and an American, I think the president's comments were wrong," Ervin said. "I think the president's comments do not reflect the spirit of our country or reflect highly on the Republican Party."
Not everyone agrees with that sentiment.
When asked for comment on Trump's remarks via email, the National Black Republican Association, currently chaired by co-founder Frances Rice, referred Mic to one of its latest blog posts titled, "Trump is Right, Africa is a Continent of Sh*t." The post includes excerpts from a Yahoo News article written by West African sociologist Mamady Traore.
"When you have rebel factions that kill children, disembowel women as saints, who mutilate innocent civilians," Traore wrote, "frankly, it must be said that it's crap."
In truth, Africans rank among the most highly educated U.S. migrant groups in spite of the challenges some of them have overcome in their countries of origin.
Trump's comments were made behind closed doors and likely weren't intended for the public to hear, according to Faulkner, who said the president still needs to apologize to Americans of color to start making amends.
"Nothing short of that will actually do it," Faulkner said.
The next step to garner more support would be appointing more black people to leadership positions, according to Winbush, who said she still supports Trump's presidency despite her problems with how he's handled issues dealing with race.
Winbush denounced the president's hiring of Omarosa Manigault-Newman, saying the woman who was the only black member of Trump's senior staff had no political experience. The former Apprentice star's White House tenure ended abruptly in December.
"She's never been Republican. She's never been conservative," Winbush said of Manigault-Newman. "If African Americans had been at the table last week, as they should be, the [shithole] comment would not have been made," she added, "but we're not there."