Colin Kaepernick says he met his goal of $1 million in donations to social justice organizations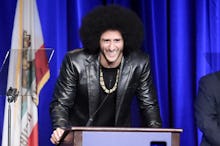 After a 10-day donation drive, Colin Kaepernick said he met his goal of $1 million in donations to social justice organizations, as part of his ongoing protest of racial injustice and police brutality in the United States.
The former San Francisco 49ers quarterback announced gifts of $10,000 each to groups over 10 days, adding to the more than $900,000 already given out. On Jan. 17, the recipient organization was Silicon Valley De-Bug, a community organizing and multimedia storytelling group in the Bay Area that advocates for criminal justice reform and accountability among police.
The $10,000 donation was matched by Kevin Durant, who plays for Golden State Warriors, the 2017 NBA champions. Durant had suggested De-Bug to Kaepernick.
"KD, thank you so much, brother, for continuing to uplift and empower our communities," Kaepernick said to Durant in a video announcing the donation. "We love you and appreciate you."
On Jan. 18, the Advancement Project, a national civil rights group whose works includes addressing the school-to-prison pipeline, became the second of 10 organizations to receive a donation from Kaepernick. Actor and civil rights activist Jesse Williams, who serves on the organization's board, matched the $10,000 gift.
"We are grateful for Jesse and Colin's support of our work," Judith Browne Dianis, executive director of Advancement Project's national office, said in a statement on Thursday. "This partnership is a perfect fit for the work we have been doing across the country supporting communities of color as they demand an end to unjust over-policing and over-criminalization."
Other donations went to groups such as United Playaz, Mothers Against Police Brutality, Imagine LA, Angel by Nature, and Communities United for Police Reform. Those gifts were matched by Golden State Warriors' Stephen Curry, rappers Snoop Dogg, TI and Meek Mill, as well as singers Jhene Aiko and Chris Brown.
Kaepernick has posted to his personal website a list of organizations that have already received donations. It's not just money he has given out — in April, Kaepernick gave many of his own gently worn men's suits to a boutique located in a New York City parole office.
Following his decision to take a knee during the national anthem before NFL games in 2016 that led to nationwide debate around race and policing, Kaepernick was effectively blackballed from the league. His peaceful protest began after a pair of fatal police shootings in Minnesota and Louisiana sparked Black Lives Matter demonstrations across the country. Kaepernick also pledged to donate the first $1 million of his 2017 salary to groups doing work to address systemic racism in criminal justice and policing.
Despite Kaepernick's insistence that his protests were not meant to disrespect the U.S. flag or military service members, he and other professional athletes' on-field protests were derided by some fans and political figures. In 2017, President Donald Trump revived anger by speaking and tweeting disparaging remarks about the kneeling players and the coaches who allowed it.
As of Wednesday, it had been 322 days since Kaepernick was denied work in the NFL. But since then, he has racked up awards and recognition for his efforts off the field. In November, GQ named him its citizen of the year. And Sports Illustrated awarded him with the Muhammad Ali Legacy Award, an honor presented to him by pop icon Beyoncé in December.
Jan. 31, 2018, 8:14 a.m. Eastern: This story has been updated.