Pro-marijuana lawmakers push back against Trump administration with sweeping legalization bill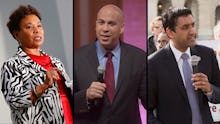 The war on the war on weed has officially begun.
Two weeks ago, Attorney General Jeff Sessions rolled back protections for states that legalized the cultivation and sale of marijuana. Now, politicians in pro-pot states are pushing back. On Wednesday, attorneys general from 19 states wrote a letter to Congress seeking expanded authority to allow marijuana businesses to store their money in federally regulated banks.
And on Thursday, House Democrats from California introduced legislation to effectively end the federal prohibition on marijuana usage nationwide. The bill, sponsored by Reps. Barbara Lee and Ro Khanna, is a piece of companion legislation to the sweeping marijuana reforms proposed by Sen. Cory Booker (D-N.J.) in August.
"This legislation will end this destructive war on drugs," Lee said Wednesday in a call with reporters. "I believe that the Trump administration has made a major miscalculation. People understand that marijuana criminalization has failed."
The bill goes beyond simply ending the legal prohibition on marijuana. It provides paths for those who have been charged with certain federal marijuana crimes to have their records expunged and allows those who are currently incarcerated to petition for resentencing.
"To me, it strikes of hypocrisy and injustice if you legalize but don't try to undo the damage that was done by this awful war on drugs."
The bill also directs funding into investments in communities that have been disproportionately impacted by the effects of prohibition and cuts federal funding for law enforcement and prison construction to states that don't work to address racial disparities in drug sentencing.
"There's all this rush of enthusiasm about legalization going on, everywhere from California to New Jersey," Booker said on the call. "To me, it strikes of hypocrisy and injustice if you legalize but don't try to undo the damage that was done by this awful war on drugs."
Recreational marijuana became legal in California on Jan. 1, but the Justice Department's tough stance on marijuana use has loomed heavily over the rollout. On Jan. 4, the Justice Department issued a memo rescinding Obama-era guidance that made it easier for marijuana businesses in states that choose to legalize the drug to operate without fear of reprisal from the federal government.
The decision by congressional Democrats to call for expanded marijuana rights may go beyond responding to Sessions. Recent polling finds that nearly two-thirds of Americans support the legalization of marijuana.
The widespread popularity of marijuana legalization, along with the Trump administration's anachronistic views on the issue, have led some to argue that Democrats should use legalization as a wedge issue in the 2018 midterm elections.
Democratic candidates in areas like West Virginia's 1st Congressional District and Indiana's 9th Congressional District — where Trump won by 49 points and 27 points, respectively — are running on the issue of marijuana legalization as a means to alleviate the growing opioid crisis by offering non-addictive pain relief alternatives.
"It's going to be the voice of the people that will be reflected in candidates' positions on this issue," Lee said. "Public opinion is telling us and showing us ... where the majority of the public and our constituents are, and candidates will catch up with their voters very soon."