Mic Wakeup: Democrats, Kaepernick and "shithole" countries keep winning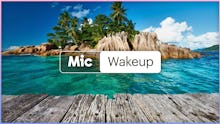 It's Thursday, Jan. 18. Here are three stories you need to read.
There's a Democratic wave taking over the nation
On Tuesday, the Democratic party won a special election. While this wouldn't normally be newsworthy, where they won the seat is.
Democrat Patty Schachtner defeated her GOP opponent 55% to 45% in Tuesday's race in Wisconsin, a state that has historically been held by Republicans. This win, combined with other historic Democratic takeovers, continues to point to an impending Democratic wave in the 2018 midterm elections.
"Senate District 10 special election win by a Democrat is a wakeup call for Republicans in Wisconsin," Republican Gov. Scott Walker shared in a tweet after the win.
"The message from tonight is simple," the Democratic Party of Wisconsin added in a tweet. "Every seat is up for grabs in 2018."
Colin Kaepernick can't stop being awesome
On Wednesday, one-time San Francisco 49er's quarterback Colin Kaepernick announced that he will soon surpass the $1 million goal he set for himself to fund social justice programs around the country to help continue the fight against police brutality in the United States.
Kaepernick was able to meet his goal partially thanks to a matching donation made by basketball player Kevin Durant, who promised to match Kaepernick's $10,000 donation to several groups.
"KD, thank you so much, brother, for continuing to uplift and empower our communities," Kaepernick said to Durant in a video announcing the donation. "We love you and appreciate you."
Seriously, you need to go visit these "shithole" countries right now
Sure, President Donald Trump may think that El Salvador, Haiti and the entire continent of Africa are "shithole" places, but the second you take a look at these beautiful destinations you'll realize just how wrong he really is.
Take, for example, the gorgeous natural scene above from Namibia. Or, this picture-perfect beach scene from Haiti below.
These nations, as Mic pointed out, are filled with natural beauty, wonders, culture, history and foods that are all worth exploring. Need more proof, just check out what all these places have to offer and book your travel today.