Mic Wakeup: The shutdown, fake news and Dylan Farrow all make headlines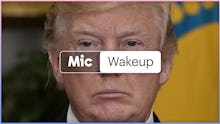 It's Friday, Jan. 19. Here are three stories you need to read.
The United States is on the verge of a government shutdown
As of Thursday evening, only the House could come to a budget consensus, voting 230-197 in favor of a spending bill, with 11 Republicans in opposition of a plan that will keep the government open until February. This means the Senate has just hours to approve or deny the plan and decide whether or not the government will shut down.
And really, there may be little hope of avoiding a shutdown in the Senate as Democrats, and even a few Republicans, have already said they will vote 'no' on the plan. For Democrats, Politico explained, it comes down to the fact that the plan will not address the fate of hundreds of thousands of Deferred Action for Childhood Arrivals recipients, while Republicans fear the repeated short-term funding measures will harm the military.
"My Democratic colleagues' demand on illegal immigration at the behest of their far-left base have crowded out all other important business," Senate Majority Leader Mitch McConnell told reporters. "I think the American people clearly would not expect us to act this way."
Meanwhile, Senate Minority Leader Chuck Schumer told reporters, "The leader is looking to deflect blame. But it just won't work. We all know what the problem is. It's complete disarray on the Republican side."
As Mic previously reported, GOP Sens. Lindsey Graham (R-S.C.), Mike Rounds (R-S.D.) and Rand Paul (R-Ky.) have all indicated they plan to vote against the bill. And it's unclear if Sen. John McCain (R-Ariz.), who is currently undergoing cancer treatment, will be able to return to Washington in time to vote for the bill.
Donald Trump finally revealed his "Fake News Awards"
On Wednesday evening, President Donald Trump finally unveiled his picks for the "Fake News Awards," a fake awards ceremony he made up for a fake problem.
And, like most things Trump tweets about these days, this one too ended in a flop. Why? Because the site wouldn't even load.
When people attempted to view the page they were met with a 404 error, or a message saying, "The site is temporarily offline, we are working to bring it back up. Please try back later."
When the awards finally did pop up, it was simply a list of headlines Trump didn't seem to like, rather than actual misinformation. And people, including Arizona Republican Sen. Jeff Flake, weren't having it with Trump and his attacks on the media. On Wednesday evening, Flake delivered a speech on the Senate floor where he noted, "No matter how powerful, no president will ever have dominion over objective reality."
Dylan Farrow is breaking her silence, alleging her father Woody Allen repeatedly abused her
On Thursday, Dylan Farrow, the adopted daughter of director Woody Allen and actress Mia Farrow, gave her first televised interview about the alleged sexual abuse she suffered at the hands of Allen.
According to Farrow, the assault occurred when she was just 7 years old.
"I was taken to a small attic crawl space in my mother's country house in Connecticut by my father," she told Gayle King on CBS This Morning. "He instructed me to lay down on my stomach and play with my brother's toy train that was set up. And he sat behind me in the doorway, and as I played with the toy train, I was sexually assaulted."
Allen, however, denied the claims, saying in a statement to CBS that Farrow was "coached" by her mother into both saying and believing she was abused," Allen said.
Allen has never been charged with a crime.