Democrat women will wear all black to the State of the Union, stirring debate over fashion protests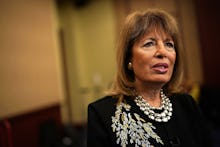 From bright pink pussy hats, to pure white pantsuits and all black everything, women have literally been wearing their politics on their sleeves since Donald Trump took office in 2017.
Recognizable protest uniforms have become a staple for major female-lead moments over the last 12 months. This, of course, includes the aforementioned style accoutrements, with the pink, hand-knitted Pussy Hat becoming the a major symbol of female "fuck the patriarchy" of the Women's March to this year's Golden Globes where women of Hollywood came together turn the red carpet black in support of the Time's Up initiative. And it's that latest trend — the dark, gothic, mourning-for-our-nation look — that will soon roll into the Capitol Building for this year's State of the Union, as women of the Democratic party are planning to take a page out of Hollywood's playbook.
"It's a symbol of solidarity," California Rep. Jackie Speier, who launched the hashtag #MeTooCongress, said. "We're seeing a huge culture shift and a sea of black on the floor will be a potent message."
Speier noted that she, along with the Democratic Women's Working Group (and even several men), plan to stick with the black dress code to send a message of both solidarity with women across the nation in the #MeToo movement, as well as make a direct and pointed message to Trump, who has been accused of sexual misconduct by several women.
"Whether he acknowledges it or not, he's not going to miss it," Speier said of the State of the Union blackout.
While these visual cues certainly make protests more memorable, some critics say they could hurt more than help a cause.
"It goes against what the idea of what intersectionality is, which is the belief that all identities within womanhood should be welcomed and fought for," Haley Morrissette, lead organizer of the Pensacola Women's March told Moneyish in 2017 about her disdain for the Pussy Hats. "It's being held up as the one symbol that stands for the Women's March at this point — and because it is hurtful to a lot of people who don't feel like it's their symbol.."
Even the all-black outfits worn by Hollywood elite were criticized by activists like Rose McGowan, who has alleged that she was raped by Harvey Weinstein.
"Not one of those fancy people wearing black to honor our rapes would have lifted a finger had it not been so. I have no time for Hollywood fakery," the actress tweeted about women at the Golden Globes. McGowan added in a second tweet that women in Hollywood need to use their voices, not their outfits to send a message.
It's too soon to know if the black outfits, the pussy hats, or other protest symbols will really make a difference to all — especially when many men and women wear a lot of black to events, anyway. But as co-creator of the Pussyhat Project Krista Suh explained, the hats acting as a beacon, a symbol, or at least as some unifying force is better than nothing.
"I knew it would be big," Suh told Mic in a phone interview about her now-famous knitting project. "I knew that the knitters and the women would really get it out there and people are really we're really passionate about it."
In fact, her hats quickly surpassed the Women's March's own branding, you know, the three silhouettes of women meant to represent intersectional feminism. Instead, of that image the day was filled with a sea of pink pussy hats.
"I think that happened because the pussy hat was chosen by the people," Suh explained.
Suh believes making clothing decisions together, as a collective group, can feed a community in a positive way and unify a message. It also taps into our inherent need for warmth and shelter, she says, thus subconsciously hitting a nerve when we put it on.
"Whether he acknowledges it or not he's not going to miss it."
"What's so great about clothes is that it's tactile and an almost primal thing," she said.
The Pussy Hats, the white dresses worn by suffragettes and the black outfits worn in Hollywood and the Hill are far from the perfect solutions to the problem of sexual harassment. The hats have been described as "cutesy," and even Hillary Clinton's pantsuit as been called an "uneasy compromise between gender and power." But of course, women's clothing choices have long been admonished by fashion critics, men and haters alike. And perhaps that's what makes women choosing their protest outfits, that will endure in photographs for years to come, all the more empowering and the perfect choice to show their feelings.
"I think that women have been suffocated for so long from self-expression that we've learned how to express, or seize, everything available to us, especially our clothing. The patriarchy is really invested in trivializing what women do," Suh said. "Clothing is trivialized a lot. Not because it's actually trivial though, but because females use it. It doesn't matter what we do. They are always going to say it's the wrong thing."