The fascinating history of South Korea's very political Olympics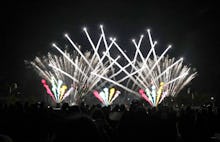 Police officers literally had to extinguish flames outside of Seoul Station as North Korean singer Hyon Song Wol arrived on Jan. 22.
Hyon, a rumored ex-love interest of Kim Jong Un and now a member of the North Korean government's Korean Workers Party, was on a two-day visit to scout locations for an upcoming performance. South Korean television had its cameras on her security-laden motorcade for hours, as she made her way toward Gangneung, where the ice sport events will be held.
Hyon works directly for the North Korean government, but she's also the leader of Moranbong, North Korea's public-facing, propagandizing girl group that has performed numbers like "My Country Is the Best."
The upcoming show — which will likely be a propaganda extravaganza with a state-sanctioned set list — is one of the several controversial offers made by South Korean President Moon Jae In to North Korean representatives in recent weeks, all with the hopes of establishing better relations.
But to the pyrotechnic protesters, the offers are both unfair and undeserved: After 10 years of planning, South Korea will give up its own flag to march under one unified flag depicting the whole Korean peninsula at the opening ceremony. South Korea's women's ice hockey team is also being forced to play alongside the North's, much to the athletes' dismay. And all of this comes after nearly two years of cut contact between North and South Korean officials — not to mention Kim Jong Un's continuous death threats.
But political pushback has always been the history of South Korean Olympics: It's a fascinating, politically complex story about the fight for democracy and grappling with fears of war. Ever since the nation ditched its dictator and became a democracy in 1987 — a year before hosting the 1988 Seoul games — South Korea has proven how quickly it can evolve.
In February, we may witness rural Pyeongchang rising to prominence and writing its own page in history books, too.
"Major political movements happened just before [both] Olympics," James Person, research director for the U.S.-Korea Institute at Johns Hopkins School of Advanced International Studies, said by phone. "This second time around, what we're seeing is the strength of Korean democracy and how far the nation has come."
North Korea's presence is — in some ways — unprecedented.
Hyon Song Wol's appearance in South Korea is not everyday news. Nor is North Korea's 22-athlete presence at a South Korea-hosted Olympics (though the Kim regime sent athletes South to the 2014 Asian Games).
"In some ways, the 2018 Olympics have managed to do what the 1988 Olympics have not," Armstrong said. By that, he means simple attendance from North Korea.
Like Pyeongchang, the 1988 Seoul Olympics "were very much connected to North and South Korea relations," according to Armstrong. At the time, South Korea had made "numerous attempts to somehow involve North Korea" — and at one point, there was even talk that the two nations could co-host the game in both Pyongyang and Seoul. But things quickly unfolded as North Korea staged a boycott against the Olympics (only Cuba joined in). Then tensions got even worse when North Korean agents blew up a commercial Korean Air flight less than three months before the Olympics, killing 115 in an attempt to intimidate the world.
"It was a very intense and dramatic moment," Armstrong said. "But at the same time, the Olympics were a catalyst for democratization in South Korea."
For years, South Korea has battled for its democracy
North Koreans weren't the only ones living under authoritarianism in the 20th century. Up until 1987, South Korea was governed by a string of presidents who essentially came to power forcefully and ruled over the nation as dictators.
"South Korea was not always this high-tech powerhouse it is now. In the 1980s, you would call it a developing country coming out of a history of dire poverty," C. Harrison Kim, an assistant professor at the University of Hawaii at Manoa who studies socialism in East Asia and North Korea, said by phone. "The 1988 Olympics in Seoul was kind of a coming-of-age party for South Korea to show it was becoming an economically-advanced and democratic country."
That shift was a long time coming. The first president, Rhee Seung Man, was a corrupt leader forced out of office by a movement of student protesters. He was eventually exiled to Hawaii in 1960. Then there was Park Chung Hee — father of the now-impeached president, Park Geun Hye — who ruled for 16 years before his assassination in 1979. By the time 1987 rolled around, South Koreans were fed up. President Chun Doo Hwan — a brutal leader who slaughtered as many as 606 people advocating for democracy in a single 1980 incident called the Gwangju Uprising — was exposed for the government-sanctioned torture and killing of college students criticizing his regime.
"Millions and millions of people came out and protested the regime and demanded change," Person said. "This was probably one of the biggest turning points in the history of the country."
"Because the whole world was about to be watching Seoul, Chun Doo Hwan was [unable] to truly crack down on protesters. He was forced to step down," Armstrong said.
That's what made the 1988 Olympics special — in many ways, it marked the beginning of South Korea's ascension to a world power. But that feat didn't come without a dark cost. "Entire villages were cleaned out, displaced or relocated," Kim said, and years before the games even started, the government committed terrible crimes to "clean" up Seoul's city streets. They rounded up thousands of homeless, disabled or drunk people and forced them into hellish labor camps.
Many were raped, beaten and starved in these places. In one such camp, at least 513 people died — and children were not spared, either, according to an Associated Press expose.
"The actual social problems caused by the Olympics were enormous," Kim said. "But of course, the world didn't see that — they just saw a very successful Olympics."
The Pyeongchang Olympics also come at a political tipping point.
South Korea is in the throes of another change, but the real turning point was in December of 2016.
Hundreds of thousands (if not over a million) of citizens had demonstrated against Park Geun Hye for 17 weeks, filling Seoul's Gwanghwamun Square — a place historically known for game-changing protests. Now called the "candlelight protests," the movement successfully took down Park after it was revealed that she allowed a close friend to act as a political advisor and take millions of dollars from South Korean companies.
"In some ways, what we've seen in South Korea with the impeachment of Park Geun Hye is a continuation of the democratization process," Armstrong said. "Now, a second Korean president has been taken out of power by mass protests."
But will Pyeongchang also change the political tone between North and South Korea?
"It's tough to say. There have been so may breakthroughs like this," Person said. He pointed out that North and South Korea have marched under their unified flag at least eight times at sporting events in the past and even competed as a joint table tennis team in 1991.
"But it's still quite an achievement to bring athletes together, and for at least for a few weeks, we might see some cooperation between North and South Korea," he said. "What comes after that remains to be seen."