How would Justin Timberlake and Janet Jackson's "wardrobe malfunction" play out in 2018?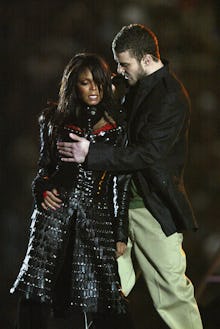 For years, Justin Timberlake, the beloved pop icon who infamously exposed Janet Jackson's right breast at the 2004 Super Bowl, has been Houdini when it comes to escaping controversies unscathed.
In the time since that "wardrobe malfunction," he's enjoyed huge success as both an actor and a singer, while Jackson's career faltered. But if that same exact incident were to happen during, say, Sunday's Super Bowl, there's little doubt that Timberlake would become, at the very least, public enemy No. 1 on Twitter.
While the ex-boy band member certainly has his vocal detractors — some of whom are speaking up again, now that he's returning to the Super Bowl halftime show with a new album to promote — he didn't seem to suffer any long-term professional setbacks for his involvement in that '04 fiasco. His first studio album after the Super Bowl incident — 2006's Timbaland-produced FutureSex/LoveSounds — became his first Billboard No. 1 solo album and is regarded as a modern classic. Since then, he's had a string of successful hit singles and has appeared in several Hollywood films, including David Fincher's The Social Network and the Coen brothers' Inside Llewyn Davis.
Jackson, on the other hand, saw her status as a commercial and critical heavyweight come to an end after that Super Bowl incident.
A month after more than 144 million pairs of eyes saw her breast (setting rewind records on TiVo), Jackson's singing career, which at that point spanned more than 20 years with steady hits, took an undeniable nose dive. Reviews for her March '04 album, Damita Jo, were underwhelming. Her next two LPs — 2006's 20 Y.O. and 2008's Discipline — fared similarly.
The pioneering feminine force behind classic singles like "Control," "Rhythm Nation" and "All for You" has had just one Billboard No. 1 album — her 2015 comeback, Unbreakable — in the last 14 years. Since the 2004 Super Bowl, she hasn't had a single song chart in the top 10 of the Billboard Hot 100, a space where she was once a regular fixture. (Of course, Jackson and Timberlake were at different points in their respective careers in '04. It could be argued that, after more than two decades as a cultural force, Jackson was due for a downslope at some point — but it also can't be credibly argued that the "wardrobe malfunction" had no effect on her career.)
Many people, like #OscarsSoWhite creator April Reign, still believe that Jackson was unfairly maligned for what happened at the Super Bowl, while Timberlake got a pass.
He was allowed to attend the 46th annual Grammy Awards, which aired on CBS a week after the Super Bowl that year, and took home two trophies for the coincidentally titled hit song "Cry Me a River," and his 2002 album, Justified.
Jackson, on the other hand, was barred from the awards show, where she previously was scheduled to introduce a tribute dedicated to R&B legend Luther Vandross.
"Things were canceled for her behind this, yet Timberlake and many other white artists have had the opportunity to reinvent themselves the way black artists are not," Reign, the former attorney-turned-social media marketer, told Mic during a recent phone interview. "If it were to happen in 2018, there would be a much different response. People, especially people of color, would have spoken out more about the issues there are with respect to how performers are treated, especially black women."
Reign remembers sitting at home watching the Super Bowl with her husband and two young children on Feb. 1, 2004, when the halftime snafu unfolded. Reign said she's never been a big NFL fan and for her, Jackson was the main attraction.
Back then, the social media landscape was completely different. There was no black Twitter to come to Jackson's defense. Facebook, coincidentally, was founded three days later. Even MySpace was in its infancy.
"The same outrage that we saw in 2004, it just would have been magnified because we have social media now," Reign said. "We all have the ability to broadcast our opinions across the world in a way we did not 14 years ago."
Social media is primarily one of the reasons that controversy looks to be finally catching up to Timberlake, who's currently promoting his latest album, the just-released Man of the Woods, while also trying to cultivate a new persona as a woke pop star.
#JusticeForJanet hashtags and petitions were launched in October almost immediately after Timberlake announced he would return to play the Super Bowl halftime show on Feb. 4 — sans Ms. Jackson.
On Jan. 7, he caught heat from Twitter users for tweeting support for the Time's Up initiative, despite starring in the most recent film by writer-director Woody Allen, who has been accused of child molestation. Allen's adopted daughter, Dylan Farrow, later chimed in along with actress Rose McGowan.
Rumors that Jackson might reunite with Timberlake on-stage at the Super Bowl on Sunday have circulated but were recently squashed by her team. "As of last night, Janet will not be performing at the Super Bowl," an insider told Us Weekly on Jan. 26.
In a recent interview with Beats One Radio host Zane Lowe, Timberlake discussed the 2004 halftime show and how it factored into planning for Sunday's Super Bowl, saying, "It's just one of those things where you go, like, 'Yeah, what do you want me to say? We're not going to do that again.'"
He'd be wise to avoid a similar stunt.
"It would be career suicide," New York magazine writer-at-large Frank Rich told Mic in an interview.
Rich recalled covering the aftermath of the 2004 halftime show, penning multiple pieces as an arts and culture reporter for the New York Times. He agreed with Reign that, in the social media age, Timberlake could never have gotten away from the controversy with his reputation intact in 2018 — especially in the midst of the current #MeToo movement.
But social media isn't the only thing that would result in a different fallout for Jackson and Timberlake. Ironically, Donald Trump's election to the presidency has flipped the cultural script on conversations about public decency, according to Rich.
"The world, or at least American culture, has truly spun on its axis since 2004, and especially since 2016," Rich continued. "The moral preachers on both the religious and secular right who demanded FCC action and censorship in 2004 are all on the anything-goes Trump train now."
The week following the incident, it was conservatives standing up as the self-appointed standard-bearers of virtue against TV producers and artists in the entertainment industry who were accused of pushing the boundaries of free speech.
Republican FCC chairman Michael Powell reluctantly enforced a record-setting $550,000 fine against CBS in '04 and threatened to do the same to others who violate the commission's guidelines on obscenities in the future. To avoid scrutiny, many TV networks implemented broadcast delays for live events.
Over the past year or so, though, it's been mostly progressives doing the virtue signaling in an ideological war with Trump over his reported use of obscenities when referring to "son of a bitch" NFL players who protest police brutality during the national anthem, and proposing to "bomb the shit" out of ISIS terrorists. Trump was also recorded boasting about his celebrity status allowing him to grope women, and his openly racist, alt-right followers routinely have tested the hate speech liberties granted by the First Amendment.
The same conservative and religious right that once condemned Jackson's nude bosom have given Trump a highly publicized pass on indecent behavior. So, if this same "wardrobe malfunction" were to happen in 2018, it's not hard to imagine progressives being the ones to lead the charge in condemning Timberlake, perhaps with conservatives chiming in.
For whatever it's worth, Timberlake has apologized to the public multiple times for the Super Bowl incident, and says he's made peace with Jackson.
"I don't know that a lot of people know that," Timberlake emphasized during the interview with Lowe. "It's just something you have to look back on and go, 'OK. Well, you can't change what happened, but you can look forward and learn from it.'"