For the first time ever, Olympic villages will have sexual assault resource centers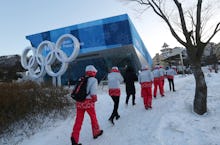 Besides the North Korea threat and low ticket sales, sexual violence is a serious concern for the 2018 Winter Olympics. Ever since the first sexual assault allegations against U.S. gymnastics team doctor Larry Nassar surfaced in September 2016, 140 women have stepped forward.
The issue — which likely affects athletes all around the world — has some wondering what more can be done.
"Why are we looking at why didn't the girls speak up? Why not look at what about the culture?" Olympic gold medalist Aly Raisman, who alleges that Nassar also assaulted her, told 60 Minutes. "What did USA Gymnastics do, and Larry Nassar do, to manipulate these girls so much that they are so afraid to speak up?"
Now, for the first time in Olympic history, sexual violence counseling centers will be set up outside of sport facilities at the 2018 Pyeongchang Games. Each of the four centers will offer psychological counseling and medical care, along with legal advice and ways to report violence to police.
It's an important issue to Kwon Eun-jin, head of women's welfare at the Gangwon-do Provincial Office. According to Kwon, Gangwon-do province — the region of South Korea that will host ice sports in the upcoming 2018 Pyeongchang Olympics — decided to pay for the counseling centers in full after national funding failed to come through.
"We heard from the International Olympic Committee that 1.2 million people — athletes, press and operation personnel — will be coming to the Pyeongchang Olympics," Kwon said, through a translator. "That number is huge. So, we thought a clinic to address sexual violence, sexual harassment and prostitution was necessary. Many people supported the idea."
A shift in awareness
South Koreans are also grappling with the phenomenon of sexual violence in athletics. The Center for Human Rights in Sports — a part of the Korea Sport and Olympic Committee — received more than 170 reports between 2012 and 2017. Meanwhile, an unnamed man who assaulted a 10-year-old female tennis trainee in the early 2000s recently made headlines as he was sentenced to a decade in prison, according to Korea Joongang Daily.
That's why these new counseling centers are needed. All four of them will run eight hours a day, Kwon said, with English language translators on site. During late-night hours, a phone hotline with 13 languages will also be available to fill in any gaps.
The services will be available to anyone in the area, whether they're spectators, athletes, local workers or members of the media.
"Because there are so many people — both male and female — [sexual assault] can definitely happen. And there are late-night sporting matches," Kwon said. "If something happens, we want to provide emergency counseling, medical and legal support."
The move to build them is a clear pivot to addressing sexual violence, which has become a subject of international attention in recent months. About 1 in 5 women in the United States have experienced rape or attempted rape, and South Korea is also publicly struggling with the issue of sexual violence against women.
About 80% of the 2,000 South Korean men recently polled by the Korean Institute of Criminology admitted to physically or psychologically abusing a girlfriend. Meanwhile, the World Economic Forum's gender inequality scale ranked South Korea at 117 out of 142 nations, right behind India, the United Arab Emirates and Qatar.
Rape, however, is still a highly stigmatized issue for Koreans. Despite having a national population of roughly 51 million people, the Korean National Police Agency recorded only 21,172 rapes in 2014 — which is likely a low number.
Nevertheless, South Korea's involvement with the #MeToo movement shows that the general public does indeed see the problem. The hashtag went viral as sexual assault allegations against Hollywood director Harvey Weinstein went public in October 2017, provoking several think pieces in Korean national newspapers and prompting Korean women to share their stories online.
It's unknown whether or not South Korea's counseling centers will become an Olympic staple. But with all the publicity around sexual violence, there's a chance they might be here to stay.
Jisoo Hong contributed to this report.