Mic Wakeup: Muller closes in on Trump, the "fake news" danger, and the T-shirt that can change lives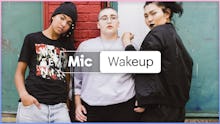 It's Wednesday, Jan. 24. Here are three stories you need to read.
Robert Mueller could be interviewing Donald Trump any day now
According to a new report by the Washington Post, special counsel Robert Mueller may be close to interviewing President Donald Trump as part of his Russia probe.
Interviewing the president could signal a number of things, including that Mueller and his team are looking to conclude their investigation one way or another. Specifically, the Post noted, Mueller may want to question Trump about why he decided to fire both Michael Flynn, his former national security adviser, and James Comey, the former FBI director.
The president has yet to indicate if he would willingly participate in an interview, only telling reporters "Certainly I'll see what happens."
Donald Trump's use of the term "fake news" may be causing real danger to journalists
On Monday, Brandon Griesemer was arrested after making 22 threatening calls to journalists at CNN. On the calls he allegedly not only threatened their lives, but used the term "fake news" at least once.
"Fake news," Griesemer allegedly said in a Jan. 9 phone call. "I'm coming to gun you all down."
The term has become a hot button issue as Trump has used it several times to diminish reporting he may not agree with. However, now it appears that his tweets and behavior toward the press may be inspiring his followers to actually go after reporters.
"When the president calls reporters 'the enemy of the people' and entire news outlets 'fake news,' it only fuels the risk of verbal attacks against members of the media becoming physical ones," Bruce Brown, executive director of the Reporters Committee for Freedom of the Press, shared in a statement with Mic. "We've already seen one journalist physically attacked— by a member of Congress, no less — and the threat of violence against members of the media simply for doing their jobs goes against our country's values."
Brown isn't the only one showing concern for the effect the president's own behavior may be having on his constituents.
"When the president is using the term 'fake news,' it does have this ripple effect," Alexandra Ellerbeck, the Committee to Protect Journalists' North America program coordinator, told Mic. "It's pretty clear that the hostile rhetoric exposes reporters to risk."
Still, it's unclear if this will stop Trump from using the term — he tweeted it on Tuesday in reference to CNN.
This feminist clothing brand wants you to buy this shirt to support women's rights
Wildfang, a feminist clothing and lifestyle brand, is putting their money where their mouth is when it comes to representing their mission statement.
This week, the clothing company launched a new IndieGoGo campaign aimed at raising funds to save South Dakota's last remaining abortion clinic.
"Jan. 22 marks the 45th anniversary of Roe v. Wade. Almost 50 years later, we are still fighting for those same rights. There are now SEVEN states which have just ONE remaining abortion clinic. Without these clinics we put millions of women's health and their futures at risk. We refuse to stand by and do nothing," the women wrote on their campaign's page.
In exchange for a donation, backers can get anything from a set of pens for $10, a T-shirt for $40 and a long-sleeve sweatshirt for $70. Oh, and the knowledge that they helped women across the state of South Dakota.
"Right now in the states, we're at this critical point where things could go backwards," Wildfang CEO Emma McIlroy told Mic. "There are at least seven states where there's only one abortion clinic and all of those are on the brink of extinction. We thought, 'Should we give money to them from every order?' Everything seemed like it wouldn't be a big enough impact. Then the idea came up that we could raise enough money to keep a clinic open for one year."
As of Tuesday evening, the campaign has raised more than $44,000 toward their $50,000 goal.