2018 Winter Olympics: Cooking for Olympians is "like an episode of 'Chopped,'" says Team USA chef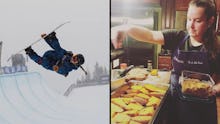 For Olympic athletes, food isn't just about taste — it's necessary fuel in their intense training regimen. It should come as no surprise that a whole lot of planning goes into what these athletes will eat before they skate, ski or board during the Winter Olympics in Pyeongchang, South Korea, next month.
To get a sense of exactly what these world-class athletes will be eating before they compete, Mic talked to Megan Chacosky, a registered dietician and chef for the U.S. Ski and Snowboard team. (The team will send 109 athletes, spanning seven sports, to the 2018 Winter Olympics.) Chacosky grew up playing soccer and lacrosse, and later fell in love with food, eventually graduating with a degree in bakery and pastry arts. She's been working with the ski and snowboard team for three years, but has also worked with other athletes — like the time she cooked for the U.S. Bobsled team in New Zealand.
Chacosky and the other chef-dietician who works on the team sit down with each athlete at least four times a year to evaluate dietary needs — and different phases of the season require different nutritional requirements.
"When [skiers and snowboarders] are here with us in the summer, that's when we really talk about making some body composition changes, maybe change their diet," Chacosky said in a phone interview. For example, she said, athletes who have suffered injuries often need dietary adjustments to help them gain back muscle.
Joss Christensen, who tore his anterior cruciate ligament last May, "is one of those athletes who lost a lot of weight after a surgery," said Chacosky. She gave him different levels of protein and calories during his stages of recovery to help him regain weight and muscle "in order to take down the hard jumps and tricks that he needs to qualify for the team," she said. (Christensen did not make the Olympic team, USA Today reported.)
Since the team has many young teen athletes, Chacosky finds that catering to some of the picky eaters in the group is another critical part of her job. When she noticed that some of the athletes were "gold mining," as in, picking proteins out of dishes and leaving the vegetables, Chacosky took action.
"I've learned to outsmart them a little bit and make sure I've got vegetables in everything, so they have to eat it anyway," she laughed. One recipe that the entire team gets behind is fish tacos, Chacosky said. The tacos have ideal ratios of protein, starches, fats and vegetables, plus athletes love Mexican food, she explained. For extra nutrients and calories, Chacosky said the athletes also often drink protein beverages like Rockin' Protein (a team sponsor) when they're heading off to the slopes
The challenges of cooking while abroad
While feeding athletes on the road during trial competitions, Chacosky has learned a thing or two about cooking in unconventional situations.
"I often joke that it's like making Thanksgiving dinner twice a day," Chacosky said. But dinner often comes with a few obstacles — like that time a malfunctioning oven in a condo left her scrambling to break down and cook an entire turkey and the time she had to make barbecue sauce instead of marinara because the "tomato sauce" she bought in New Zealand turned out to be ketchup.
"A lot of it is thinking on your feet and realizing that, 'I'm in this situation and I have these things, what can I do with these things?'" she said. "It's much like an episode of Chopped."
Chacosky will travel to South Korea with the ski and snowboard team. Luckily, most of the ingredients she needs can be found in South Korea. She can also rely on team sponsorships — including Clif Bar — who will have their products readily available.
According to Chacosky, several athletes like protein and carbohydrate-rich options such as chocolate milk, oatmeal or peanut butter and jelly sandwiches before they compete. There are exceptions, of course: Alex Deibold, a Sochi bronze medalist, likes bringing gummy bears to eat before competing. ("I convinced him to use fruit snacks sometimes," Chacosky said.)
Chacosky will have her work cut out for her in South Korea, where she'll be feeding athletes breakfast, lunch and dinner from roughly 6 a.m. to 9 p.m. each day. While all the Team USA athletes will have access to the Olympic Village dining hall and the U.S. Olympic committee dining area during the games, the hundred-plus U.S. ski and snowboard athletes will have their own dining hall as well, manned by Chacosky and the other chef-dietician.
The large number of hungry mouths to feed will mean Chacosky might not get to watch her athletes compete — but she'll still be cheering them on. "I'll absolutely have a TV going," she said.
Jan. 30, 2018, 11:35 a.m.: This article has been updated.