NAACP sues Trump Administration over TPS removal for Haitian migrants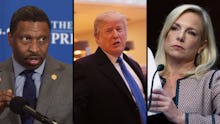 The NAACP says race was the motivating factor in the Trump administration's recent decision to eliminate temporary protected status designation for Haitian migrants.
The civil rights organization filed a lawsuit Wednesday against the Department of Homeland Security, accusing the agency of discriminating against Haitians on the basis of race and violating their Fifth Amendment right to due process.
"President Trump has made clear that he wishes to reduce the number of immigrants of color to the United States," NAACP attorneys wrote in their complaint. "The rescission of Haiti's TPS is part of that agenda."
DHS began researching crime stats on Haitian migrants in 2017, before announcing in November its decision to eliminate TPS for Haitian migrants with an order set to go into effect on July 22, 2019.
Former President Barack Obama established TPS for Haitians in January of 2010 after a devastating earthquake leveled the Caribbean nation's landscape, killing tens of thousands.
In its complaint, the NAACP accused DHS of trying — and failing — to find evidence to paint Haitians as "criminals" who are dependent on government assistance as justification for taking away their TPS designation.
"They were obviously trying to cobble together an explanation for making a decision they already had made," NAACP General Counsel Bradford Berry told Mic over the phone on Thursday.
In truth, the labor force participation rate for Haitian migrants is at least 81%, according to the Center for Migration Studies, roughly 20 points higher than the national average of 62.9% for U.S. workers. Haitians contribute nearly $35 million annually to U.S. Social Security and the Immigrant Legal Resource Center estimates deporting Haitian TPS recipients, along with those from El Salvador and Honduras, would cost U.S. taxpayers $3.1 billion.
In November, then-acting DHS Secretary Elaine Duke said the temporary problems in Haiti that were caused by the 2010 earthquake no longer exist and that the country is capable of absorbing the estimated 58,000 families who fled to the U.S.
"Rescinding TPS is supposed to be based on an assessment of conditions on the ground in Haiti," Berry said. "Nothing DHS said about their decision really addressed the reasons TPS was initiated at the time."
Haiti is still suffering from pervasive food and housing shortages, in addition to a United Nations-caused cholera epidemic, which the NAACP says means the country is in no condition to reintegrate its U.S. foreign nationals.
"We're going to have to prove our case," Berry said. "We laid our evidence out in the complaint. We think it's pretty compelling."