Black immigrants with temporary protected status seek options to delay Trump era deportations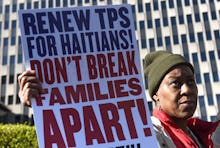 When the Trump administration announced in November that Haitians living in the United States under temporary protected status would have one final chance to renew their legal residency for 18 months, some in the community let out a sigh of relief.
Others did not.
"I'm tired of fighting for TPS — the T stands for temporary," Santcha Etienne, a Miami-based organizer, said in a phone interview with Mic. Etienne, who is Haitian, works with the Black Alliance for Just Immigration, a national advocacy group that also organizes with the Movement for Black Lives coalition.
"We have to first keep on fighting," Etienne said regarding an effort to get Congress on board with a pathway to citizenship for Haitians who fled their earthquake-ravaged country eight years ago. "We will get what we are asking for."
It's not clear how broadly Etienne's confidence is felt in the community of more than 58,000 Haitians who are current TPS recipients. President Donald Trump's alleged racist remarks about Haitians — that they are among black and brown immigrants from "shithole countries" — have advocates questioning whether black immigrants are truly safe to remain in the U.S. Existing immigration law does provide a limited number of remedies, but immigration advocates have said nothing is a sure bet for Haitians during the Trump administration.
TPS is generally granted to migrants after their home nations request the designation and after the Homeland Security and State departments sign off on it, Camille Mackler, director of immigration legal policy at the New York Immigration Coalition, said in a phone interview Thursday. Renewal of TPS has historically been a noncontroversial part of immigration law, though recipients have an easier time qualifying without criminal convictions and when they meet deadlines, she added.
There are costs involved: An initial TPS filing starts with a $50 application fee, $85 for biometrics screening and $410 for work authorization. Re-registration costs $85 and can require an additional employment authorization fee. This doesn't include the expense of hiring an immigration attorney for legal advice.
"Not having access to somebody who can give them the right information and missing the deadline is the biggest issue," Mackler said. "You become deportable from the United States" when TPS expires, she added.
Many Haitians had no other choice but to make a new home in the U.S. following the Jan. 12, 2010, earthquake that wrecked their island nation. The 7.0 magnitude quake leveled much of the infrastructure in Haiti's capitol, Port au Prince; more than 300,000 died, according to CBC.
After near-immediate calls for humanitarian relief, the Obama administration granted TPS to Haitian nationals on Jan. 15 of that year. Homeland Security officials continued extending the designation for 18-month periods through the summer of 2017.
Under the Trump administration, then-DHS Secretary John Kelly proposed just a six-month extension of TPS for Haitians. But after letters of advocacy from the Haitian ambassador and the Congressional Black Caucus, then-Acting DHS Secretary Elaine Duke extended a final 18-month TPS for Haitians. As of January, the designation is set to end July 22, 2019, with a March 19 deadline to apply for renewal.
But advocates have said terminating TPS for Haitians 18 months from now would be inhumane. Haiti continues to struggle with rebuilding efforts that have been hampered by a yearslong cholera epidemic and 2016's Hurricane Matthew.
"Haiti has never rebuilt from the earthquakes," Mackler said. "They can't accept the repatriation of even five individuals, let alone however many thousands."
The mayor's Office of Immigrant Affairs in New York City took the administration to task for having "failed to properly consider facts on the ground when deciding whether to renew temporary protected status," office spokesman Matthew Dhaiti said in a statement emailed to Mic. Approximately 15,000 New Yorkers rely on TPS to establish legal residency, he said.
The remedies
For Haitians who aren't ready to return home, existing immigration laws offer a few solutions, Mackler said. Those who are afraid of returning home for life-or-death reasons may qualify for asylum. If an immigrant or visitor has been a victim of crime, a U visa allows them to stay for the purpose of assisting in an investigation or prosecution. Employers can sponsor their foreign-born, nonresident workers. Domestic violence victims and their children may have their deportations deferred under existing law.
Some Haitians married to American citizens petitioning for their green cards may also qualify for a deferment from deportation, Mackler said. But even these options aren't viable to the vast majority of Haitians on TPS.
Some in the civil rights community believe the administration is going out of its way to target Haitians with its decision to end TPS. On Wednesday, the NAACP filed a lawsuit against Homeland Security officials, accusing them of discriminating against Haitians and violating their Fifth Amendment right to due process.
That assertion is based on evidence that DHS has been researching crime statistics on Haitians migrants as justification for seeking their eventual deportations.
"They were obviously trying to cobble together an explanation for making a decision they already had made," NAACP General Counsel Bradford Berry said in an interview with Mic reporter Chauncey Alcorn on Thursday.
At the grassroots level, groups such as BAJI, the Florida Immigrant Coalition and Haitian Women of Miami Inc. are hosting screenings for TPS recipients and undocumented immigrants worried about the hostilities coming from Washington, Etienne said. She and others simply don't trust the administration's stance on immigration issues.
"The human in you knows what you are working with," Etienne said. "With this administration, one day they say something, and the next day they say something else.
"But right now, we know what we are doing," she continued. "We are working on messages to Congress. They must act now, because 18 months is right around the corner."