Mic Wakeup: From gray hair to inclusive superheroes to better Barbies, women had a great week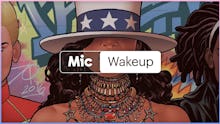 It's Friday, Jan. 26. Here are three stories you need to read.
Chrissy Teigen is inspiring women everywhere to rock their gray hair
On Monday, supermodel, super mom, and super Twitter user Chrissy Teigen proudly shared with the world that she is now sporting a very thick streak of grey hair on her head.
And because this woman can do no wrong on social media, people quickly tweeted back at the cookbook author to both praise her for being honest and thank her for letting them feel confident with their own gray hair.
Hey, if you got it, flaunt it. Am I right?
Women's representation in superhero films is getting better, but there could always be more
Sure, Gal Gadot killed it in 2017 as Wonder Woman, but that doesn't mean we can now sit back, relax and forget women ever existed in the superhero universe — especially diverse women, who are rarely — if ever — represented in action films.
Who else would make a great superhero star? How about Mari McCabe, aka Vixen. Her abilities include being able to channel the abilities of animals at will. Or America Chavez, Marvel's first queer Latin-American superhero who fights aliens with her super speed and strength. Or, maybe even throw in a classic hero like Storm or Batwoman. Hey, we'll take them all. Read more on which superhero's Mic is ready for next.
Mattel just unveiled its latest Barbie creation, and holy crap, it's Oprah
There has never been a more appropriate time to use the "take all my money" meme than with Thursday's announcement by Mattel that it is actually producing and selling a limited-edition Oprah Barbie doll.
As part of a promotion for the new film, A Wrinkle in Time, Oprah, Reese Witherspoon and Mindy Kaling are all getting the Barbie treatment.
Each doll will retail for $50. And it's OK you're an adult buying a doll, as Mattel says these specific Barbies are made just for adults.
While all three dolls are great, it really is the Oprah-inspired Barbie that takes the cake for its perfect detail and lifelike look.
Even the film's director, Ava DuVernay couldn't believe just how cool the dolls turned out.