Mic Wakeup: Here's what you can look forward to with the State of the Union address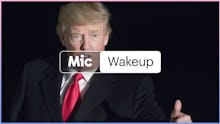 It's Tuesday, Jan. 30. Here are three stories you need to read.
Donald Trump's State of the Union is finally here
On Tuesday, Jan. 30, President Donald Trump will address both political leaders and the nation with his State of the Union address.
There, Trump is expected to attempt to illicit praise for his tone and style after a very tumultuous first year in office.
According to insiders, Trump is expected to brag about the state of the American economy as well as tout the passage of the Republican tax package.
However, as Mic previously noted, it's crucial to remember that the current pace of economic growth is continuing at the same rate as it was growing under former President Barack Obama.
Beyond the economy Trump is also expected to announce that Guantanamo Bay, the U.S. federal prison located in Cuba, will remain open.
Joe Kennedy will deliver the Democratic response
On Friday, the Democratic party announced that Joe Kennedy, a third-term congressman from Massachusetts and son of onetime presidential candidate Robert Kennedy, will deliver the party's response. Though, he may have wanted to pass on the dubious honor as history has sort of proved it to be the kiss of death for young party members.
Take, for example, then-Rep. Michelle Bachman's horribly awkward "tea party" response.
Or Sen. Marco Rubio's now infamous water break.
Read up on more of the hilarious/sad State of the Union responses and send a little hope Kennedy's way that he can make it through without a major gaffe.
The Democratic women will be there in all black
To show their support for the Time's Up and #MeToo movements, the women of the Democratic party, along with a few men, plan to attend this year's State of the Union while wearing all black.
"It's a symbol of solidarity," California Rep. Jackie Speier, who launched the hashtag #MeTooCongress, said in an interview. "We're seeing a huge culture shift and a sea of black on the floor will be a potent message."
The sea of all black will certainly be a sight for those watching at home, however, Speier isn't holding her breath for the president to mention the movement while on the floor. "Whether he acknowledges it or not, he's not going to miss it," Speier said.
Of course, politicians aren't the first ones to use the visual style to protest for causes they care about. The women of Hollywood started the all-black trend at this year's Golden Globes. Prior to that, women around the nation knitted bright pink pussy hats for the Women's March, wore pant suits to support Hillary Clinton, and all white outfits as an homage to the original suffragettes.
"What's so great about clothes is that it's tactile and an almost primal thing," Krista Suh, co-creator of the Pussy Hat project, said in a phone interview. "I think that women have been suffocated for so long from self-expression that we've learned how to express, or seize, everything available to us, especially our clothing. The patriarchy is really invested in trivializing what women do."