'Black Panther' is fiction, but its characters have a lot in common with these real-life people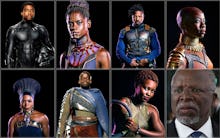 The movie Black Panther may be set in Marvel Comics' fictional African nation of Wakanda, but that doesn't mean there aren't any grains of truth in the story.
After seeing director Ryan Coogler's latest movie on Thursday, Greg Carr, associate professor and chair of Afro-American Studies at Howard University, said Black Panther has some basis in fact.
"I do think they did a good job in the movie making very clear gestures towards great African people and civilizations like Mali and Songhai," Carr, a Black Panther comic book fanboy with a PhD in Africana Studies, said during a recent phone interview.
We asked Carr to help us identify some of the all-too real people in Africa and America who bear striking similarities to characters in Black Panther. Here's what we discovered.
T'Challa — Julius Nyerere
In T'Challa, actor Chadwick Boseman plays a classic hero role as the young, aspirational and reluctant ruler of Wakanda who assumes the throne after his father's assassination in a previous Marvel movie.
The superpowers bestowed to T'Challa from his country's sacred heart-shaped herb and high-tech suit don't make him anywhere near as strong as, say, the Hulk, but he doesn't need the extra strength. T'Challa's already worth more than $90 trillion and is easily the wealthiest character in any comic book, including Iron Man himself, Tony Stark, and DC Comics' brooding billionaire Bruce Wayne, aka Batman. That hefty net worth comes from his country's unlimited supply of the extremely rare and fictional precious metal, Vibranium (it's the stuff used to make Captain America's unbreakable shield).
With advanced degrees in physics, engineering and economics, T'Challa's intelligence rivals the smartest people in the Marvel universe and, like Batman, he has mastered pretty much every martial art on the planet.
In his Wakandan homeland, however, the Black Panther selflessly rules a staunchly independent, hidden nation that's based entirely on African tradition and culture. Carr said that sounds a lot like what the late president Julius Nyerere tried to do when he helped found the east African nation of Tanzania in 1964.
The region formerly known as Tanganyika was previously colonized by Germany before the end of WWII. Afterward, the United Nations took control of the country and delegated sovereignty to the British.
Around that time, the Democratic ideals of the U.N. made colonialism a shameful geo-political taboo. Black and brown people around the globe more fiercely demanded their countries' independence. Nyerere, then a political leader, was one of them.
He helped his country's nationalists found the Tanganyika African National Union in 1954. He used his diplomatic skills to negotiate the union of Tanganyika and the neighboring island of Zanzibar to form the multi-racial republic now known as Tanzania.
Like T'Challa's ancestors in Black Panther, Nyerere united the varying political factions of his nation to form one political party under the principle of "Ujamaa," a form of socialism that translates to "familyhood" in English.
Unlike Wakanda, however, today Tanzania ranks among the world's least developed countries, with rampant food instability and poverty, in addition to environmental and health challenges.
These problems stem largely from the country's long history of political corruption, despite its founding dignitary's esteemed international reputation for unquestionable integrity, according to Carr.
Unlike many post-colonial African leaders, Nyerere voluntarily ended his role as prime minister of Tanzania after 21 years in 1985. He died in 1999.
"The closest notion you may get for a real-life Wakanda today was what they tried to do in Tanzania," Carr said. "Nyerere believed African culture had the answer to solve Africa's political problems. He tried to make that real in a country. He was incorruptible. That's the reason he was universally beloved."
Princess Shuri — Marian Croak
Actress Letitia Wright plays the brilliant, tech-savvy princess of the afro-futurist nation who uses the country's endless supply of Vibranium metal to engineer communications, weapons and advanced medical techniques.
She sounds a lot like Google VP Marian Croak, the former AT&T Labs and advanced technologies trailblazer with a PhD from USC who worked in research and development at both AT&T and Google before beginning her current leadership role with the search engine titan in 2014.
Throughout her career, Croak has been granted or applied for more than 350 patents, in addition to being a mentor to young women in the STEM fields.
Erik Killmonger — Idi Amin
Actor Michael B. Jordan's Erik Killmonger, Black Panther's archnemesis in the new film, is already being called one of the best villains in the Marvel Cinematic Universe and for good reason.
He may not be a cannibal like the notorious Ugandan dictator Idi Amin was rumored to be, but both Killmonger and Amin were ruthless mass murderers and war criminals known for slaughtering any friend or foe who got in their way.
In 1971, Amin led a bloody coup to take power in Uganda before fighting a war against the neighboring Tanzania and his rival, Nyerere. While the Tanzanian leader tried to make peace with the West, Amin used his people's anti-colonialist thirst for freedom for his own political gain, according to Carr.
Killmonger, like Amin, starts out as a charismatic and sympathetic figure fighting for a righteous cause, but soon his combined hatred for "colonizers" and resulting lust for power take him down a dark road.
"Idi Amin represents the danger of overreaching desire," Carr said. "He wanted revenge for colonialism. In wanting revenge, he went too far. Just like Killmonger, you can want something that's right, but want it for the wrong reasons. In Amin's case, he wanted African vindication, but in a way that destroyed him."
Okoye — Yaa Asantewaa
Danai Gurira portrays the bold and deadly general of Black Panther's Dora Milaje, an all-female fighting force and sort of royal secret service. Okoye is a military tactician and a fierce martial artist who certainly knows how to work a spear.
According to Carr, she's a lot like the rifle-toting, West African freedom fighter Yaa Asantewaa, the proclaimed Queen Mother of the Ashanti tribe's Ejisuhene. When British invaders came to West Africa in 1900, they were after the Golden Stool, the symbol of sovereignty for the Ashanti. The fearful men of the Ashanti planned to surrender until their warrior queen famously took them to task for their cowardice before vowing to take up arms herself in their absence.
Under her leadership, the Ashanti repelled the militarily superior British forces for months, forcing the foreign army's Gold Coast governor to send in reinforcements. Eventually, the Ashanti were defeated and Asantewaa died in exile, but the British never captured the Golden Stool, the proud symbol of the people that remains housed in the royal palace in Kumasi, Ghana.
"Yaa is one of the most beloved and respected women leaders of the late 19th and early 20th century," Carr said. "She's an icon in Africa because of her fierce warrior spirit."
M'Baku and the Jabari tribe — Omega Psi Phi Fraternity
M'Baku is the leader of the gorilla-loving Jabari tribe. They're big. They're loud. And they don't take shit from anyone, not even the King of Wakanda. Just like the "Q dogs," or "Ques" of the historically black fraternity Omega Psi Phi, when any of these dudes crash the party and start talking trash, everyone knows it's about to get real.
"These guys are going to tear some shit up," Carr said with a laugh, "but at the same time you kind of hope they will, too. And they're funny."
Nakia — Josephine Baker
Lupita Nyong'o plays the brave and beautiful Nakia, a formidable Wakandan intelligence operative who is also Black Panther's love interest. Her stunning good looks complement her spy training just like singer Josephine Baker's did for her and the French Resistance during World War II.
Born in St. Louis, Missouri, in 1906, Baker grew up poor in the U.S. before moving to France in the 1920s, where she became one of the western world's most celebrated and successful live performers.
The Germans never realized Baker was gathering intelligence from them when they attended her performances. No one was suspicious of the beautiful, traveling entertainer who delivered messages between troops from Europe to North Africa, hiding notes in her sheet music and even her underwear.
After the war, Baker came back to the U.S. where segregated hotels and restaurants often barred her from performing. She used her fame to fight oppression and spoke at the March on Washington in 1963.
"Josephine Baker had this fierce hatred of oppression," Carr said. "Her genius wasn't limited to the arts. She was a fearless and engaged champion for human rights. Spies can't be scared. That's why the Allied powers could use her."
T'Chaka — Thabo Mbeki
T'Chaka, the noble elder statesman and diplomat of Wakanda, looks and sounds a lot like Thabo Mbeki. Carr pointed out that assassination attempts involving bombs are also central to both of their stories.
In 2016's Captain America: Civil War, a villain plants a bomb that kills T'Chaka. A real-life government assassin tried to bomb Mbeki's South African home in 1986, but was caught and arrested.
T'Chaka is also an idealistic leader who espouses pride in African people. And Mbeki was the anti-apartheid activist who met Nelson Mandela as a young man and climbed the political ladder of the African National Congress. He succeeded Mandela as president in 1999, serving two terms before resigning in 2008 amid accusations of political interference.
When the New Constitution of South Africa was drafted on May 8, 1996, Mbeki delivered his famed "I Am an African" speech in which he planted the seeds for the vision he later called the African Renaissance.
"Mbeki articulated the grand vision of African possibility," Carr said. "It doesn't hurt that he speaks Xhosa, the South African language they speak in Black Panther."
While the movie is a work of fiction, Carr emphasized that the goal of good fiction is not only to entertain, but to make people think, to open minds and Black Panther succeeds on all these fronts.
"It puts the possibility of black civilizational excellence at the center of our imagination," he said.