What's causing the 'Black Panther' advanced ticket sales frenzy? Jemele Hill knows the answer.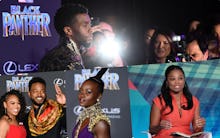 Marvel's Black Panther doesn't hit theaters until Feb. 16, but Fandango said the upcoming blockbuster is already on track to set box-office records.
The film's overwhelmingly positive critical reception following Monday's premiere screenings in New York and Los Angeles certainly didn't hurt, either. All of this buzz has helped it outpace advanced ticket sales for all-time best sellers like Marvel's The Avengers, The Dark Knight and Batman v Superman: Dawn of Justice in terms of tickets purchased before the film's official opening date.
According to Variety, the latest installment in the Marvel Cinematic Universe is now expected to earn $150 million in its opening weekend. But it's not just simply word of mouth or the usual anticipation that's causing this rush for Black Panther tickets.
It turns out that the movie's pre-release success is in large part due to celebrities, churches, schools and civic organizations buying tickets in bulk.
It's something Fandango managing editor Erik Davis said he has never seen ahead of any comic book movie's debut — let alone one with a predominantly black cast. This sort of bulk purchasing does remind him of the frenzy surrounding another film, but it wasn't a superhero blockbuster.
In 2004, Mel Gibson's biblical epic The Passion of the Christ compelled Christian leaders and churchgoers to rent out theaters for their congregants in anticipation of its debut.
"That's the last sort of notable film that I remember this happening on this kind of scale," Davis told Mic over the phone Thursday. "[Black Panther] has been kind of riding this wave of anticipation. That, followed by the buzz out of the world premiere ... both of those combined created a buzz unlike any other we've seen for a superhero movie."
One public figure who's offering to buy Black Panther tickets for kids is ESPN's Jemele Hill, who attended the film's LA premiere on Monday night.
"The movie was so good and so inspiring — it's just a well-done, well-told story, I wasn't expecting that," the former Sportscenter co-anchor told Mic over the phone Thursday. "It was such an amazing and incredible atmosphere. The director, Ryan Coogler, he's put together this vision for a movie that I don't think people are going to be ready for."
Hill was so impressed with the quality of the film and its nearly all-black cast, she followed New York marketing executive Frederick Joseph's lead with the #BlackPantherChallenge by sending out a tweet offering to buy tickets ahead of the blockbuster's Feb. 16 release date. In January, Joseph, who lives in Queens, New York, kicked off his campaign to help underprivileged kids in Harlem see Black Panther.
Hill, a Detroit native and Mumford High School alumna who previously spent six years covering sports for the Detroit Free Press, is partnering with her former employer and the Detroit Lions, who also helped sponsor tickets for local kids. She's invited other famous Motor City natives to join the effort.
"We're all collaborating to send high school students in Detroit who at this point in the year have had perfect attendance to see the movie," Hill said. "It's a little over 200 students who fit that requirement."
Elsewhere in the country, other celebrities are also taking part. Comedian Ellen Degeneres heard about Joseph and his #BlackPantherChallenge and agreed to buy tickets for the Boys & Girls Club of Harlem before introducing Black Panther star Chadwick Boseman to Joseph on her Jan. 22 show.
Chelsea Clinton also recently donated money to Joseph's GoFundMe page, as did Snoop Dogg and Star Wars: The Force Awakens director J.J. Abrams.
"To date, over 200 campaigns have raised over $160,000, helping thousands of kids see the movie next month," Joseph recently wrote on his page. "Donations have come in from all 50 states and 15 countries around the world."
But it's not just celebrities supporting the film.
The Oklahoma City chapter of the historically black Alpha Kappa Alpha sorority rented out a theater to celebrate Black History Month. Russell Cash, pastor of Flow Church in Bowie, Maryland, reportedly did the same. So did Walter M. Kimbrough, president of the historically black Dillard University in New Orleans.
Kimbrough only intended to buy tickets for the 32 members of his school's freshman leadership team after one of them proposed seeing Black Panther as a bond-building activity back in November.
"I opened it up to upperclassmen on Jan. 30," Kimbrough told Mic Thursday. "Within an hour, all the slots I had left for them were gone. That's 64 slots [including] my two kids, me and my wife. I filled up 26 slots in an hour."
"I have an 11-year-old and a 9-year-old and we're also going to see it that Tuesday after it comes out," Kimbrough added.
The biggest question now is whether non-black moviegoers will share the same enthusiasm for Black Panther as its black fan base already has. Reports of alt-right activists' efforts to tank the film's Rotten Tomatoes score haven't phased director Ryan Coogler.
"I'm really looking forward to sharing the film with audiences regardless of what their political views are ... that's kind of where I [stand on that]," Coogler told HuffPost on Thursday.
Hill insists the quality of the film is what will surprise people of all backgrounds.
"The movie is outstanding," she said. "It will be in the conversation of best movies Marvel has ever done."