Mic Wakeup: Black Monuments Project, history-making Oscars and Trump's huge State of the Union fib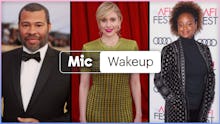 It's Friday, Feb. 2. Here are three things you need to know.
Mic's Black Monuments Project is finally here
Throughout Black History month and beyond, Mic will bring you the stories of 54 black heroes who each are more than deserving of your time, your learning, and their own monuments for their extraordinary contributions to history.
In 2017, the United States saw dozens of monuments dedicated to white supremacists torn down and excavated from public lands, but to us, that isn't enough. Instead, Mic wants these spaces, and others, to be filled with the positive role models who have gone ignored long enough.
Beyond reading their stories and sharing Mic's project with your friends, you can get involved by unlocking our Black Monuments Project Snap lenses here.
Keep reading all month long for more.
This year's Oscar nominees could make history in more ways than one
Though the Academy Awards are still a few weeks away, it's fun to imagine the winners of this year's ceremony all being history makers.
For example, Dee Rees, who directed the Netflix drama Mudbound, could take home the Oscar for best adapted screenplay. Rees is already the first black woman to be nominated in the category and would then become the first black woman to win it.
Or look to Christopher Plummer, 88, who is nominated for the best supporting actor. If he wins for his role in All the Money in the World, he will become the oldest actor ever to win in any of the four acting categories.
Check out who else could make Oscar history here.
Trump claims his ratings were 'yuge' at the State of the Union
During President Donald Trump's first State of the Union, he told more than a few fibs, but perhaps his largest came after the speech when he said the ratings for the address were the "highest number in history."
And yeah, it's accurate that 45.6 million people tuned in, however as Fox, Trump's favorite news outlet pointed out, that didn't make it the most watched State of the Union in history.
In a tweet, the network pointed out that Barack Obama, George W. Bush and George Bush Sr. all brought in higher ratings. Better luck next year, Trump.