Outside of Pyeongchang Olympic Stadium, struggling business owners lose hope for an Olympic payoff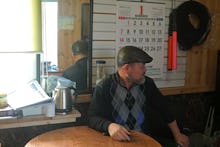 A grassy knoll featuring the Olympic logo rests just outside the steps of Jinbu station, the closest port to the $109 million stadium built for South Korea's first Winter Games. But beyond that knoll, all one will notice is the quaint Pyeongchang County township of Jinbu and its snow-covered farmlands, its single downtown street and the occasional hum of a truck driving in the distance.
This mountainous town is one of several small communities with newly built Olympic venues in its backyard, and it certainly shows. Restaurants with outdated interiors brandish modern, glass-plated English menus outside their doors, always with a tiny Olympic logo at the bottom. Street banners read "Welcome to Pyeongchang!" and tourist information officers in cowboy hats huddle outside the station.
But the Pyeongchang Games are actually spread across three different parts of Gangwon Province — most notably the city of Gangneung, which hosts all ice sports and outnumbers Pyeongchang's population nearly five to one. The Olympic stadium in Jinbu, in fact, has just 8,000 or so fewer seats than Pyeongchang County's entire population. And with businesses in a lull just days before the opening ceremony, some residents are starting to wonder if the Olympics that bear their county's name will give them any economic benefit at all.
"It really shouldn't be called the Pyeongchang Olympics," Shim Dal-seop, former CEO of Pyeongchang rice wine company Odaesan Makgeolli, said through an interpreter. "At this point, I'm not getting my hopes too high that a lot of people will come to Pyeongchang because of the Olympics. Only two types of sports competitions are actually going to be held here and the rest are in Gangneung — especially figure skating, the most popular sport."
South Korea has prepared for this moment for 10 years. It built a second airport terminal and a 172-mile high-speed train to stations in Pyeongchang and Gangneung. The government, which seized bits of land from locals to widen roads for incomers, even tore down a sacred forest to build its venues. Officials have far surpassed their original budget, spending a total of roughly $12.9 billion to host an Olympic games held in one of the country's poorest provinces.
Needless to say, promises of an "economic boost" are long awaited.
But a lot of things, it turns out, aren't going as planned. Ticket sales have reportedly been lackluster. The government of Gangwon — the province overarching Pyeongchang and Gangneung — is expected to foot the bill for maintaining Olympic facilities once the games are over, much to the dismay of its residents. And with an already sedated local economy, some business owners in Jinbu are struggling to make money, even with the Olympics just days away.
"Business really isn't doing well this year. My sales are down by about 30% compared to last year," Shim, whose son now runs Odaesan Makgeolli, said. "In order for the Olympics to benefit my business, a lot of people have to come here to the restaurants and drink my makgeolli. But every restaurant I see in town is empty."
Shim, 66, has lived in Pyeongchang his entire life. He has seen it grow during South Korea's rapid economic development in the 1970s and 1980s. Yet he's also seen his hometown struggle amid the nation's overall economic decline in recent years — and as more young people venture westward to Seoul in search of a living.
Individuals in Gangwon — the province Pyeongchang belongs to — earn significantly less than the national average. Residents there make an average of $18,355 USD a year, according to Gangwon Province Gov. Choi Moon-soon, compared to the national average of $27,538 a year. (In Seoul, average income is projected to be about $30,000 in 2018.)
Meanwhile, the perennial worries of high elderly poverty rates and low birth rates in South Korea are likely far worse in Pyeongchang — where the population of people aged 65 and up has rapidly increased, from 10% in 1998 to 24% in 2017, according to the county's statistics service. Compared to the national average of roughly 13% in 2016, it's easy to see why business might be slow for some in Pyeongchang.
"I think today's economy can't even be compared to the Asian financial crisis. Truthfully, it feels even worse," Shim said. "If Seoul is having a bad economy, then we start to the feel the aftershock four to six months later."
Shim showed Mic every corner of his factory, which makes creamy herb and corn-flavored rice wines that sell for as little as $1.10 a bottle. His family has yet to see any promise of an economic boost from the Olympics, he said. In the past, seasonal influxes of skiers, snowboarders or workers would have boosted his sales. But several nearby ski resorts have been closed during peak season, due to either Olympic preparations or a documented "reflex effect," meaning Koreans choose to go to less-hectic ski resorts instead. Meanwhile, laborers and volunteers working on nearby Olympic venues have designated places to eat.
Shim also said the government seized his land to widen roads in return for a "much lower than market value" payment.
"Because of the Olympics, I lost my property for an unfair price. The games have brought nothing good to my business," he said. Even so, Shim was still proud of his factory, where 1,000-liter vats of rice wine bubbled inside a small room.
"I've been making this makgeolli using traditional methods that have been passed down to me for generations," Shim said. "But now, I wonder how many people actually care if I make it this way. These days, as long as it tastes good and it's cheap, that's all people ever want."
"Because of the Olympics, I lost my property for an unfair price. The games have brought nothing good to my business."
Will business owners see any rewards?
The frigid cold of winter tends to set in earlier in Pyeongchang, a blessing that makes it particularly attractive for the South Korean tradition of ice fishing. Just down the road from Jinbu station on Wednesday, small children and their parents gathered to look for trout through holes drilled in the ice. Two statues of the Olympic mascots stood tall along the edge of the frozen waters.
"This festival is an important part of our economy," Park Yong-man, the Pyeongchang Trout Festival's planner and a lifetime Pyeongchang resident, said through an interpreter. "Most of the people here come from Seoul or other metropolitan cities, or even China. It helps nearby restaurants and guesthouses."
According to Park, the festival provides work opportunities for farmers whose lands are frozen in the winter months, a period referred to as "nong-han-gi" ("nong" means agriculture, while "hangi" means the cold). The 2018 festival is extended through Feb. 25, and Park hopes foreign visitors on their way to the Pyeongchang Olympic Stadium will want to stop by.
"Thanks to the Olympics, we got a high-speed train and station here, so we're anticipating many festival visitors," Park said. "As time passes, I believe more and more people will be interested in Pyeongchang. Things will get better and better."
Others, however, aren't so convinced there will be a payoff. Shim Sang-bok, 55, owns a fishing gear store, a restaurant and a guesthouse in the area. So far, he has decided to close down the guesthouse — which he has operated for nearly 20 years — during the Olympics, because the payoff simply isn't worth the costs of keeping it open. Some of his guesthouse-owning friends only have a small portion of their accommodations booked, he said, and he fears news reports about expensive hotel prices have scared many Korean customers away.
"Who would charge expensive fees when they know the new train allows anyone to commute here early in the morning and leave late at night?" Shim Sang-bok said, noting that his guesthouse is only 70,000 won (about $64 USD) a night. "There are almost no reservations in some of these hotels right now. These people have prepared for the Olympics for a long time now. They bought beds because they heard that foreigners prefer to use them — Koreans don't need beds and guesthouses traditionally don't offer them. Turns out we're all wasting our money."
Part of the problem, of course, could be that local guesthouses are owned by elderly residents who haven't listed their properties online — a problem Airbnb has tried to fix. A quick Booking.com search for accommodations in Pyeongchang quickly reveals rooms ranging from $130 to $360 a night during the Olympics.
"There are almost no reservations in some of these hotels right now. ... They bought beds because they heard that foreigners prefer to use them — Koreans don't need beds and guest houses traditionally don't offer them. Turns out we're all wasting our money."
However, Shim Sang-bok's guesthouse business has been hurting for a while. He claims the installation of a new highway and the high-speed rail has made it easier to skip sleeping in Pyeongchang, since it cut a three- to six-hour commute from Seoul to Gangneung to about one hour and 40 minutes.
"Some business owners around here thought that the Winter Olympics were going to make them strike it rich. But that was wrong," Shim Sang-bok said. "I knew that this was going to happen. People like us — small-business owners — are all going to starve to death. As they say, 'The roads get better, then the cars go really fast, and then the people just pass us by.'"
Jisoo Hong contributed to this report.