Users erect monuments to heroes like Colin Kaepernick with Mic's Black Monuments Project lenses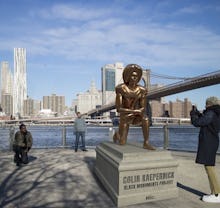 Football players from the New England Patriots and Philadelphia Eagles may have their moment in the spotlight on Super Bowl Sunday, but fans will have a way to honor a player that won't be on the field.
As part of our Black Monuments Project, Mic partnered with Mixer to create augmented reality monuments that honor black heroes like former NFL quarterback Colin Kaepernick and attorney Anita Hill. Snapchat users can take advantage of Mic's special 3-D lenses to put digital models of Kaepernick or Hill in any space around them and honor their achievements.
To get the Snapchat lenses, open these links to Kaepernick or Hill's lenses from a phone and click the dialog box asking you to "unlock for 24 hours" to make the monument appear. Desktop users can open their Snapchat camera and take a shot of the following Snapcodes to unlock each monument.
Since the lenses launched on Feb. 1, users across the country have erected their own digital monuments everywhere from Brandeis University to the White House — all with the click of a button.
We'd love to see where you'll be erecting your augmented reality monuments: Share your monument with the world by tweeting a photo of your creation @Mic with the hashtag #BlackMonuments. You can also email us at blackmonumentsproject@mic.com. We may share what you send us on Mic's social media.
Here are some of the digital monuments that users and Mic staffers have shared so far with the #BlackMonuments hashtag.
Though Mic's Kaepernick and Hill monuments may be virtual for now, the Black Monuments Project advocates for a country in which monuments we honor the black heroes who weaved the tapestry of our nation.
The editorial project has selected individuals from history who deserve to be honored in the public square throughout 54 U.S. states and territories: from Michelle Obama in Illinois and Rep. John Lewis in Georgia, to lesser-known trailblazers like Edna Griffin, known as the "Rosa Parks of Iowa," and Macon Bolling Allen, the first black lawyer in the U.S.
Feb. 4, 2018, 9:22 p.m.: This post has been updated.