After Super Bowl protests, Black Lives Matter supporters turn their focus to schools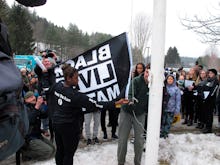 A national coalition of teachers and activists who support the Black Lives Matter movement launched a week of action Monday to call attention to structural racism in schools.
Dubbed "Black Lives Matter at School," the campaign seeks to build on conversations about how school policies disadvantage black students, pushing many out of classrooms and into the criminal justice system, organizers said.
The week of action involves after-school teach-ins and rallies that highlight issues of discipline and inequity in educational resources. The coalition includes participants in Seattle, New York City and Prince George's County, Maryland.
"We want our schools to be places of learning and liberation for all students," New York organizer Erica Cardwell said in a statement emailed to Mic. "If direct attention isn't given to that, our schools and our society will continue to replicate structural racism."
The national Black Lives Matter at Schools coalition issued several demands to school administrators to kick off the week of action. They included an end to zero-tolerance discipline that helped create the school-to-prison pipeline — the tendency of adolescents and young adults to be incarcerated as a result of punitive school policies.
Organizers also called for more restorative justice strategies in schools, such as in-school suspension and counseling; increased hiring and retention of black teachers; and a mandated black history and ethnic studies curriculum for students in kindergarten through the 12th grade.
The campaign's launch comes a day after dozens of protesters representing the Movement for Black Lives attempted to shut down transit lines that shuttled Super Bowl attendees to Sunday's game at U.S. Bank Stadium in Minneapolis. A total of 17 people were arrested, the BLM network confirmed to Mic.
Those arrested were assisted by a bail fund, according to the network's statement. Sunday's protest concluded a week of action that leveraged the Super Bowl to call attention to marginalized communities in Minnesota.
"Our actions this past week highlighted the threat of visibility, criminalization and incarceration against communities of color," Miski Noor, organizer with the Minneapolis chapter of the BLM Global Network, said in a statement released Sunday. "We stood up to our city and the NFL's destruction of black, brown and poor communities and let it be known that we are here to stay and demand to be heard."
Other participating organizations in the Super Bowl protests included the Black Youth Project 100 and the BlackOUT Collective, which was created to support NFL players who have taken a knee during the singing of the national anthem to protest police brutality and racial injustice.
Meanwhile, students and teachers raised BLM flags on school flagpoles at the start of Black History Month. In Vermont, Montpelier High School raised the flag with the approval of the local school board. A second high school in Burlington, Vermont, has reportedly considered doing the same; college students at the University of Maine have also raised the BLM flag.
The BLM movement, which started in 2013 in response to the lack of justice in the shooting death of 17-year-old Trayvon Martin, has included educational justice in its platform. However, the movement is more widely known for its mass protests calling for an end to police violence.
Feb. 6, 2018, 11:37 a.m. Eastern: This story has been updated.