South Korea's brand-new Olympic bullet train will make Americans jealous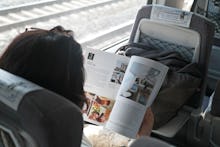 Americans who want improved transit or railway extensions can expect to wait decades before they ever see their dreams to fruition. In the U.S., a $10 billion high-speed rail project in California that was originally approved in 2008 is forecasted to open more than 20 years later, in 2029 — and it's grossly over budget. Meanwhile, New York's Second Avenue subway took literally a century to open since the idea was first conceived.
But such a painfully slow process — routinely the subject of think pieces in the U.S. — would probably never happen in South Korea. Ahead of the Pyeongchang Olympics, the South Korean government has managed to pull off an incredible feat: Since winning the Olympic bid in 2011, it built six new train stations — one of which it managed to put up in less than 10 months — and roughly 172 miles of high-speed rail across the nation's eastern landscape.
"That does sound like a relatively fast build," Brooks Rainwater, director of the National League of Cities' Center for City Solutions, said by phone. "Certainly, our lead times on the California high-speed rail are much, much longer."
The best part? It took a three-to-six-hour commute from Seoul to the Pyeongchang Olympics and made it just 1 hour and 40 minutes.
To put it in the words of Ji Yong-tae, a member of Korea Railroad Corp.: "It will be possible for the visitors [to the Olympics] to have lunch in Seoul and attend games in the afternoon."
A look at the train
For transit geeks, the KORAIL line to Pyeongchang is probably best described as "dreamy." With a sleek, modern interior and wide windows, passengers aboard the 155-mile-per-hour train have the option of staring out at Korean landscapes in unusual clarity — and without compromising legroom.
Up and down the aisles, train attendants use a tablet to check that everyone is in the right seats. They're wearing sharp, baby-blue uniforms with tailored angles — and they look strangely similar to Korean Air flight attendants, who tend to be a symbol of both beauty and luxury in Korea.
If passengers are tired of their view out the window, they can use the train's WiFi — which is surprisingly stable and fast, even with a full train rolling through the countryside. It's not that surprising, considering that Seoul subway WiFi typically works, as well — whereas in the U.S., transit internet connection isn't a deceiving marketing ploy.
Televisions play English and Korean language news overhead for passengers, though the screens are small and hard to read. The content is certainly global: Even Harvey Weinstein came on the screen in a time when South Korea is in the throes of a reckoning with its own sexual misconduct issues. The screen intermittently disrupts the news to announce the next stop, reminding passengers of their estimated arrival time.
It's impressive. But in a nation with dense cities and affordable, streamlined public transit, the KTX train to Pyeongchang may not appear as glorious to Koreans as it does to Americans. All of this transportation goodness is the bare minimum South Korea could do, according to some locals — especially with the Pyeongchang Olympics.
"The Olympics are a special event where people from all around the world participate, so Korea has to maintain a good reputation and image," Kang Do-hyung, a 45-year-old South Korean engineer, told Mic through a translator while waiting for his train at Seoul Station. "Therefore, efficient transportation that's convenient for people to use is a must."
After the games, the train will continue operating — and it'll be a faster path to some of Gangneung's beaches. However, there is one snag: Some are unimpressed with ticket pricing. One way tickets are about $20 USD (21,900 Korean won) from Seoul to Jinbu/Odaesan station, the site of the newly built Pyeongchang Olympic Stadium. That means if an Olympic spectator paid the bare minimum for a sporting ticket — say, $36.49 for a curling match — they also have the added expense of about $40 for train tickets.
"The train tickets are very expensive. It would be difficult for our family to go there and watch. When we include the event ticket prices as well, our family would have to spend over a million won [over $910 USD]," Lee Sang-cheon, a 47-year-old Seoul resident, said through a translator.
"The train ticket prices aren't too far off from the bus prices, which would take at least an hour more. In that way, it might be a good deal," added Kim Seung-hee, a 36-year-old Seoul resident. "But personally, I think it is still too expensive for Koreans. We don't have that kind of money to throw around for the train, especially when we can get a better view on TV."
Will the U.S. ever measure up?
Though Seoul's subway system and high-speed rail can have Americans salivating, the Korean transit system probably isn't a perfect match with what the U.S. needs.
South Korea is a highly dense nation that's about the size of Indiana, with about a third of it being "uninhabitable" because of mountains. When it comes to the Seoul subway, much more of the operating budget is paid for by passenger fares than in the United States. For example, the average Korean takes the subway 0.67 times a day, according to a 2016 Land Transport Authority report, but that number is just 0.54 for the average New Yorker or 0.21 for the average person in Washington, D.C.
In other words, it makes more sense and is perhaps more practical for Korea to have trains whizzing in every direction with a cross-country railroad. But even so, some parts of the U.S. would certainly benefit from a Korean-style transit upgrade — particularly a route between Boston, New York, Washington, D.C. and Philadelphia.
"That's where, ultimately, high-speed rail needs to fully come into its own in America," Brooks said. "This corridor is where the density levels and region wealth within the area really makes sense from a transportation perspective."
That day is likely far away, in the unknown future. But the good news is that the construction of California's bullet train — albeit slow and over budget — is a step in the right direction for the U.S., which is completely void of high-speed rail at the moment. If all goes as planned, the train will first bring passengers from San Francisco to Los Angeles in less than three hours, with speeds of 200 miles per hour. In the long run, planners hope it will also stretch as far as Sacramento to San Diego.
"I do believe that, in the long term in the U.S., we will see more of these types of high-speed rail projects," Rainwater said. "For so long in America, the automobile was seen as the be-all and end-all of transportation. But now we are starting to get to a point where millennials and a broader part of the population really wants options. The politics will ultimately catch up. It's just a matter of when and how."
Jisoo Hong contributed to this report.