Black Lives Matter activist Muhiyidin Moye dies after New Orleans shooting, family says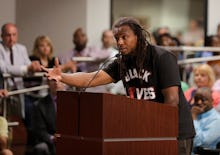 A Black Lives Matter activist from South Carolina died Tuesday after sustaining a gunshot wound in New Orleans, a member of his family has confirmed.
Muhiyidin Elamin Moye, the Charleston, South Carolina-area activist, was reportedly shot early Tuesday morning, according to a GoFundMe page established by his niece, Camille Weaver. He died in a New Orleans hospital after enduring "excessive blood loss," she wrote. Moye was 32.
In February 2017, Moye gained national notoriety for leaping over police tape to snatch a raised Confederate battle flag from a member of the South Carolina Secessionist Party. The self-described Confederacy heritage defense and political activist group had opposed the permanent lowering of the flag on statehouse grounds, following the June 2015 murders of nine black churchgoers by convicted killer Dylann Roof at Charleston's Mother Emanuel AME Church.
The group had staged a protest outside of a College of Charleston event that featured North Carolina artist and activist Bree Newsome who, in 2015, scaled a flagpole to remove the Confederate battle flag flying over the South Carolina statehouse. On Tuesday night, Newsome told Mic she'd met Moye once, but deferred commenting on his death until she could learn more about the circumstances.
"I can only say, at this time, that I'm keeping his family and community in prayer," Newsome said.
Details of Moye's shooting death were slim Wednesday. According to local media outlets, Moye sustained a gunshot wound to the thigh around 1:00 a.m. on Tuesday. He was shot while riding a bike in the Iberville neighborhood, about a mile away from New Orleans' French Quarter. Police told Weaver and other family members that Moye tried to continue riding the bike for several blocks to a nearby hospital, WCSC-TV reported.
Police were still investigating the circumstances of the shooting and had not identified a suspect, the New Orleans Police Department's public affairs division confirmed in an email to Mic.
Moye remembered as "magnetic"
On Tuesday night, a vigil for Moye was held outside of the North Charleston city hall. Members of his family attended the event, where his activism around police brutality and racism was highlighted.
"This was his passion, he did it from the heart," Kimberly Duncan, Moye's sister said, according to a WCSC-TV report. "The injustice just bothered him and it never rested well with him. He took it on as a personal battle."
Moye, who also used the last name d'Baha, has been noted as the leader of a local Black Lives Matter group in Charleston. Following the 2015 shooting death of Walter Scott, an unarmed black man killed by a white North Charleston police officer, Moye became a key advocate for Scott's family.
"I thank God for placing him here to be the solider that he is, that he was," Anthony Scott, a brother of Walter Scott, said during Tuesday's vigil.
Charleston journalist Shani Raine Gilchrist said that, although she'd only met Moye on a handful of occasions, he was not forgettable. "He was magnetic and could make anyone and everyone stop in their tracks," Gilchrist wrote in a Facebook post on Tuesday. "He was complicated, just like his hometown. No one can deny that he had the potential to permanently change the conversation in Charleston. This is a tragedy for the entire community."
Weaver, Moye's niece, said the family was raising money for the cost of transporting her uncle's body from New Orleans to Charleston. As of Wednesday morning, the family's GoFundMe page had raised more than $14,600, well above an original goal of $7,500.
The additional funds will be used for Moye's funeral service, Weaver said.
"I can say that our family is beyond appreciative for the outpouring of love and support we've received today," Weaver wrote on the GoFundMe page. "[Moye] was a light and he will shine on forever."
Black Lives Matter offers tribute to Moye
On Feb. 16, the day after Moye's family held funeral services for him, the Black Lives Matter Global Network issued a statement honoring his life and work. The network, which boasts 40 chapters in the U.S., Canada and the United Kingdom, also called for a "a full, complete, comprehensive and transparent investigation" into his death.
"We are heartbroken to now count him as one of our ancestors, but we are honored to have had a small chance to experience his brilliance, love, truth and power while on this earth," the network said in the statement.
"Moye now joins our other freedom fighting ancestors including Erica Garner, Malcolm X and Harriet Tubman," the statement continued. "Moye fought, loved and struggled for our people in effort to create a world where saying 'all lives matter' actually includes black lives."
Feb. 17, 2018, 12:24 p.m. Eastern: This story has been updated.