Opening ceremony report: Kim Jong Un's sister is in Pyeongchang, but some Koreans remain skeptical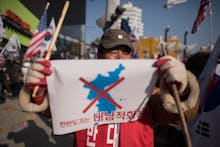 PYEONGCHANG, South Korea — Amid all the shimmering lights and the immense star power, North and South Korea marched, side by side, into uncharted political territory during their Olympic opening ceremony on Feb. 9.
Kim Jong Un's sister Kim Yo Jong was somewhere in the stands of the Pyeongchang Olympic Stadium. So was U.S. Vice President Mike Pence, who recently vowed to deliver the "toughest" economic sanctions against North Korea yet, casting a look of doubt at Kim Jong Un's sudden good will.
But many South Koreans share Pence's skepticism. Lee Mi-seoup, a 54-year-old academic from Seoul, says that they've been tricked by the North too many times.
"I'm not very happy about all of this. And the reason why is because there have been a lot of cases where North Korea stabbed us on the back," Lee said. "Our people don't want to be fooled again. We're worried."
So, as North and South Korean athletes smiled under one unified flag, an undercurrent of tension continued to brew. The U.S. isn't happy about North Korea's nuclear program, as always, and North Korea isn't pleased by Trump's recent bluster. Meanwhile, South Korean President Moon Jae-in is trying to ease the warmongering by inviting Kim Yo Jong to lunch on Saturday.
"Moon would like to calm things down, and Trump wants to maintain a high degree of tension in order to justify potential military action and sanctions," Peter Ward, a columnist at NK News and a former researcher at the think tank Asan Institute, said by phone. "Trump sees that sanctions and dialogue haven't worked [in terms of] bringing denuclearization. And I think he also enjoys dominance rituals."
Last-minute RSVP
Attendance at the games from North Korean Olympic athletes has always been a part of Moon's plans, though some might've scoffed at the idea after a tense summer of war threats in 2017. President Donald Trump's threatened to rain "fire and fury" on North Korea, incidentally coining a now-popular phrase associated with his administration. And in Nov. 2017, tensions escalated as North Korea revealed it is capable of sending a long-range missile to the United States.
Then, less than a month before the opening ceremony, North Korea made an unexpected decision to take up the Olympic invitation. Phone lines between the North and South were restored after nearly two years of cut communication, and the two Koreas agreed to combine women's ice hockey teams and march under a unified flag.
But no one could have expected the RSVP from Kim Yong Nam, the president of the Presidium of North Korean Parliament and the highest-ranking official to ever visit the South in more than six decades. Nor could they have foreseen Kim Jong Un's younger sister traveling South.
"It's a very big deal," C. Harrison Kim, an assistant professor at the University of Hawaii at Manoa who researches the Koreas, said by phone. "Kim Yo Jong, Kim Jong Un's sister, is the first major member of the Kim family to visit South Korea since the end of the war. This is something that has never happened before, really."
Believed to be 30 years old, Kim Yo Jong is thought to be a close confidante to her dictatorial older brother. She has been called a mixture of White House Press Secretary Sarah Sanders, Ivanka Trump, a chief of staff and a speechwriter. She's thin, usually wears her hair pulled back, and is often seen in the background of photos from North Korea's state media.
South Korean television stations are heavy on news about Kim Yo Jong, but much of the excitement building up to the opening ceremony had nothing to do with her arrival. Hours before the opening ceremony, Koreans pounded on traditional drums, waved the South Korean flag and cheered as branded parade floats blasting K-pop floats cruised by the Pyeongchang Olympic Plaza. When asked, few had explicit excitement for the gestures of unity.
"I'm not very happy. And the reason why is because there have been a lot of cases where North Korea stabbed us on the back," said Lee Mi-seop, a 54-year-old academic from Seoul. "Our people don't want to be fooled again. We're worried."
Kim Ji-won, a 26-year-old university student, shared the skepticism: "North Korean's participation in the Olympics isn't necessarily a genuine improvement in relations," he said. "They've repeatedly shown us signs of both reconciliation and military provocation."
To experts, it's not surprising. "I don't see a lot of enthusiastic backing. There's a noticeable level of indifference," Kim said. "Any kind of unified event between the North and South doesn't hold that much symbolic value [to South Koreans] anymore. "
What does North Korea want?
Experts can only speculate on the sudden change of heart. Peter Ward, a Seoul-based columnist at NK News and former researcher at the Asan Institute, believes that North Korea is pulling all stops to charm its way out of economic pain.
"This is a game of manipulation. [North Korea] wants to appear to be peaceful and dial down tensions," he said. "I think Kim Yo Jong was sent in order to dial the situation back a bit — to hopefully to reduce sanctions, to lessen the possibility of a military strike or maybe try to coax the South Koreans to consider reopening Kaesong Industrial Complex in the near future."
The catalyst, according to Ward, is that "the Chinese are enforcing the sanctions properly for the first time ever." Basically, China wants to avoid a U.S. military strike against North Korea, which would massively destabilize East Asia and distract the red star nation from its own regime goals.
"This means that North Korea will come under very strong economic pressure soon," Ward said.
None of this means that Moon's effort toward peace with the North is futile, though. Though denuclearization is arguably a long-term goal for South Korea, as it is for the United States, deterring a war of any kind likely takes first priority. More than 24 million South Koreans — about half of the population — live in Seoul, an easy reach for a North Korean attack.
At the very least, "the rhetoric and the language [from North Korea] could change for the better — which is always good, because that's where things kind of begin," Kim said. "But will it change the military and party trajectory? I don't think so."
A fraying relationship?
Until the Olympic flame is extinguished in a fortnight, it will be hard to know what's next for inter-Korean relations. Pence hasn't ruled out a meeting with North Korea's delegation in Pyeongchang, and it remains to be seen whether Moon will concede to Kim Jong Un's demands for the future.
Nevertheless, one thing is clear: The Trump and Moon administrations are starting to draw a line when it comes to dealing with North Korea — and they're standing on opposite sides of it. And North Korea may be pitting them against each other on purpose.
"The problem is that the North Koreans are trying to play the Americans and the South Koreans against each other," Ward said.
In his recent State of the Union Speech, Trump foreshadowed further hardlined policies against North Korea by promising "maximum pressure" and honoring a North Korean defector. Moon, on the other hand, has been trying to take reigns and reduce tensions himself ahead of the Pyeongchang games.
"Moon is not asking for any kind of approval on this kind of Olympic engagement with North Korea," Kim said. "That itself is probably going against courtesy in the past."
Jisoo Hong contributed to this report.